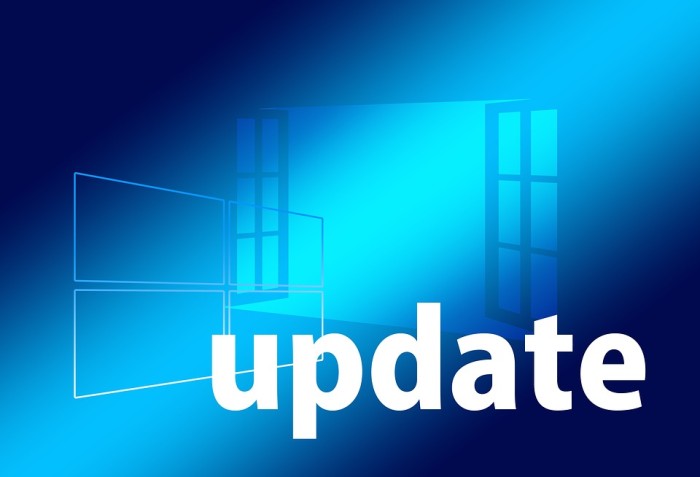 Have you ever thought how important it is to keep system software up-to-date?
Well, it is highly recommended to keep system software up-to-date when there are plenty of cyber threats and malware attacks happening around the world. It is not only causing serious threat to data security, but it is also causing economic losses. Recent ransomware attacks data shows that users have been duped with millions of dollars in recent year alone.
Now that the threat is real and emerging, it becomes important to follow all necessary steps to keep system and data security intact. Keeping system software up-to-date is one of these steps that is highly suggested for better security.
Let's discuss how to update software in Windows PC.
Update Software Manually
The first step you can follow is to update software manually. While Windows sends software updates regularly to help you keep your system software up-to-date automatically, still if you want to check and update software manually then follow below mentioned steps:
Go to Start > Settings > Update & Security.
Click on Windows Update in the left pane.
Click on Check for Updates in right pane.
Here, it will look for all available updates and helps you update software instantly.
Use Software Updater
The next best solution to update software in PC is to do it automatically using Software Updater tool. This state-of-the-art solution is meticulously designed to update all outdated software automatically without manual intervention. It offers various useful modules to keep your system up & running,
How does Software Updater work?
Well, this tool comes with a crowd sourced repository of various useful software & tools to keep your system security and performance intact. Once you install this software on your PC, you needn't to worry about outdate software on your system. Here, it updates all outdated software automatically once you enable its scheduler function. Let's discuss its different useful modules here.
Software Updates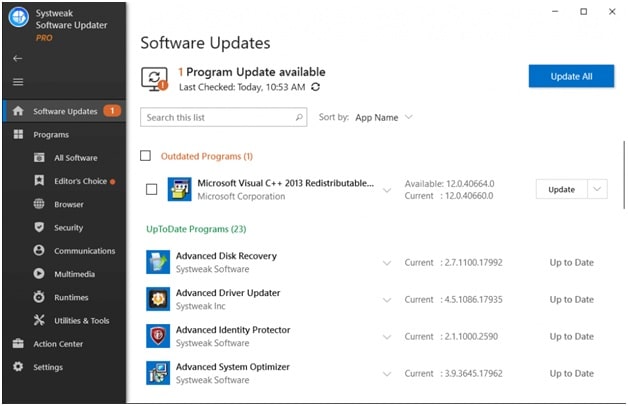 It is also a home screen of the software. Here, it will list all the installed programs on your system and show whether they are outdated or up to date. You can update individual software or click on Update All button to update all outdated software automatically. You can also schedule automatic updates using its built-in feature. It allows you to filter software list based on app name, publisher, size, and version for quick review.
Programs
Under Programs, you will find multiple options including:
All Software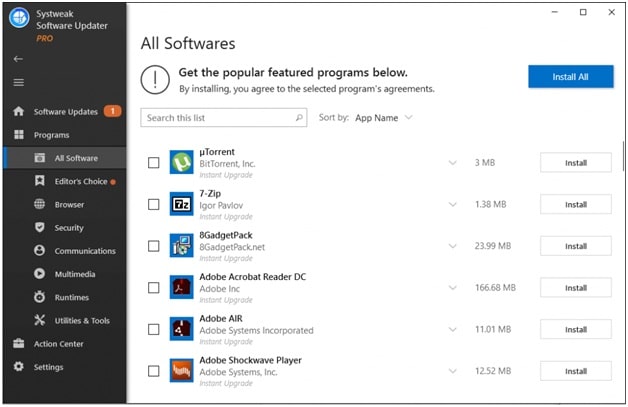 Here, you will find a list of suggested programs that you can install on your PC for enhanced system performance. It includes software suggestion for optimization, cleaning, security and other necessary software.
Editor's Choice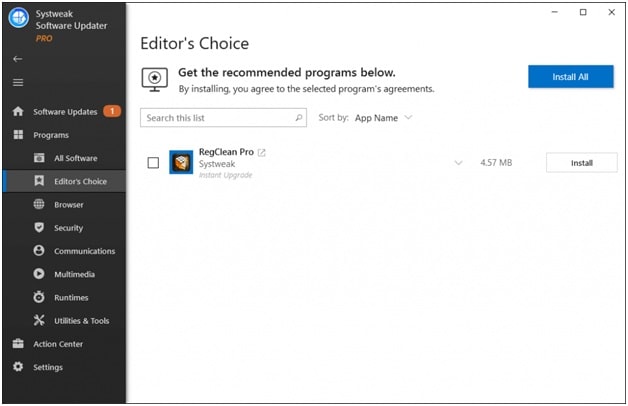 Under this head, you will find all the important software solutions developed by Systweak Software. These software help you clean registry, backup data on cloud servers, protect passwords, and more.
Browser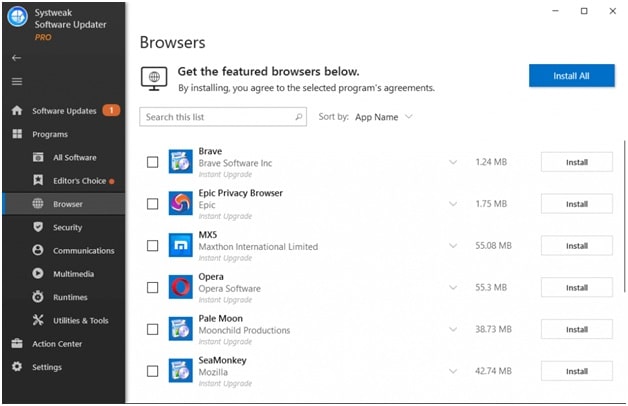 Here, you will find browser suggestions that you can install on your PC.
Security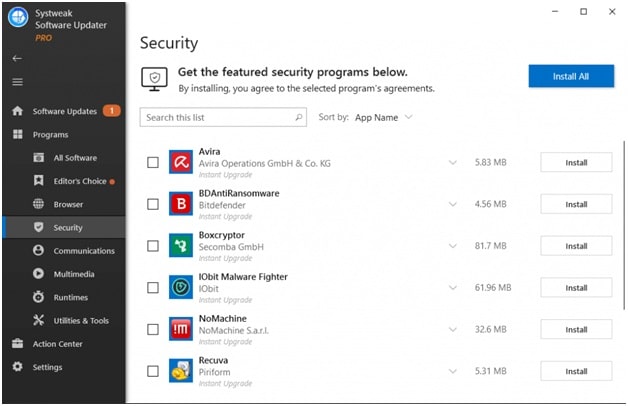 Under Security tab, it will display you best Internet security software for Windows. It is useful to keep your system and data security intact.
Communications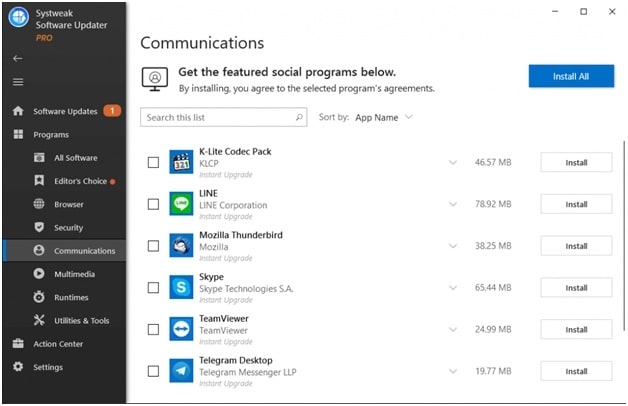 Under communications, you will find all leading software tools that helps you stay connected with the world. It includes chat apps, IM apps, and remote access software suggestions.
Multimedia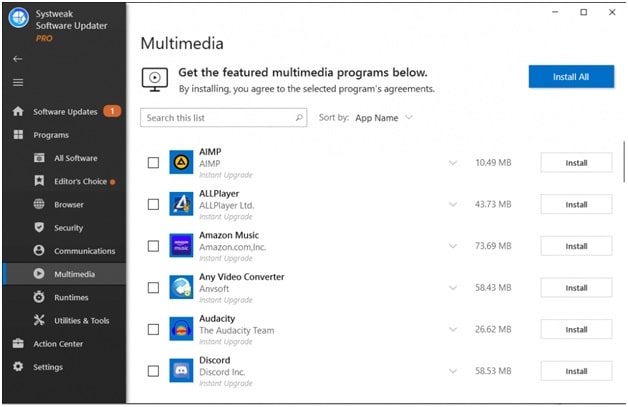 Here, you will find software suggestions to manage multimedia. It includes video players, audio players, photo editing tools, music streaming software, and more.
Runtimes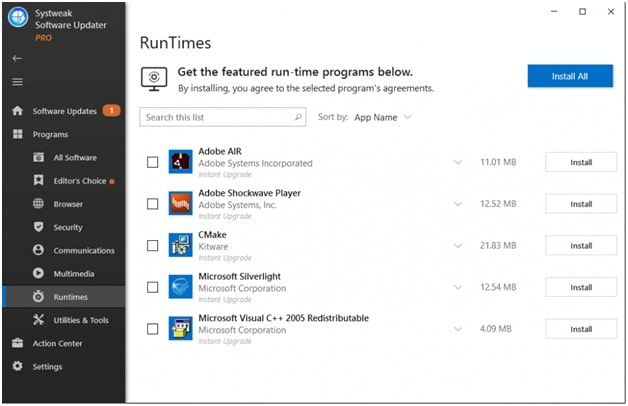 Here, it suggests all the runtime/supporting software that helps you run core software on your PC.
Utilities & Tools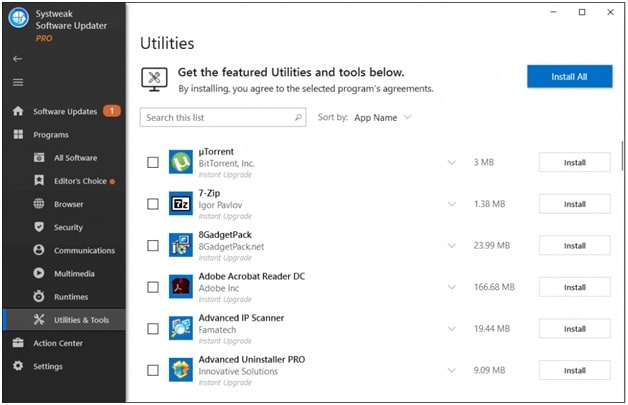 Here, you will find some generally used software that helps you boost your system performance.
Action Center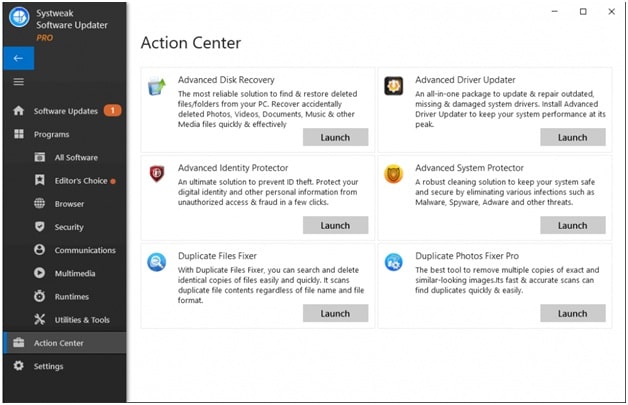 It includes all useful software suggestions. You can install one of these software or all software solutions to keep your system performing well.
Settings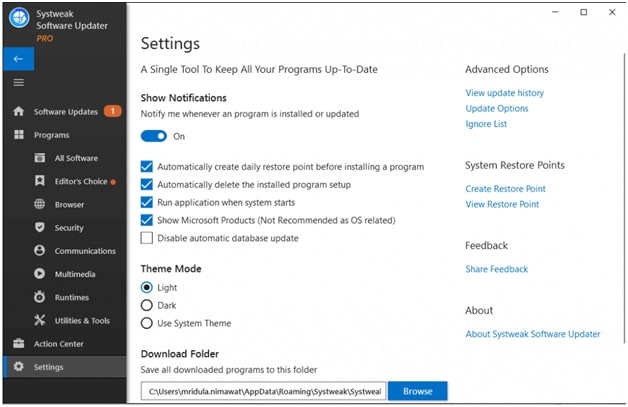 Under settings, you will find multiple options to enable or disable. It also gives you an option to select different themes. You can also schedule a path where you want to download all installed applications.
Conclusion
While manually updating software on your PC consumes time and efforts, it is always better to use best software updater tools. Here, SystweakSoftware Updater could help you scan, find and update all outdated software on your PC effortlessly. Do try this powerful tool and share your experience in the comments below.