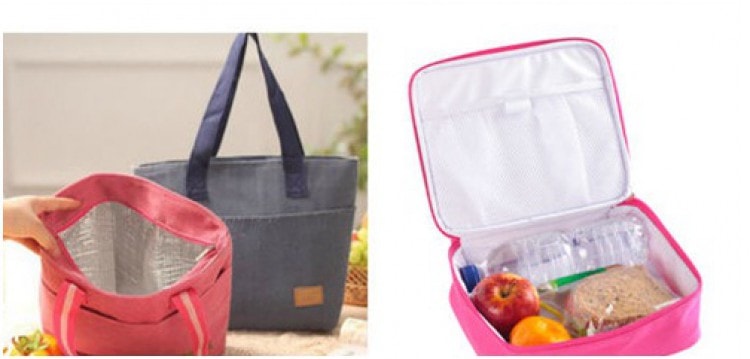 Preparing perishable food for your loved ones like cheese or cooked food should always be packed in the ideal temperature. They should always be packed in a lunch bag which protects the meal from getting contaminated. Plastic or metal lunch box are not suitable as they don't provide insulation to your meal. If you can refrigerate it your meal when you reach school or office, it's a good option. But to have a replacement for it, one can use an insulated lunch bags.
The layers of these bags keep the food safe and healthy. Each bags has at least one outer layer, one inner layer and also in between there's a layer of insulation material. The out layers of the lunch bags are made of heavy material like good fabric or vinyl. The most vital layer is the middle one. It made mainly made up from foam which is the best insulators and obviously light weighted. The inner layer is made of a waterproof material. The most common is plastic, vinyl or liners foils.
Customized bags
Modifying these thermal lunch bags by adding a section for water or juice bottles. Just inform about the size and the style of the bags you need and they can be modified. Insulated lunch bags are available in so many sizes i.e. from a small to big which could be used for a picnic. Great for family trips, long distances, they keep the food and drinks cool and safe for the whole day.
What if a person wants to use the bags in hot and humid weather?
Don't worry, these bags are leakage free bags and can be easily cleaned even if they do get soiled. Also, you will also get an option of foldable lunch bags in the market which can help you save space.
Benefits of getting insulated thermal lunch bags personalised?
One can take/print in a noticeable logo and name on the bag which could make the bag more fashionable.
One can make a customised bag by adding up 2-3 colour combinations, which will make them look cool.
Attract people's attention with their style.
Be environment friendly.
Are unisex bags.
There are thousands of options available for you in market, with different styles and colours. They are strong, long-lasting and easy to carry for either hot meals or cold meals. The boxes can keep the meal hot or cold up to 2-3 hours. These bags are made of a material which is 100% recyclable and eco-friendly.
Correspondingly, these thermal bags long-lasting and a good investment for healthy meals. They are made of non-knitted polypropylene and also eco-friendly and reusable material. Even you can customize them according to your needs.
Get the finest and unique bags from the best
So if you are looking for good and unique insulated bags, which are also reusable and have good packaging, all you need to do is visit or get in contact with the Ice green, one of the largest makers of lead-free and washable reusable bags. They serve a wide variety of businesses and industries both large and small (Beverage Companies, Grocery Stores, Hotels, Pharmaceuticals) across North America and globally.
In short, insulated lunch bags are perfect for keeping lunches hot or cold. The ultrasonic work process also confirms that the bag is durable and strong, while the upper zipper aids to hold the internal temperature and keep food safe.
In this fast paced world, having a healthy and nutritious food is necessary. Obviously, if you work or study, you have to carry your food with you. Therefore, storing your food in a healthy way is of prime importance.