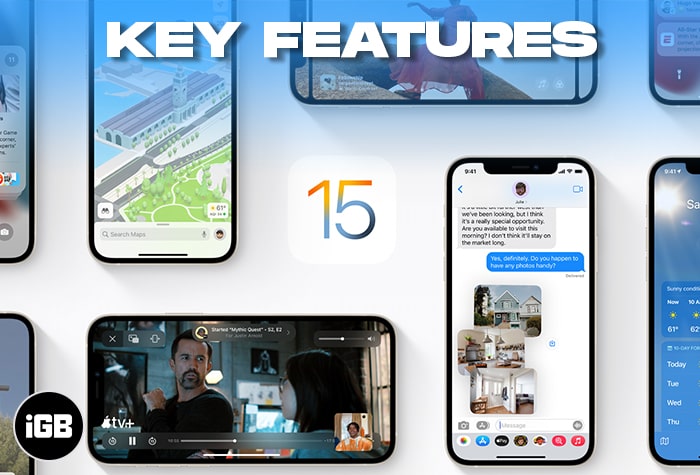 Every year with the new iOS updates, Apple attempts to enhance its user's experience with some fantastic features. And the latest iOS 15 is no different; this treasure box is packed with some fantastic gems, from productivity-oriented mode to privacy-enhancing settings.
I have spent a week exploring through them all, and there are indeed some class-apart, noteworthy additions for our devices. So, if you are an iPhone user or an Apple lover, here are the top favorite must-know features introduced in the latest iOS update.
1. Focus – Match your iPhone to your mindset
Designed to minimize distractions, it will help you' focus' on what's important at the moment. And whether for work, personal, workout, or driving, you can match the iPhone's settings accordingly.
So, what the feature does is:
Filter out notifications – Only relevant and essential people, messages, and apps can reach you.
Focus Status and auto-reply – Inform your friends/colleagues/family that you are currently focus on something and not available.
Custom Home Screen pages – Manage which apps and widgets are on the forefront during a particular mode to save time and reduce temptation.
Neat right! You can call this one an advanced version of Do Not Disturb mode. And what I love is that you can share Focus settings across devices. That is, your custom settings and status automatically apply to all your Apple devices, from iPad to Apple Watch.
2. Notification Summary – Snippet of what you need to know
Notifications in iOS 15 adorn a new avatar with larger icons and contact photos. But most importantly, they have just gotten brighter than ever with the Notification Summary. For example, now you have more control over how and when an app can ping you.
Instead of disturbing you all day long, you can now set a schedule for all notifications. All non-urgent yet important alerts will be clubbed, and you can check them at your leisure.
What's more? An on-device AI smartly analyzes your usage pattern and automatically prioritizes notifications. So, the most relevant notifications are always at the top.
3. FaceTime – Don't just call, share stuff
The new iOS update has brought some wild changes to FaceTime. For the first time since its launch, it is now available for Android and Windows devices! Albeit in a link-based web version, but that certainly is a good start.
And that's not all! You now get to enjoy:
Spatial audio
SharePlay
Portrait mode
Two new mic modes

Voice Isolation
Wide Spectrum

Grid view
FaceTime links
Calendar integration to schedule meetings
Zoom
What excites me most from this list of unique new features is SharePlay. I know screen sharing is not a new science, but Apple manages to rock it by incorporating:
Watch together – Real-time movies and TV shows sharing with synced playback.
Listen together – Share music in your FaceTime calls
Shared music queue
Smart volume
Multiple device support including Apple TV and HomePod
4. Shared with You – Make the most of your conversations
Apple's big on sharing this year, probably the consequences of the quarantine and work from home life. While iMessage was already an excellent sharing medium, this nifty feature makes it even better.
The photos, videos, music, links, etc., that you receive will be more accessible and well organized. All content shared over Messages will automatically appear in the corresponding apps under a Shared with You section.
And the apps that will happily support the feature as of now are:
Photos
Safari
Apple Podcasts
Apple News
Apple Music
Apple TV app
There's more, and this is the masterstroke! In the Shared with You section, you can also see the sender's details and continue the conversation from the corresponding app itself. That's right; you can send a reply without even going to the Messages app.
5. Live Text – Extracting information is easier than ever
Another great, helpful and handy feature that iOS 15 brings to the table is Live Text. And though optical character recognition (OCR) isn't a new tool, Apple's version has smooth integration on its side.
A supported iPhone* can now recognize and digitize the text in photos or via camera. Each scanned text is treated as rich data, so you can
Copy& Paste the textinto any app
Look up the web for more info
Recognize numbers, emails addressed and call, message, or find directions with just a tap
Live translate it up to seven different languages
Take it across devices with Continuity support
And that's not it; a neat Text from Camera feature integrates Live Text into various native and third-party apps like Notes, Safari, etc. So, you can scan, digitize and use text directly from the app.
Note: Support on *iPhone XS and above
6. Safari – Never seen before swag at your service
iOS 15 brings a brand new, all improved avatar of Safari. It's more intuitive, smooth, compatible, and private, all thanks to:
A floating, compact, hidden tab bar
Tab groups
Web extensions on iOS
Integrated Smart Search field
Swipe between tabs
Grid view of all active tabs
Customizable start page
Pull to refresh
Voice search
Auto HTTPS upgrade
Stops trackers from profiling your device or IP address
The icing on the cake is the support for universal web extensions. Soon, you will be able to employ a similar (if not the same) extension across all devices, including iPhone, iPad, and Mac.
7. App privacy report – Tracking the peeping Tom
We all know Apple's commitment to privacy, and the new iOS update further seals the deals.
Until now, you could check which apps have access to your location, camera, photos, microphone, and contacts.
And from iOS 15 onwards, you can check how often they have accessed these tools during the last seven days. Additionally, the section will also show the third-party domains they have contacted.
8. Photos app – Bring more joy to your Memories
While the camera is one of the iPhone's strong suits, its gallery app isn't on point. Thus these new upgrades to the Photos app make me extremely happy. For one, Memories gets a facelift with
More innovative, more interactive interface
Apple Music integration, including song suggestion and memory mixes
12 new Memory looks
New animations and transition styles
Image collages
Animated cards with adaptive titles
Browse view
New memory types
Watch next suggestion
And this year, we also got a much demanded and needed feature; a richer info pane with metadata!! Finally, you can check the image size and other details like camera, lens, shutter speed, etc., with just a swipe up.
Add in benefits of features like Shared with Me, Live Text, and Visual Look Up, and here are the building blocks of a wholesome app.
9. Siri – Faster, friendlier, and works offline as well
Harnessing the power of the Apple Neural Engine (A12 Bionic and above), Siri now offers on-device speech processing. Thanks to it, you get:
Faster processing
On-device personalization
Offline support
Sharing on-screen items like photos, web pages, etc
Refer to on-screen contacts
But what I am most thankful about is Siri's newfound ability to maintain context. Oh yes! Now you can conversationally refer to the question you just asked, and Siri will make the connection.
10. Drag and Drop across apps – Thank the lord!
Among the many nuggets of hidden features of iOS 15, this one has my heart. Now you can drag text, image, link, or file from any app and drop them into another app.
And since the iPhone still doesn't support split view (unfortunately), you'll need two fingers for the process. Tap and hold the file with one finger and swipe up for the Home Screen with the other. Now, open the other app, drag and drop the file over.
11. Per-app settings – Accessibility at its best
Ever found an app too bright for your liking or the text too small? Usually, you'll have to change the system settings to operate the app comfortably. And then undo the said setting to use your device as usual.
But with the new iOS update, you can customize font size and display settings on individual apps. So, whether to increase/decrease the text or contrast, add color filters, or invert colors, the dictate can vary on an app-by-app basis.
12. Find My – Your iPhone can act like an AirTag
Find My's handiness manifolds with iOS 15 as it adds many exciting features into the mix. Including one extremely great move by Apple for iPhone owners and sad life for thieves!
You can now locate your iPhone even when it's powered off or erased. So, when the device is switched off, it goes into a Power Reserve mode. It will act like an AirTag in this mode, and you can track the device via the Find My app.
Additionally, you will get a handy Find My widget, separation alerts for compatible trackers, and live location updates for family and friends.
13. Health – Stay on top of your progress
A lot can be deduced by daily observations, significantly whether your health is steadily improving or deteriorating. Thus Apple now incorporates a Trend analysis in the Health app.
Thanks to it, you can see the progress of a given health metric at a glance. And take inspiration, encouragement, or make improvements accordingly.
There's more; you can now also
Keep track of your loved one's health, achievements, and trends
Share the data with doctors and paramedic professionals
Measure your Walking Steadiness and learn to improve it
Lab results enhancements for better understanding
Receive regular blood glucose highlights
14.System-wide translation – Translation is just a tap away
Introduced in iOS 14, the Translate app was great, but it needed some improvements. Now, the new iOS bridges those gaps with better integration throughout the system.
All you have to do is select the text, tap on Translate from the options and tada… get the translation! That indeed is a much better way of doing things.
And to top it all off, the Translation app also boasts auto-translation, face-to-face view, and a more accessible language selection.
15. Built-in password authenticator – Bye-bye third-party apps
Do you use any third-party authenticators to secure your logins? Well, now you can generate verification codes on your device itself.
If a site offers two-factor authentication, you can set up verification codes from the Settings app. Once that is done, the iPhone will autofill verification codes during the sign-in process, saving time and energy.
iOS 15 supported devices
Well, all these features look super good, but will your device get iOS 15 when it eventually releases in 2021 Fall? Check out the list below to find out.
iPhone 12 Series – All models
iPhone SE (2nd generation)
iPhone 11 Series – All models
iPhone XS – All models
iPhone X and XR
iPhone 8 and 8 Plus
iPhone 7 and 7 Plus
iPhone 6s and 6s Plus
iPhone SE (1st generation)
To be honest, iOS 15 did not bring many new or unique features to iOS 15. But it did bring some much-needed, demanded, and hoped-for features. And as I am using and getting acclimated to the new OS, I am really enjoying it.
What are your thoughts about the changes in iOS 15? Which is that one feature that you can't wait to get your hands on? I'd love to hear your side of the story, so do share your thoughts in the comment section below.
Note: All the features mentioned above are tested/explored according to Apple's first developer beta. Some details and settings might vary in the official public release.