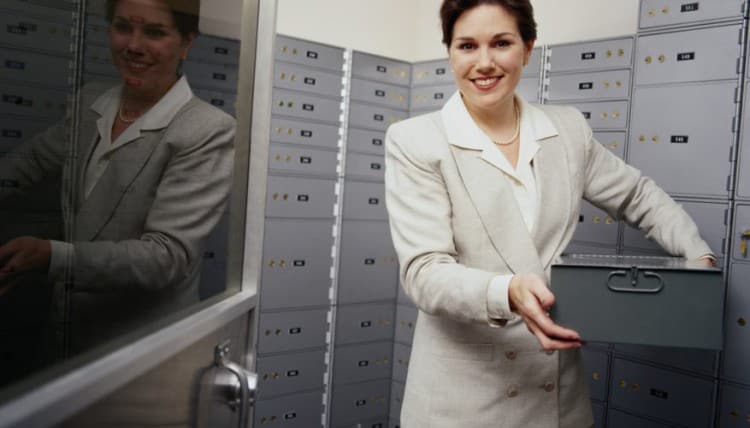 You already know the five important documents which you are to keep safe, but now, you will need to know how to secure the documents efficiently. You need to have two main aims while saving up the documents: ensure that the documents are close to you, for you to access it when you need and ensure the security of documents from fire, theft and other such emergencies.
Safe Deposit Box
The most effective option for saving up your documents is Safe Deposit Box. These boxes are provided by many banks and credit unions. Certain banks also provide discount in case you are a regular customer. A safe deposit box is one of the most convenient options to maintain the security of original documents such as annual tax return, power of attorney, property papers, birth certificates and social security information.
Since the box will be at your office, you would not get to access the information quickly when in need. Thus, you should try and keep a copy of these documents with you for you to access it urgently.
Home Safes

If you are looking to keep you documents safe at home in the safe deposit box, you should purchase a home safe. Make sure that it is fireproof and the locking mechanism is secure. A safe at home prevents the document from being accessed by people you don't want to. It will safeguard your documents in cases of emergency situations such as floods and fire.
Put Plastic Slips into use

To protect your documents from any kind of damage such as tear, sunlight or accidental damage you can use plastic slips. The plastic page slips would ensure proper security to your documents. Keep the important documents in a safe plastic sleeve and then store it any kind of binder or box. Then put the binder within a safe. However, make sure to keep one document in one plastic page.
Make use of shredder

Make sure to shred your essentials such as credit card offers, utility payment receipts, and bank statements and expired credit cards till you no longer need them. Make sure you never throw the receipts that you get after using your credit cards. There are possibilities that these receipts may be containing your personal information which can be used by criminals for their purpose.
It is a requirement these days to keep your documents safe. You can try out Document Pros if you are looking for ways to safeguard your document. There are plenty of document security services that you might need at any point of your life. Relying on a good company who can give you such services will be a smart option. It ensures that your documents are secure and there is no one breaching the content.
Among all the safety measures you just read above, choosing a good documentation company adds on. It helps you have maximum safety and security, so collaborate with the best people offering this service in the city.