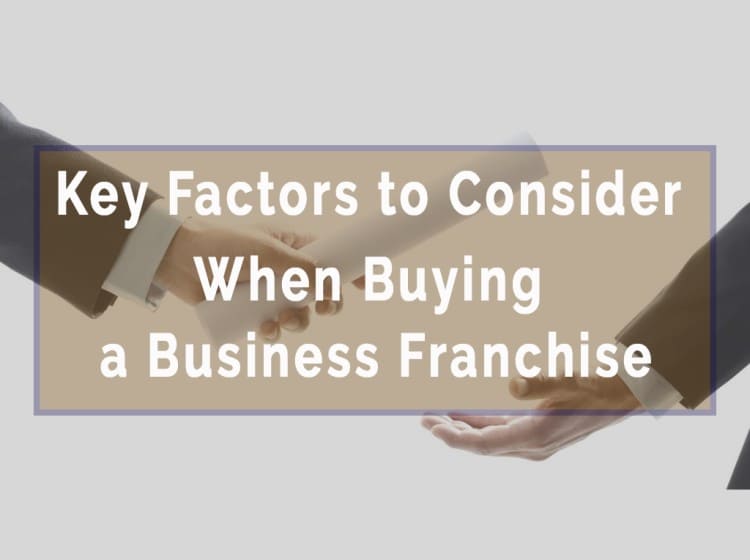 If you always want to be an entrepreneur but starting business is little bit discomforting for you, you should purchase a franchise instead.
Owning a franchise means franchisee has the rights to distribute the goods and services on the behalf of the company for the specific period of time.
As you are borrowing some other company's rights and proven model. So starting a franchise is much easier than opening your own business. While this has its advantage and disadvantage as well.
So before owning a business franchise here are some key factors to consider when buying a business franchise.
Demand
As in case the case before starting any new business, you should research about the demand of that product in your country. You should not take decision in hurry. You must confirm the demand of that product in your country, in some cases equal demand in two countries is not possible.
So don't jump into the conclusion for taking a franchise it would not be disadvantage for you.
Check the company's track record; it may help you to understand the business model of that company that you havechosen for your franchise.
Tracking record
Just a franchise is offering you, does not mean you should take the decision for opening business. You should track the records and check how much successful the franchise becomes over the years.
If possible, you should ask current franchisee about their experience and profit to get clear idea about the business whether the franchise is valuable to invest in it.
Investment
One of the obstacles is investment for starting your own business because all your savings or may be debts is invested to your operations. The portion, you have invested in your business is for training, equipment and license rights. These few thousand could be became millions.
Competition
Franchise is always given in the specific territory. If you own a franchise in your locality, you are the king of your own business because franchisor will not give the franchise in your locality.
Training
A major training is provided by the franchisor is that they provide entrepreneurial training. Some of them even provide sustainable support even after taking the best franchise business. Franchisor also provides training to the team of the franchisee with immense equipment.
Restrictions
Restrictions means the franchisor allowsdeciding all the rules and regulations. Franchisee cannot poke his or her nose in franchisor's business. So, if you have no problem with controlling things then you can do it.
Conclusion
Franchise means sharing the brand with an individual who became the franchisee. There are many more key factors that can be considered before buying a franchise, but these are overall factors that can help you for opening a franchise. There are pros and cons of the everything but taking a decision is your choice. For the economy of the country, franchise business is more stable due to their reputation and the quality they offer.