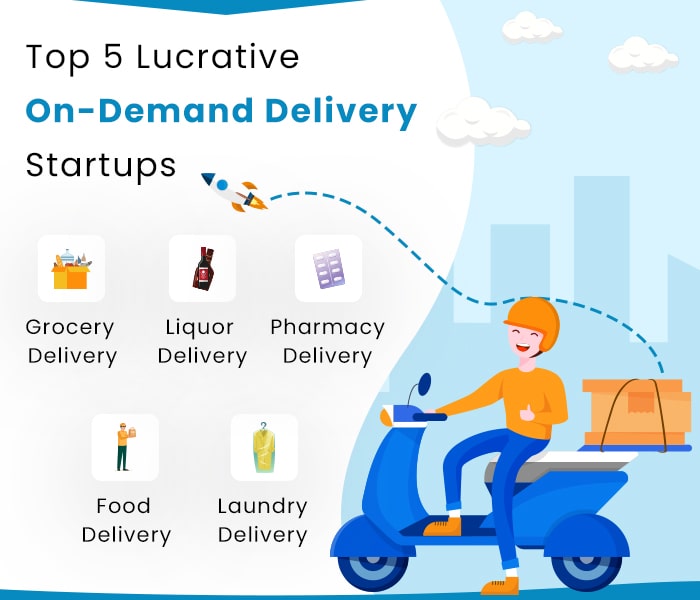 Innovations happen in hard times. We all are passing through economically and mentally unsettling time. Jobs are getting cut and businesses are taking hit due to this pandemic. Still, amid this chaos, certain businesses have managed to bring out a fair amount of business. Through their innovations and sustainable business models, they have till now survived in this tough time. Especially, on-demand delivery, eCommerce, OTT platforms, and online education platforms are witnessing a tremendous influx of new customers and users.
Today in this article, we are going to shed a light on delivery businesses that are doing extraordinary in this pandemic so that you could start one of them as your startup idea. Let's proceed and get started.
1. On-demand Grocery Delivery Business
Where many startups and companies are laying off their existing workforce, Instacart- a popular grocery delivery business is hiring new shoppers in a bulk. They are hiring employees because they are experiencing a surge in new customers because of social distancing and lockdowns. People are preferring ordering their groceries through their mobile app rather than going to the store physically. They don't want to risk their life by exposing themselves to the Coronavirus.
If you want to start a grocery delivery app like Instacart, then it is the perfect time for you to start it. There are high chances of getting success if your city doesn't have any grocery delivery app like Instacart. Because Instacart's business model is different than traditional grocery delivery businesses.
2. On-demand Liquor Delivery Business
Liquor delivery is one of the fastest-growing on-demand business ideas in the on-demand space. People have turned their eye to the on-demand liquor delivery apps for buying as the pandemic has made major brick and mortar liquor stores to move online.
For starting a liquor delivery business, you will need to create a liquor marketplace platform where local liquor retailers could register and sell their liquor. You can sell any items like beer, spirits, cocktails, wine, and other drinks. You could also add service for gift delivery if some customer wants to send a liquor bottle to their friend or favorite ones. Also, you can provide your delivery service in a bulk.
Corporate offices generally throw frequent parties and happy hours for their employees. You can provide the delivery of kegs of beer or other kinds of liquors as per their requirement. This kind of business is easy to start once you get suitable licenses. If you don't want to make a custom liquor delivery app, then you can buy a readymade liquor delivery clone app. It will be affordable for you. Also, you will have to attract customers through your best service and range of different liquor brands for gaining initial traction.
3.  On-demand pharmacy delivery
As the healthcare industry is growing by leaps and bounds in this COVID 19 situation, it is a good idea to start a delivery business in this niche. On-demand pharmacy delivery is one such idea that has a lot of potentials. People have already started to consult doctors through telemedicine portals. So they would also appreciate and like to order their medicines online.
Same as liquor delivery, for starting on-demand medicine delivery app you will have to build a marketplace of the pharmacy where local pharmacy store owners would register. Through mobile apps, customers could enter medicine name and will get the list of nearby stores that provides medicines. They could order for delivery or pick up the medicine and pay through the app.
4. On-demand Food delivery
Food delivery is an evergreen on-demand delivery business. But it has gotten affected little due to COVID-19 situations. However, with the guidelines becoming less stricter, the restaurants have been reopened. With new safety measures being taken by restaurants, people also have started to order their food from the food delivery apps. popular food delivery business like Postmates, Doordash, Ubereats, and Grubhub have restarted their delivery services. The delivery boys are instructed to follow every
If you want to start an on-demand food delivery business in your city, you will have to attract restaurant owners to register on your platforms. You will need to build a restaurant panel app for owners. Also for your customers and delivery boys, you will have to create attractive mobile apps.
5. On-demand Laundry delivery
Doing laundry on your own requires great effort and time. So people take the support of laundry delivery services. These delivery services are increasingly becoming famous among housewives and even working women. They know if they will send their clothes to laundry clothes, they could focus on something important. The on-demand laundry app allows people to book for laundry services.
The laundry truck comes home and takes all the clothes for doing washing and dry cleaning. As soon as the work is done, you are notified and you get your clothes delivered. You could pay through the app and even tip the laundry person. If you are looking for this kind of startup then Cleanly is the best example. You should study it thoroughly before you hop onto your laundry delivery business.
Conclusion
It's the time of volatility. People are understanding and using online platforms more than ever. They don't want to take any chances of going out and get infected with the coronavirus. By providing the services on their doorstep you proffer them the comfort they want. They feel safe in using such kind of on-demand apps. They often use these kinds of apps because these apps use contact less payment methods.
What do you think about these 5 on-demand app idea? Let us know.
Author Bio:
A writer by Passion, Founder of Excellent WebWorld by Profession. Paresh Sagar spent his whole life loving and perfecting technologies. His main focus with blogs is sharing information about IoT, AR, VR, and other Smart Technologies. In one sentence, he is a technology journalist focused on Tomorrow's World.