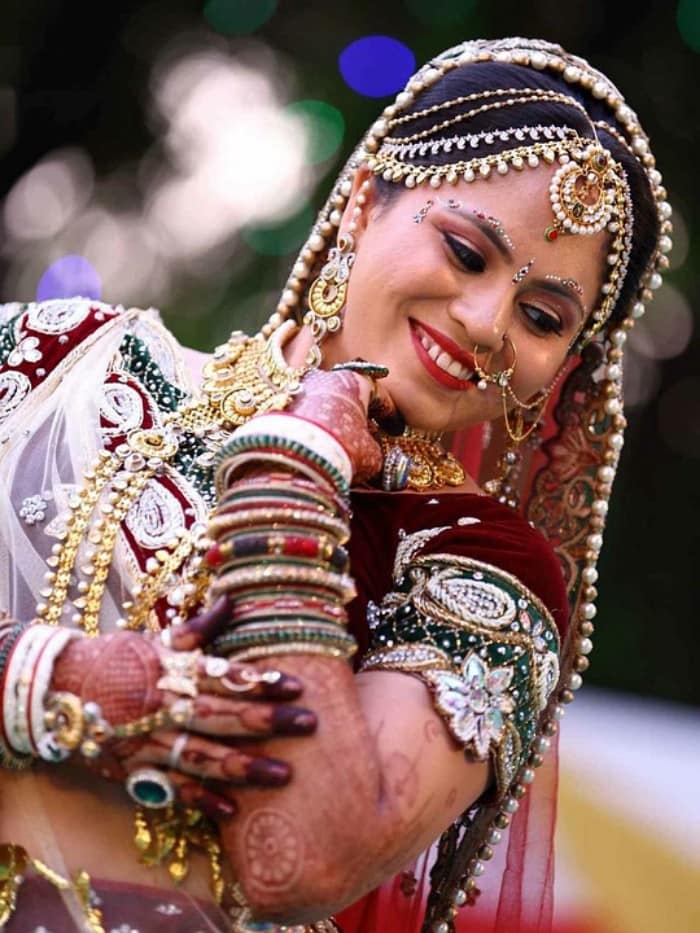 Your wedding is the most important day in your life. You have to look at each and every detail with a readiness and make sure that is nothing left for later. And when you are the bride, you need to look the perfect bride. Though it's the bridal dress, jewelleries are also an essential part of your attire. But, jewellery shopping is an arduous task indeed.
It might take months for a bride to choose the perfect jewellery that matches her personality, dress and occasion. Indian wedding jewellery has variety of options to choose from. From Mang Tika to toe ring, a bride has lot to choose for a complete bridal look. The list is enormous staring from searching the wedding banquet till the day of your reception. But, the confusion of what to pick and what not still persists!
Have a look at some of the tips to choose your perfect wedding jewellery.
Buy your Dress First:
The foremost task before buying your wedding jewellery is to choose your dress. Jewellery is like a complement that intensifies that style bar of your look. Likewise, wearing mismatched jewellery would make you feel dejected. Thus, always buy the dress before you make any bridal purchase. 
Try to search for Ideas and Inspirations:
In these modern times, you are never short of ideas. Bridal Magazines, newsletters, fashion firms are always there to update the trending designs and style that are a height of fashion for the season. Check out what's the latest style revolving your wedding date and try to pair up your dress with the jewellery design. Remember, since you are the bride, your style will be the talk of the town. So, try to keep your dress and jewellery in that demeanour. 
Analyse your Dress' Neckline:
Now is a good time to have a look at your bridal attire's neckline.
For a sweetheart or off-shoulder neckline, you may go for a choker style necklace or a piece that is closer to your neck. This will be a spectacle for your photographs.
For a turtle neck blouse, you may choose some mid-length necklace that will an ace for your style quotient.
Halter neck blouses go best with pendent style necklace as it showcases the design with a solid background of the blouse.
Square Neck goes best with some angular necklaces. They will fall right on your collarbone and give a stunning neckline view.
Boat Necks are a versatile style for a neckline. You may have a layered one or go with some angular design. Even a pendant design looks good enough. 
Balance your Jewellery. Don't overdo it!:
Excessive jewellery seems a bit obnoxious when you are already wearing a stunning wedding gown, lehenga or saree. Keep the ornaments to the minimum and in accordance with your dress. If your dress has more of embroidery or net design, then it would be wise to go with less number of jewelleries. Moreover, if your blouse neckline has some elaborate design, then it would be better to go easy with your neck pieces. If your blouse is full sleeved, then you may skip the bangles or bracelets, unless and until it is customary enough. Too much sparkle is unnecessary when you are a gushing bride. 
Go with a Colour Code:
You might not be aware but not every jewellery is suitable with every colour. If yours is an ivory coloured dress, gold would be highlighted at its best. But, silver, platinum or pearls go best with white. Gold is also best essayed when worn over red, maroon, wine or pink coloured dresses. 
Keep a check over your Skin Tone:
When you want to flaunt your jewellery, flaunt it with care. Indians have variety of skin tones ranging from fair to dusky. Before buying a jewellery piece give a trial to pick the right one. It might be possible that your skin tone goes well with gold rather than platinum or diamonds. Ask for some advice from the viewer to have a second opinion on how much the jewellery is flattering you. Or else it would be a waste of money and lifetime of resentment. 
Mix and Match:
Being a modern day bride, gives you the liberty to choose and wear Indian wedding jewellery both in traditional as well as modish style. Blend both the styles that will bespoke the custom and style of yours in your dressing sense. You may add some of your grandmother's jewellery with your latest purchase to keep the sentiments alive. 
Don't forget your Hair Accessories:
Though we discussed about not overdoing your jewellery, but going minimal with your neckline gives you a free reign to sport some hair accessories that goes well with your dress. Choose some small or big accessory depending on your face to keep the style proportionate.
It is not easy to plan your wedding jewellery. So take your time and plan your wedding jewellery according to your bridal outfit before going out to find or order your custom jewellery.