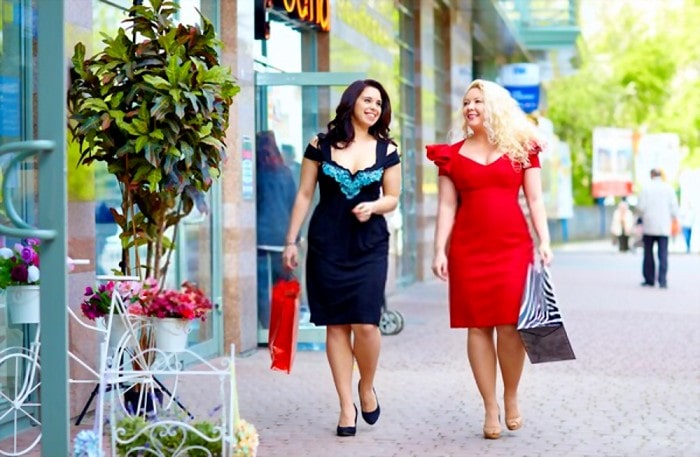 Though it began at a snail's pace, the trend of plus-size fashion has taken the internet by storm. Gone are the days when plus-size was a matter of concern, and people chased skinny and lean body. With the 'love thy curve' movement, women have started embracing their curves, and so have the brands. The spotlight is slowly shifting towards chubby cheeks from skinny bodies and how! From individual labels to global brands like H&M and Forever 21, entering the size 12 arena, the trend is changing.
Not just this, even the online portals and fashion websites have started selling stylish plus-size clothing. Dig into the displayed catalogs, and choose from the best styles and trends across the plus-size collection for women. You can also avail great discounts on your plus size clothes from stores like Shein using fashion coupons and vouchers on readily available across clothing and apparel stores. Pick up your favorite outfits at pocket-friendly prices.
To help you get started, here are a few of the latest trends in plus size women's fashion:
Put them polkas on a puffed sleeve dress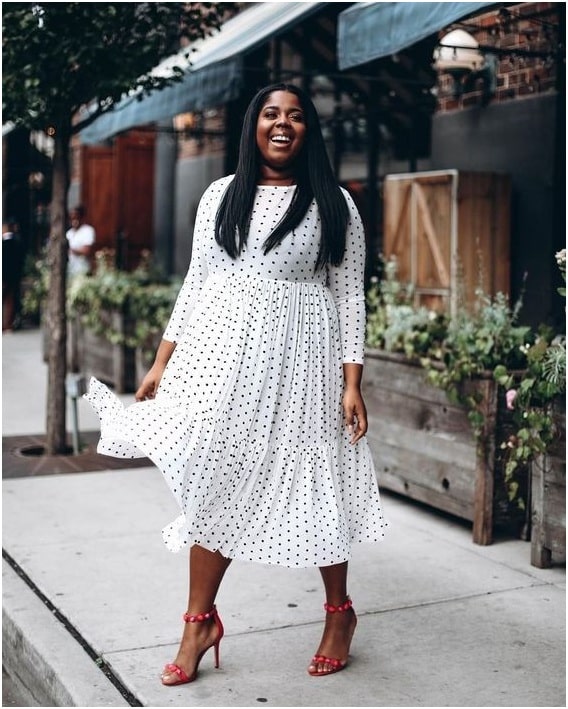 This is the golden look that will never go out of trend. Polka dots make their appearance on the fashion charts now and then, but it's never quite old to be thrown out of the wardrobe. You can team an easy-breezy polka dots dress with puffed sleeves and a high waist belt. You can select footwear according to your preferences. You can sport this look to an informal gathering or a brunch with friends. Choose pastel colors if you're considering this look for a summer party. Bold colors will be a perfect choice for post-sunset parties.
Where Can I Shop Puffed Sleeve Dresses?
You can check out online portals like ASOS or investigate the shelves at H&M to find the perfect dress for yourself without shelling out huge amounts.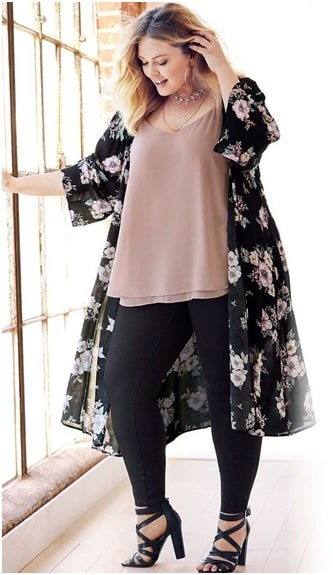 Choose the most versatile trend ever, close your eyes, and trust the floral magic. Whether it's a top, a dress, shrug or your favorite skirt, floral prints are the safest choice to bet on. Dark floral outfits are lively, fashionable, and suitable for every occasion. This print is accessible when it comes to availability and can be sported in any season. But if you don't fancy a dark floral print, try a pair on, and you're guaranteed to fall in love with them instantly.
Where To Shop Floral Dresses From?
Florals are easy to find. H&M has no shortage of floral collection and can be found during any time of the year. You can also check out Forever 21 for some of the best floral outfits.
Vertical stripes pantsuit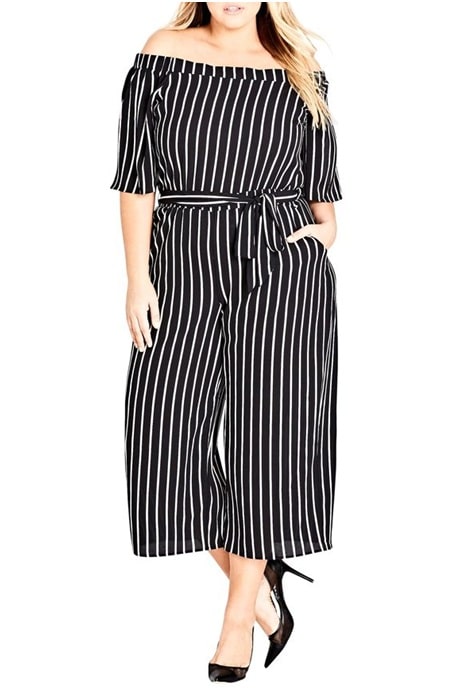 Honestly, this is one of the hottest trends of the year. Outfits with vertical stripes give your look a formal touch while adding a sense of chic. Vertical lines are for everyone, literally, and are very much in style. Pair up the vertical striped top with trousers and pumps for a boss look. Vertical stripes are suitable for all your formal gatherings. Not just tops, vertical lines look good even on pants and dresses. Check out the latest collection at your favorite brands and shop for your favorite stripes right away.
Where Can I Get Vertical Striped Outfits From?
Zara and Marks & Spencers are the best brands for striped clothing and formal outfits. You can also take a stroll by Calvin Klein for some amazing collection.
Statement pants with an all-season top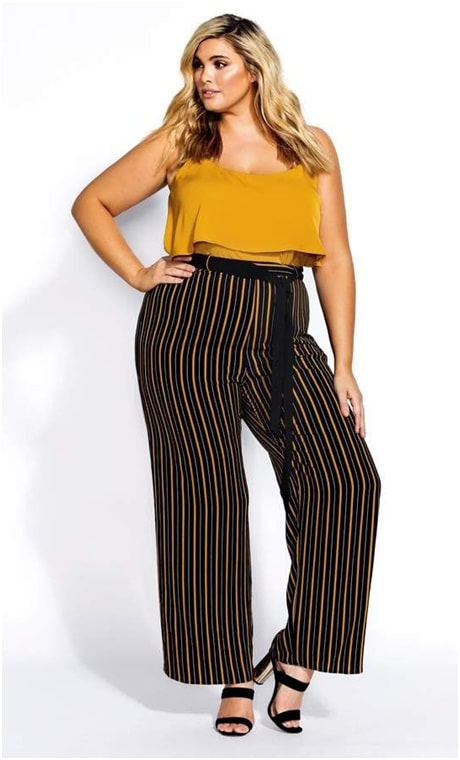 If this isn't a great idea, I don't know what is! A wide-legged statement pant should be your first pick this season. These basic yet stylish pants are a must-have in any wardrobe. This outfit is for everyone who likes to keep it bold and beautiful. Team up the pants with an all-season top or maybe an off-the-shoulder top for a glamorous yet bold look.
Where Can I Buy Statement Pants Online?
Since these pants are ruling the fashion industry currently, it's very easy to find them at any plus size online store for women.
Can you say no to some glitters?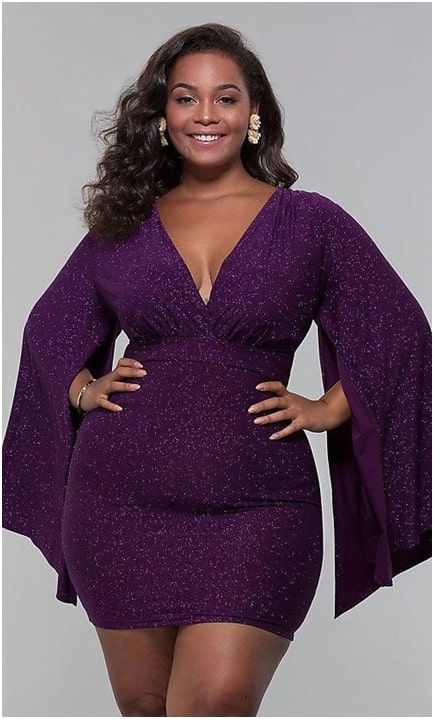 Definitely NOT! Add some glitter to that party look and let the spotlight shine on you. A sequined top with a glittery skirt is never a bad idea ever. Get yourself a gorgeous sequined dress and pair it up with a stylish top. To make it look even better, accessorize yourself and let the glam flow.
Where To Buy Sequined Skirt From?
You can check out fashion portals like Shein for all your party outfits. They have the best party collection for women.
These are some of the hottest plus size clothing trends for women this season. However, you are a fashionista, with or without the trend. No matter what you wear, carry it with confidence, and you'll definitely rock it.
Author Bio:
Jaya is full of stories. She loves collecting and exploring things. Also a style enthusiast, Jaya never gets enough of shopping online. A huge saver too, she googles fashion coupons and vouchers every time she checks out. If she is not at work, you'd find her building on her foodie reputation, or posing for pictures.