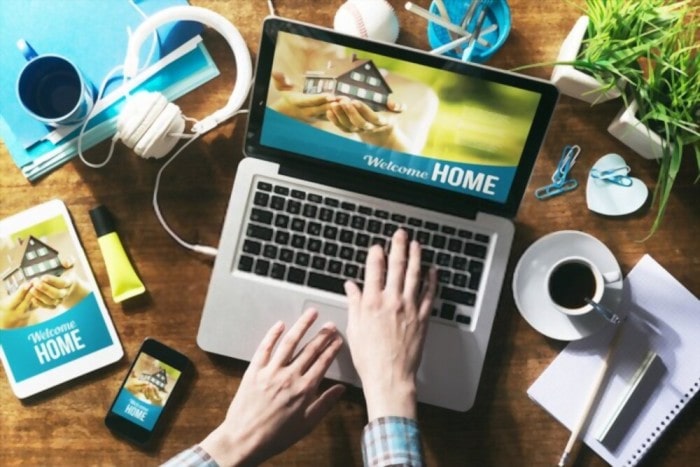 If you're in the real estate business, you know that the competition between you and other agents can be quite stiff. If you want to be at the top of your game, you need to do everything in your power to out-work and out-maneuver them on every level.
A major part of out-maneuvering your competitors is accomplished by having your own proprietary website for your real estate business.
Sure, your agency may provide you with access to a cookie-cutter template website that puts your name, picture and contact info on hundreds of agency listings. But that simply isn't enough in today's market.
In this article, we're going to look at five important reasons why you need your own website for your real estate business.
1. Your Website is a Digital Business Card on Steroids
The fact of the matter is that the majority of home buyers are looking for their next home during non-business hours. This makes running a realty business truly a 24-hour-per-day, seven-days-per-week kind of career.
You need to have some sort of availability at all hours of the day and night.
Your personal business website needs to give home buyers and sellers all the details on who you are, the best times (and ways) to reach you directly, and a fully-updated listing of your current properties.
Even if a client is shopping for their new home at 2:00 a.m., they'll be able to learn everything they need to know right on your site.
2. You can Be the Expert in Your Field
Your own website is the perfect place for you to showcase your knowledge of home buying and selling. The best way to do this is by launching a blog within the site.
WordPress.org offers dozens of free website theme templates for Realtors that feature very simple setups and easy-to-use blogging formats. Of course, there are other options. But WordPress is a great place to start if you're building your real estate website from the ground up and you know how important having a blog is.
When you launch your blog, spend some time brainstorming different articles and subjects that you can efficiently and impactfully write on. Remember, you really want your writing to establish you as an expert.
Next, you'll want to decide on a realistic frequency of blog posts and stick to it. If you're a good writer, you may want to devote an hour each day to writing and posting a 500-word blog post that your audience looks forward to on a daily basis.
Or, you may decide that one 1,000-word post that goes live every Sunday evening is what you want to do.
Perhaps you think that one highly detailed post per month is more your style.
Whatever you decide, it's important to remain consistent in when and how often you post. Consistency will help build your audience.
3. Direct Mail for Real Estate and Your Website Work Hand-In-Hand
Utilizing direct mail for real estate sales and agent promotion is still wildly effective. In fact, it's one of the best ways for you to break through the electronic bubble and reach new prospects who don't already follow you on social media.
But, unless you want to spend an arm and a leg on a 10-page direct mail piece that details everything about yourself and your current listings, you can send out a much less expensive real estate mailer that will point recipients to your website.
An effective direct mail piece might be a simple postcard with your picture, a quick bio, a picture of a listing you recently sold, your phone number, and your website URL where people can "discover why you want to be their next Realtor."
This type of direct mail piece will be an excellent initial introduction, while your website will allow potential clients to dive into everything you want them to know about you and your listings.
4. New People Will Discover You
One of the biggest benefits of having your own website for your real estate business is that you can get your name in front of thousands of potential clients — if you're good with SEO (search engine optimization).
If you're not so good with SEO and don't want to invest in an SEO specialist, you can use platforms like Adwords to get your message in front of a new audience.
Advertising on Adwords is significantly less of an investment than you might believe, and has been proven to be an efficient lead generation tool for many successful Realtors.
Before you start on Adwords, spend some time learning about how it works and how to best utilize the platform.
You'll also be able to direct all of your social media followers on Facebook, Instagram, Twitter, Pinterest and Tik Tok directly to your website for more information.
It's a good idea to have an email sign-up form on the homepage of your site so that your social media followers can receive email updates from you as well.
5. A Website is the Best Lead Capturing Tool
Getting traffic on your website is one thing. Getting leads from your site is quite another.
If you have a ton of daily traffic but nobody is signing up or giving you their personal details, then your site isn't serving you in the way that it should be.
There are countless tips and tricks on how to design a website that best captures leads. But in the real estate business, one option is to have your own custom domain and use a CRM such as BoomTown or Real Geeks.
This will allow your website to capture leads through a mandatory sign-up process before a user is able to view listed properties.
While this might cut down on the total number of people regularly viewing your properties, it will provide you with a highly qualified list of prospects that you can get in touch with.
It's Time for Your Own Real Estate Website
Now is the time to take your real estate business to the next level. Having your own professional website is one of the best ways to do this.