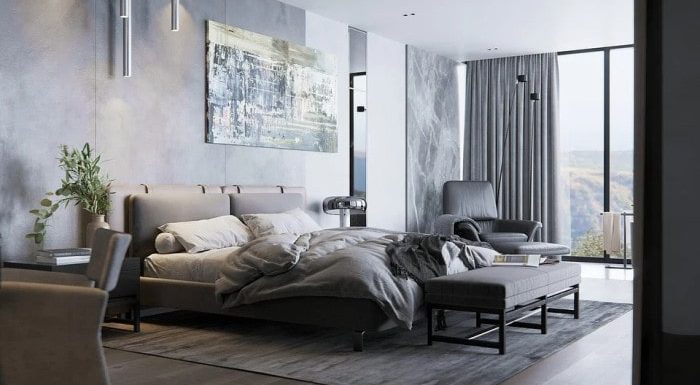 If you are tired of the way your bedroom looks, a good way to revamp it is to change its decor. The only problem is that decorating your bedroom can become expensive very quickly if you are not careful about the decor choices you make. However, it is still possible to give your bedroom a new look on a budget. With some preparation and planning, it is possible to do this, and here are some tips to help you out.
Revitalise Your Furniture
Most people do not notice it, but one of the most common reasons why your bedroom might not look as good as it once did is because of ageing furniture. Now, you might be tempted to go out and get new furniture, but this could get expensive fast. Instead, you could give your furniture a new lease of life.
If you have leather seats in the bedroom, you can bring them back to life using some olive oil. For wooden furniture, a coat of paint or varnish will work wonders. You can always experiment with different colours, especially if you are thinking about painting the walls.
Talk to a professional and see if it would be possible to reupholster your bedroom sofa. Not only will this make it look better, but it will also make it more comfortable to sit on.
Rearrange the Bedroom
Rearranging a space can make it look much better because it allows you to see the new space differently. You can choose a centrepiece in your bedroom, be it the bed, a fireplace or even a light fixture, and rearrange your furniture around it. Rearranging the furniture can also make the bedroom seem bigger or smaller, something that can affect how comfortable you perceive the bedroom to be.
Shop Differently
When looking for bedroom decor, you will likely land on stores that sell generic items that you can find in any other shop. While some of the decor items you find might be great pieces for your bedroom, why not go for something different and make your bedroom unique? We are talking about going the arts and crafts route.
These stores stock completely unique decor that you can use to add a bit of fun and colour to your bedroom. From various unique designs and art pieces to fun fabrics, you can find everything you need to transform your bedroom at an arts and crafts London shop that specialises in unique designs, fabrics and colour combinations.
Use Accent Lighting
In most homes, accent lighting is relegated to the living room and the kitchen. However, accent lighting can totally transform how your bedroom looks. Add some lights to cast shadows on different walls in the bedroom for interesting effects. You can also use accent lights to highlight paintings, plants, pictures and interesting decor pieces.
Accent lighting can also be used to make the bedroom appear warmer, cooler, larger or smaller depending on the types of lights used and their placement. Wall, floor, table and ceiling lights and lamps work best for the bedroom. If you decide to go this route, you can find lights and lamps in different shapes, sizes, colour temperatures and styles to choose from to either make your bedroom look more cohesive or to make it look more intriguing.
Budget for Accessories
Adding a few accessories to the bedroom such as decorative pieces is a great idea when decorating. The only problem is that it is easy to go overboard and spend too much on decorative items and accessories. This is because these smaller decorative items are much cheaper than buying something like a new sofa.
To help prevent overspending, have a decor budget for your accessories. Setting such a budget will be helpful because this is one area where you can save a lot of money and use that money for much bigger items like artwork.
Don't Discount Second-hand Furniture
When the furniture in your bedroom starts annoying you and there is no clear way to make it fit into the vision for your bedroom's new look, it is easy to be tempted to get rid of it and start afresh. Do not forget that there is good quality second-hand furniture that can fit your vision without you having to spend so much.
A little research and some shopping around will be required, but you should find what you are looking for fairly quickly. If you are still unsure about second-hand furniture, remember that styles are always changing, and you might get expensive furniture simply because it is in style and regret it a few years down the line when tastes and styles change.
There are endless ways in which you can decorate your bedroom, but many of them do not fit within a reasonable budget. It is therefore a good idea to explore different ideas that will help you end up with a revitalised bedroom without spending too much on redecoration.