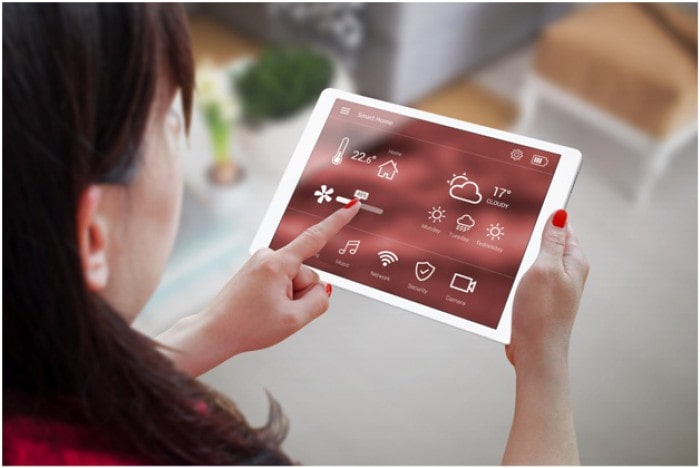 One of the hottest trends in home renovations and upgrades is smart home technology. There are so many different devices and types of smart integration available today, though, that it can be hard for the average consumer to keep up. From heating and cooling systems to security, appliances, and even lighting, smart solutions can be found in all areas of the home. Learn more about this innovative solution and what it can do for your home.
Choose Your Control: Voice, App, or Remote Sensor?
Smart home devices offer various methods of operation and control. While most people enjoy the integration of a smartphone app, voice controls and remotes are also popular options. Using a digital assistant combined with smart home fixtures and technology, you can easily dim the lights, turn on the porch light, or even lock the doors with a simple voice command.
Many systems also offer the option of multiple control methods. You can install a smartphone app for easy monitoring and control, but also enable voice activation in case you want to access the system from home without your phone nearby. It's up to you because smart technology offers total customisation with the selection of products and solutions on the market today.
Smart Home Kits
Some companies sell basic starter kits or more advanced smart device kits that include a variety of fixtures and devices. These are designed to be easy to use and help get anyone on the path to a fully-functional smart home. Devices offer easy integration and operation, and getting everything in a single purchase ensures compatibility across devices and monitoring solutions.
Smart Home 101: Digital Assistants Explained
Digital assistants are a common tool for accessing various smart technology throughout the home. Examples of these include Google Assistant and Amazon Alexa. There are various types of systems available and some offer connectivity with other smart devices. Be sure to read the details of these systems to ensure they will deliver all of the features that you want before you choose your preferred device.
Alexa is compatible with a number of smart devices and appliances, as is Google Assistant. Apple Home offers an app that uses Siri to manage lights, temperature, and other elements of the home through voice controls. Each has its own advantages and disadvantages, but they can all provide the connectivity that your home needs.
Most Popular Smart Upgrades
Smart Lighting
Smart lighting is one of the easiest upgrades and it is one that can save a lot of money. Not only can you install LED bulbs that are energy efficient, but you can put them into fixtures that you can control remotely from your smartphone or digital assistant. From managing lighting while you are out of town to turning on the kitchen light before you get home, smart devices make it easy.
Smart Locks
Increasing the security in your home is great for your peace of mind. It can also earn you discounts on your home insurance and give you the capability to control your locks from anywhere in the world. Keyless access systems, remote-controlled locks, and other systems are available. You can incorporate the locks into the home automation system so that your lights come on and the door unlocks as you are pulling in the driveway from work, for example. There are various styles of locks and entry systems available, including products in just about every price range.
Smart Appliances
Right now, smart appliances are changing the industry. 2023 is the year of smart appliance upgrades, as more and more affordable solutions become available to homeowners. Appliances are something that you use on a regular basis and being able to incorporate them into your smart home can provide a lot of convenience and peace of mind. Refrigerators with digital temperature control and energy saving modes are popular, as are smart TVs that use as much as 15 times less energy than a TV and game console for streaming services.
Smart Garage Doors
As if remote garage door openers weren't convenient enough, there are now smart systems available. The brand Chamberlain has a system known as MyQ, which is compatible with all systems installed after 1993. This system is integrated with a smartphone app and can also be used with digital assistants. Older systems also have options for smart integration, with a number of adaptable control kits on the market today. You don't even have to replace your entire garage door opener to integrate a smart system into your home.
Smart Thermostats
Automating your thermostat with a smart system can save you a lot of money on heating and cooling costs. You can customise your temperature settings while you are out of town, kick on the AC on your way home from work, or just monitor outdoor temperatures to regulate your indoor thermostat setting accordingly. There are some remote models out there, but most operate through a smart home hub or integrated smart technology.
Where Do I Start?
With so much great technology available for smart home automation, it can be hard to decide what is most important. The reality is that everyone has different priorities. What you think might be important to upgrade to smart home technology might not matter to someone else. The best thing to do is review the products and devices that are available and then decide which areas of automation are most important to you. Then, you can start converting your home to a smart home one device at a time.