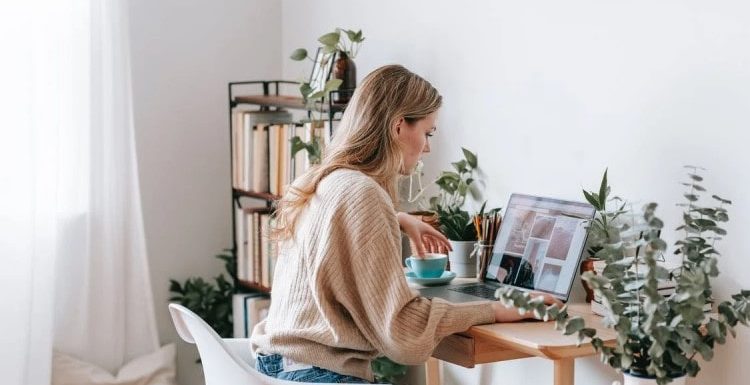 Thanks to the internet, a plethora of businesses can now engage communities and people interested in products and services relevant to their daily lives. These organizations leverage online platforms to establish their brand's positive image. They can also bring their products or services online for the new normal, promoting consumer satisfaction while increasing revenues.
The innovations of digital marketing, content marketing, internet banking, and eCommerce business models also clearly demonstrate the internet's relevance in today's business world. High-speed internet is helpful for most companies in terms of increasing production. In addition, the internet is the most convenient means for a company to communicate with its customers and clients.
As far as entrepreneurs can tell, the internet is the backbone of businesses that want to sell online. In fact, the internet is the lifeblood of many companies, no matter how small or big in scale. Internet technology has introduced new ways of promoting and selling goods and services, which is crucial for business growth. It also provides practical marketing and communication tools.
Innovative Ways to Make Money Using the Internet
According to the Economic Well-Being of U.S. Households in 2020publication, more than a quarter of Americans (27%) earned additional money via side jobs last year. Among them are people who want to make money online.
Online-based jobs or gigs are appealing for different reasons. Apart from the freedom and flexibility of being able to work from home or any other remote environment, they also enable business-savvy individuals to reach a worldwide market for a lower initial investment or startup cost. Some options in making money through the internet don't even require product creation or storage of inventory.
Indeed, you can earn money online, and millions of individuals do so daily. You may try many business ideas at home using only your laptop and a reliable internet connection. From being a freelancing specialist or savvy marketer to embarking on entrepreneurship that offers installment buying options for your customers, you won't run out of viable options to consider.
In this post, we'll be exploring the different money-making concepts through the use of the internet. Let's get started!
Dropshipping
Dropshipping is among the most common ways of making money online. In this business model, you sell a product to a client, but the supplier stocks, packs, and ships the package for you. For instance, Shopify dropshipping gives you millions of choices regarding products to sell on your website.
When you use Shopify dropshipping apps, you can hand-pick product photos, write updated item descriptions, and customize your business to entice customers to make a purchase. To generate more sales, you could take after businesses that employ a variety of marketing strategies, from running ads on Facebook to having influencers promote your goods and direct messaging potential buyers on social media.
Print on-demand
Print on-demand is a highly popular money-making online business among those who want to monetize their creativity, such as graphic designers. They are drawn to creating designs and printing them on apparel and other commodities. All they need are unique, attractive designs to start and grow a  recognizable brand for their company. Branded labels can also be added to packaging, which helps with brand identification.
Print on-demand is somewhat similar to dropshipping. That is you don't have to keep piles of inventory or make regular shipments to clients.
In terms of marketing, your best strategy is to use social media market marketing. This lets you promote your brand for free on popular social networks like Instagram and Pinterest. Alternatively, you could work with Instagram influencers who have a significant following that you can target with your products.
Affiliate marketing
Another profitable way to make money online is through affiliate marketing. Despite its cycle of rise and fall over the years, it remains a viable way of earning income in the online space. With affiliate marketing, you can work for almost any brand that has an online presence.
In affiliate marketing, you can make money by promoting products for other people. Every sale earns you a commission. There's no limit to what you choose to sell, including retail products, software, apps, etc. You only need to be a skilled digital marketer.
So, how do you earn exactly? Through content marketing, that's how. You could create a blog with multiple pages of high-quality content and allow brands to advertise their products or services on your web page. These advertisers will then pay you for ad views and clicks.
While a little commission may seem insignificant, you could compensate by being an affiliate for different brands and including multiple affiliate links in your blog posts.
And should an affiliate program you're currently working on pause or close, you can look for another affiliate marketing partner that will pay you for referring leads or customers to them.
Freelancing
The simplest method to earn income online is to take your present 9-to-5 work and do it online. Whether you're a writer, virtual assistant, graphic artist, instructor, or coder, you could promote your proficiencies and find clients needing the service you offer.
As a freelancer, an impressive portfolio is a must-have to showcase your qualifications, past works, and fruitful relationships with clients. Once you've built your portfolio, you may begin approaching potential high-end clients to earn extra money online.
Investing
Investing in stocks might also help you earn quickly. You could start small and then scale your investment as you go along. But if investing isn't your strong suit, resist the temptation to force the issue. Even with its potentially large rewards, stock investing can still result in financial loss if you lack the knowledge or experience.
There's a Lot More
Finding money-making opportunities online can help you supplement your income from your 9-to-5 while pursuing your dream of becoming a full-time entrepreneur. By exploring the online business ideas and other financial ventures mentioned in this article, you can be more financially independent and be several steps closer to living the life of your dreams. So, take action now and start building your business empire.