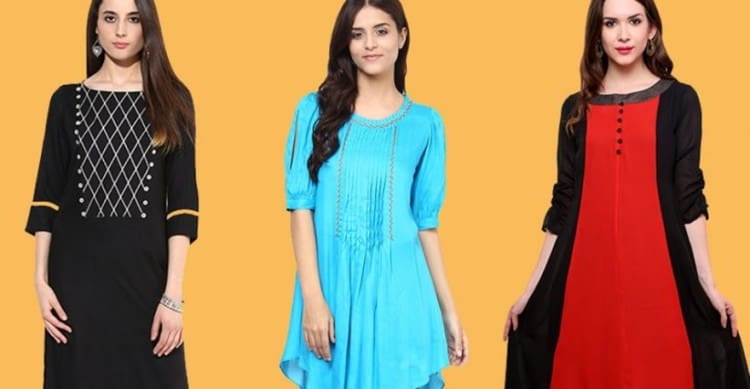 Do you waste time on weekends planning what to wear the entire week to work? Official wear can be tricky to choose especially when your job demands that you wear it every day. You have to look both professional and presentable. Formal shirts and pencil pants are what most of us stick to but this style every day becomes monotonous.
You should look for ways to include some color in your office wear. Kurtas from Stylecaret can help you achieve this while still helping you remain formal. They are not limited to casual wear alone since you can get presentable kurtas to wear when going to work. They bring out that feminine charm in you and help you add some color to the office wardrobe.
Not all types of kurtis can be worn to work. The advantage with these styles is that you can get a tailor to stitch your kurti or purchase them when they are ready to wear. Choosing the right style can help you make a fashion statement at work. Allow us to teach you how to kill that look to work as you experiment on different kurtis. Enjoy! 
Tail cut kurtis
These are ideal for the lady who spends most of the hours at work seated. They are not comfortable if your job demands that you keep on moving a lot. They come with a C-shapes cut on the back and front side.
The neck is shaped round, and the sleeves run halfway on your arms. A cotton-tail cut kurti is not only comfortable but also trendy.  If you have a triangle or pear body shape, this kurti design is for you. Match it with some leggings or jeggings when going to the office. 
A-line kurti
Are you looking for something formal and sweet? The A-line kurti can help you achieve that. They look elegant in the office and accentuate your gorgeous features. If you need a kurti that is not very flashy to wear to work, go for this design. It is also not as dull as sticking to pencil skirts every day.  A high collared a line kurti looks perfect for office wear. Match the line kurti with some pallazo, relaxed cigarettes pants, leggings or some dhoti pants.
Anarkali kurtis
Most Anarkali kurtis are designed for office and casual wear. They make you look confident and beautiful. Anarkali kurtis come with a flowy design which gives you that slim look you desire. They are made from cotton fabric which makes them lightweight, perfect for your busy schedule. Wear them to work with some jeggings or leggings.
Straight and short kurtis
If you are tall, you need to choose a long, straight kurti. They blend well with your height and help you achieve comfort while working. The advantage of the long, straight kurtis is that they go well with any body shape. The design comes with two cut edges which make them even more interesting.
Short kurti, on the other hand, is meant for short ladies. Wear such a kurti with some pallazo pants if your office does not permit jeans. They give you that modern touch and make you look unique among your workmates.
Solid kurtis
A solid kurti goes well with a formal setting. Your kurti can contain some unique details such as collars, front buttons or even cuff sleeves to make it more stunning than having it plain. Color blocking also makes it look distinct while at the same time formal. Color blocking also gives you positivity and makes you remain in a good mood at work. Wear this kurti with some jeggings or palazzo. 
Flared kurti
Are you looking for something different from conventional designs? Try wearing the flared kurti to work. It allows you to move around easily since it comes with a bottom section that is spread and has a huge design variation. A flared kurti is a trendy kurti design perfect for the office.
High-low kurti
Combine both formal and casual looks by choosing a high low kurti design. The short height on the front part of your kurti portrays a casual appearance while the extended back part looks formal.  Wear this design on Fridays to work with some tight leggings to achieve a posh look.
Embroidery kurti
Such a kurti made from cotton fabric displays a unique pattern on the pleating. The Chinkakari embroidery kurti is a good example that can make you look gorgeous when you wear it to work.
Printed kurti
Most offices are not very strict when it comes to wearing prints to work. You, however, have to be careful with the prints that you choose. Get a printed kurti that is not very bright. For instance, indigo prints or block prints are famous for bringing out the feminine look. You can wear a straight printed kurti to work together with some solid churidar. The look symbolizes simplicity and looks presentable.
Double layered kurti
Wearing the same look every other day when working is boring. That is why you should add this design to your wardrobe. The double layered design gives people the impression that you are putting on two kurtis at the same time.  It brings out a sophisticated look and leaves people guessing all day.
Angrakha kurti
This is both a formal and casual look. When choosing the Angrakha kurti, go for the latest design to make you look stunning at work. Beyond the looks, it is comfortable for any busy lady. You can match it with some palazzos or leggings. This kurti is not limited to a particular body type.
Final thoughts
Choosing outfits to wear from Monday to Friday can be a daunting experience. You should try to balance between presentability and functionality. Office kurti symbolizes style, comfort, and formality. Try to experiment on different pieces until you find the ideal fittings that transform boring office looks. Though some Indian women stick to ethnic wear, you can combine kurtis with some trendy features and make them look suitable for the workplace.