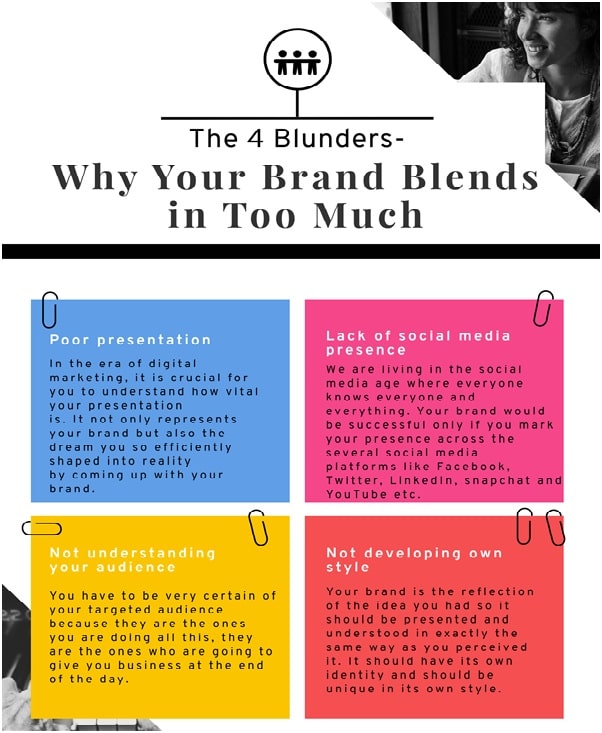 Business, regardless of its size needs constant attention, care and repair because you fail to do this then your entire investment (both emotional and financial) goes down the drain. The swift flow of communication, proper design, creation and completion requires an efficient team and undivided dedication to remain in the business for a long time. In this article, we shall discuss the four significant blunders that do irreversible harm to your brand.
Poor presentation
In the era of digital marketing, it is crucial for you to understand how vital your presentation is. It not only represents your brand but also the dream you so efficiently shaped into reality by coming up with your brand. If your brand is of superior range, but you present it poorly there is entirely in no point in wasting your money. The presentation is an investment you make over and over again to build a brand image and to sustain it through life. Following pointers could be helpful in avoiding poor presentation-
Hiring a professional marketing team
Deciding a target audience
Creating awareness about your brand first to the team and then asking them to reciprocate the same idea to your audience
Creating relevant content for your brand so that it doesn't get lost in the web chaos
Expanding your brand's presence across the geographical boundaries
Being familiar with the latest trends and tools for optimizing marketing strategies
Lack of social media presence
We are living in the social media age where everyone knows everyone and everything. Your brand would be successful only if you mark your presence across the several social media platforms like Facebook, Twitter, LinkedIn, snapchat and YouTube etc. your brand should have a website with complete 'About us' details so that when people visit your website through any of the social media channels they should be able to grasp the precise idea of your business/ brand and they know- how to make purchases.
You can use the help of bloggers to create unique and search optimized content for you aka content marketing so that it attracts maximum traffic on your brand's website. Popular content these days is of two types-
Written:- web pages, blogs, tweets etc.
Video:- developing a video (short/ long/ interactive) to attract the audience towards your brand
Not understanding your audience
You have covered everything- design, implementation and services but have you thought about the fact that your brand's audience is the most crucial point when it comes to marketing funnel. Suppose, you are a brand that makes stuffed toys so who your target audience really is? The kids yes but do these kids make the decision of buying those toys? No! That decision depends on how attractive your product is to the parents.
Similarly, you have to be very certain of your targeted audience because they are the ones you are doing all this, they are the ones who are going to give you business at the end of the day. In order to achieve desired results for your brand carve out the targeted audience and then choose an appropriate marketing strategy from the following-
Email Marketing
Pay-Per-Click Marketing (Google AdWords)
Search Engine Optimization
Influencer Marketing
Sms marketing
Content Marketing
Retargeting Ads
Viral Marketing
Affiliate Marketing
Not developing own style
Your brand is the reflection of the idea you had so it should be presented and understood in exactly the same way as you perceived it. It should have its own identity and should be unique in its own style. For achieving this, you need to do the following-
A logo represents your brand uniquely in the form a styled graphic. It is like the ID card of your brand.
Words matter the most. People visiting your website should be clearly able to understand your idea in simpler terms like a slogan or a motto describing where you and the whole idea for the brand is coming from.
The website shouldn't be dull; it should speak volumes about your brand by the graphics used on the website.