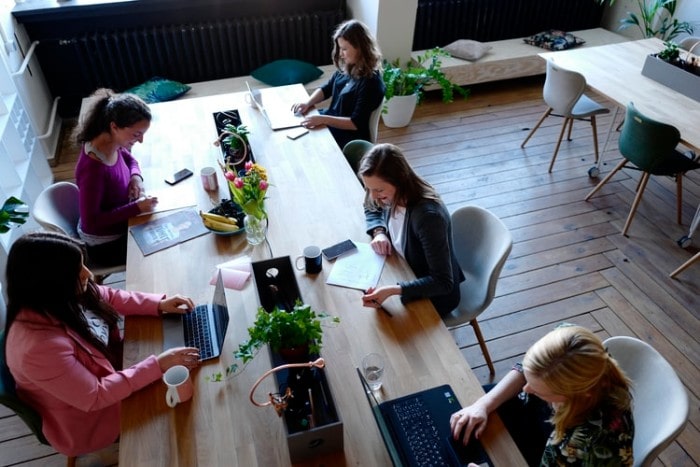 In today's ever-dynamic work ecosystem, coworking spaces have emerged as a force. They have been embraced as the go-to workplace for many, including Freelancers, employees, and even influencers.
The trend of coworking spaces took full swing in the post-pandemic era. Rightly so because we all know that work from home is simply not that productive, if not boring sometimes. While working from home seems like the stuff of dreams, it turns out it isn't as conducive to productivity as you initially thought.
Now that coworking spaces have already hit the mainstream, you've got a myriad of options to choose from. However, Finding the best coworking space for your liking might be a little challenging given the abundance of options available.
Moreover, the very idea of a coworking space is pretty seductive in itself. After all, it's a life of a community, where ambitious youngsters work on their aspirations while at the same time chilling on music and games, and relaxing in an elegant work environment. But it's not always rainbows and sunshine, and spoiler alert, you still gotta work.
Here is a comprehensive list of 7 most imperative factors to consider while choosing a coworking space:
1. Appropriate Location
You must choose a coworking space whose location should not only fit your requirements but also align with the sort of lifestyle you live.
If you like the hustle-bustle of the midtown area, you'd probably want to go with the ones situated in the popular areas. You can benefit from many networking opportunities from this. But if you like to simply work peacefully in a quiet environment you should stick with the branches that are situated in the outskirts or in a quiet locality.
Moreover, you must take into account the nearby food and restaurant options, as well as the parking and recreational options. Believe it or not, these little things matter a lot for a good work-life balance and your daily expenses.
Furthermore, Utilize tools like Google Maps, 3D Street View, and other technologies to research and analyze the coworking space and its surrounding environment properly, before you make a decision. These services could be a lifesaver.
2. Easy Commute
Think about it, What good is a working place if you can't even reach there at your planned time? You might have quit your job for that excruciatingly long commute in the first place.
Therefore, be aware of the options available to the location and whether they're at your convenience or not.
But assuming that one would reasonably find a coworking space around where they live, you can skip that annoying part of your day now that you work remotely. Additionally, Your productivity and well-being can significantly benefit from beginning the day without having to deal with traffic or public transportation on a daily basis.
3. Ambient Environment
It's been proven time and again that your work environment impacts your productivity significantly. So you probably don't want to choose a coworking space with a dull premise, with only chairs and tables to meet the bare minimum, would you?
You may get pictures and videos of the work environments on Pinterest or their Instagram page. However, the best course of action after compiling a list of potential coworking spaces is to ask to take a tour of the actual workspace. Rightfully so, this service is provided for free at many coworking spaces.
4. The Rental Charges
Perhaps the most important factor to consider when looking for a coworking space, the rental rates must align with your budget.
Coworking spaces cost a lot less to rent from than traditional office buildings and managed offices. However, this doesn't mean that it's always free from foul play. Check their website, read the terms and conditions properly and see if the expenses align with your expectations or not.
5. Accessible Timings
Not all coworking spaces have 24/7 access, even if they do, you need to be a registered
user. The after-hours access is usually a paid service.
Now, since freelancers and content creators don't have a fixed work timing unlike the 9-5 guys, It's crucial that your preferred coworking space be available to you whenever you need it. Therefore, do your research thoroughly before spending any money to get the most out of it.
6. Rental Conditions
There are myriad of coworking passes available out there. It's up to you to decide to rent by the hour or on a particular day. You may sign up for a membership that is monthly, quarterly, or annual depending on the rental package. It's pretty advantageous to sign up as a member if you're going to use a coworking space regularly because you may not realize it but you'll end up saving a decent amount of money over time.
7. Amenities and Accessories
This one is a subjective choice and totally depends on what suits fit for you. Anyway, the common facilities in a coworking space should include conference rooms, high-speed internet, refreshing beverages, and printing service of course. But don't forget to ask whether there are any additional fees for these services as some offices have them.
In addition to personal benefits, some shared workplaces that cater to entrepreneurs and independent contractors may also provide workshops and community events to promote networking and familiarity among their clients. These are all fantastic chances to advance your profession and learn new things at the same time.
Selecting Your Ideal Coworking Space
No matter how comfortable the Work from home setting gets, it will get monotonous at one point or another. The way we work has changed and the pandemic only pushed the needle forward. Explore the new trends of work and embrace them if it works for you.
You must not fall into the charade of polished advertisements and online promotion.  Advisably, you should work in a coworking space only if you've done your research properly or visited the promises in person at least once.
However, If you abide by these key factors while searching for the ideal coworking space for yourself, you will absolutely make a wise choice. Try to come up with a list of requirements for your ideal coworking space after carefully weighing these aspects. You may then pick the coworking space that most closely matches your requirements.