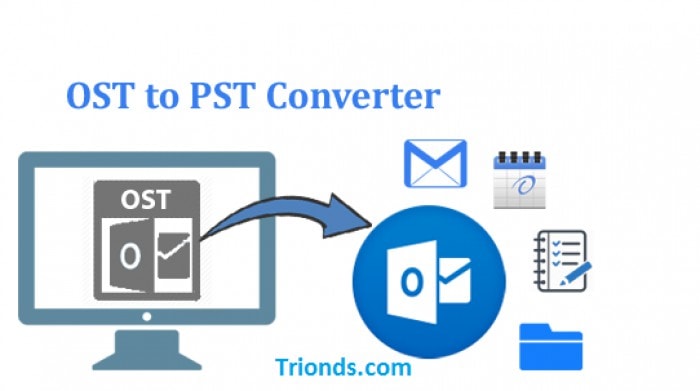 For the people who do not use Exchange Server anymore, archiving OST file into PST is a helpful backup process. In order to archive OST to PST format, users can either apply the manual methods or use MailPro+ OST to PST Converter.
Microsoft Outlook users are often in need to for this migration. Whether it is for data backup or getting disconnected from Exchange Server, the conversion is a common place necessity. There are different methods available for this conversion. In this post, we will be describing two techniques of OST file to PST archiving in Outlook. To begin with, we will see two relevant user queries.
User Query 1: "Next month, I will be switching my job and moving to a new organization. In my current office, I have been using Outlook for 5 years. But in the next company, there will be no more MS Outlook. I want to export Outlook data OST into PST so that I will be able to access them from my home system. Can someone tell me how to archive OST to PST in Outlook? I am looking for an easy method. Thanks in advance."
User Query 2: "Exchange Server of our organization had to go into sudden maintenance due to some internal issues. As a result, all the OST files have become inaccessible for the time being. Now the thing is we cannot afford to sit idle for some days just because we cannot access OST file. We are thinking that if we can convert OST files into PST, then we may continue using Outlook. That is why we are looking for some reliable yet quick method to backup OST to PST files. If any forum members are aware of such techniques, please let us know."
Why Do People Need to Convert OST to PST
We have seen two situations when people need to export their offline OST data into PST. However, there are many more reasons for the OST file archive. Now we will move our focus to the reasons to migrate OST data into PST in the following segment.
OST Data Backup: Precaution is always the best strategy to safeguard your data. Data backup can save you from various unexpected situations. Many Outlook users archive OST to PST to backup their Outlook data.
Outlook Data Transfer: It is more convenient to transfer PST files from one system to another one. For easy Outlook data transfer, people convert OST file to PST in Outlook 2013.
Exchange Server Crash: When Exchange Server crashes, Outlook becomes unusable for obvious reasons. To get an Exchange server fixed, it may take days in severe cases. Migrating OST file into PST becomes helpful as users can use the data from PST file.
Exchange Server Maintenance: During the maintenance period of Exchange Server, the users lose control over OST files. To continue working with Outlook during this time, OST into PST archiving becomes necessary.
OST File Corruption: Outlook OST files can face corruption due to malware attack and careless handling. Once it gets corrupt, the OST file becomes unusable. At that time, users can export OST files into PST and can obtain access to the files.
How to Archive OST to PST: Three Different Approaches
Now we come to the focal point of our post on how to backup OST to PST. We have chosen three methods for the discussion that we will learn one by one. 
Approach 1: Archiving OST Files to PST in Outlook
Users can backup OST files by archiving them in PST. Now we will see how to export OST file data into PST using some simple steps.
Launch Outlook 2016 on your system. Select the OST file you want to archive and click File.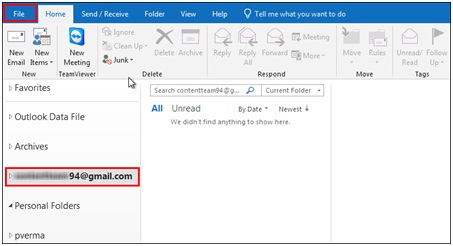 2. Now click on Tools>>Clean Up Old Items.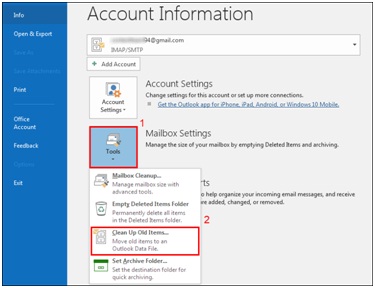 3. Archive dialog box will appear. Make sure that the radio button beside the option Archive this folder and all subfolders is enabled. Select the folder you want to archive.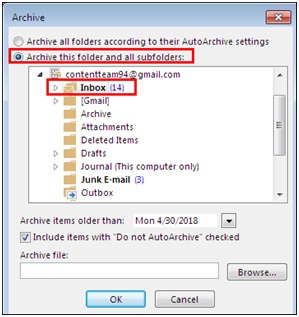 4. Select the date range of the OST file archive.
5. Click on Browse and select the location to save the PST file. After selecting, the path will appear on the dialog box. Finally, click OK.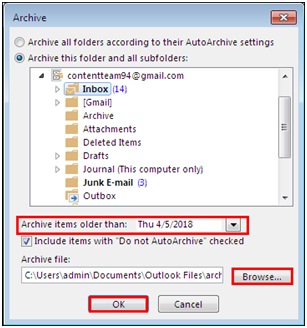 Thus, you can easily archive your Outlook 2016 PST file into PST. You can access the PST file by going to the same location.
Approach 2: Using Export to PST File Option
All data of Outlook OST can also be exported to a PST file by using Import/ Export option. Here is the technique archive OST to PST. You can follow the below mentioned steps:
Open Outlook. Click on File.
Select Open & Export>>Import/ Export
From the wizard, select Export to a file option >>Next.
Select Outlook Data File (.pst)>>Next.
On the 'Export Outlook Data File' window, expand the OST file and select the folder that is to be exported. Click on Next button.
Now click Browse to select the location for PST file. Click on Finish to convert the selected OST mailbox folder in PST. 
Approach 3: Using MailPro+ Email Extractor
There is another method to convert OST files into PST and that is to use MailPro+ OST to PST Converter. This application can complete the entire archiving process in a short time. This program can convert all OST file emails to PST. Follow these steps to export OST files to PST:
Download and open the software. Click on Create Collection button.
Click on Collection Path option to select a location where all OST files will get stored.
On the next screen, click on Exchange Online Storage (OST) as the chosen file type. Then click Browse to select the OST file.
All emails of that OST file will be shown as Preview. Select the emails you want to convert and right-click to choose Export option.
Now select PST as the output format and other options including the destination as per your choice. Click OK.
All chosen OST file emails will be archived in PST file format.
Observational Commentary
To archive OST to PST, users have a number of approaches to choose from in front of them. However, not all methods are easy to perform. Considering the time and effort taken to conduct the processes, experts suggest using the cited tool to convert OST files into PST. The software can export OST emails to PST in a seamless manner.