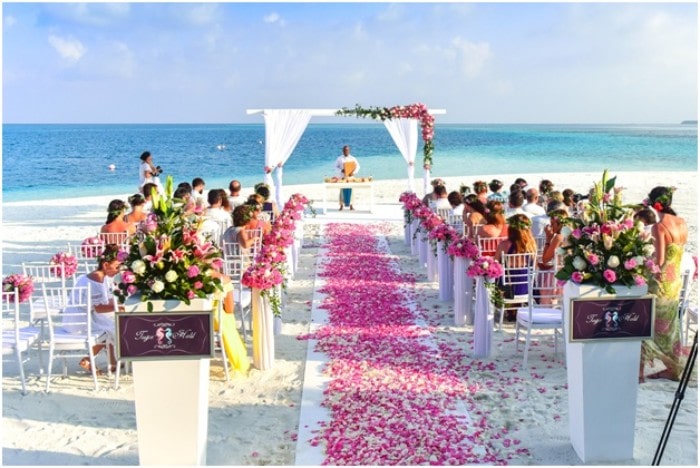 Close your eyes and imagine your wedding day. Are you planning to get married on the beach, surrounded by the salt-water-tinged breeze? Picture the sunny skies and the sand between your toes.
Whether your wedding happens in a tropical destination miles away or on a private lake near home, a beach wedding is exciting for many reasons. First and foremost, all the water gives you a beautiful backdrop. So, even if you don't have a huge budget for decorations, just the sea behind you will do.
With a destination wedding, it is not just a single day of celebration. Instead, it is a whole weekend of festivities and fun. However, even with all the benefits, some considerations come with a beach wedding.
Beach Wedding Preparation
Beach weddings are far from the typical traditional wedding. While the intimate settings will allow you to execute your day in simplicity, there are a few things you will need to figure out before walking down the aisle. For instance, would you be traveling to the wedding destination, or will you stay at an all-inclusive resort on-site? Depending on your ideas, you will need to get all the details in place ahead of your big day.
Ceremony Planning
When it comes to beach destinations, there are options worldwide—from Miami Beach to the Bahamas, Hawaii, and the Hamptons. While each destination is gorgeous in its own way, you must consider a few things when selecting a memorable wedding location.
You should be intentional about the ceremony set-up. Wooden or acrylic chairs are ideal options as they can be quickly wiped down during the event of passing rain. They are also easier to set up and break down. Also, ensure there is a path down to the beach for guests.
Find out if your destination of choice is a private or a public beach. If it is a private beach, you will have to check the local township ordinance prior to setting up. You might also need a permit for a larger event.
Dress Code
Unlike traditional wedding dress codes, such as formal, semi-formal, or cocktail, the beach element allows you to think a bit more cool, comfy, and casual while deciding a dress code for the event. The time of year, weather, and the venue are all vital deciding factors when choosing the look.
As a rule of thumb, you should avoid the color black. Have the bridesmaids and groomsmen wear light, airy fabrics, like cotton, crepe, or linen. A simple sarong or a sundress is also a great option for a beach dress.
Normally, a beach wedding is more casual—think sundresses and sandals—while others are more inclined toward dressing up, like in a beach resort. Regardless of the dress code you choose, ensure you incorporate it in the wedding invitation. You went your guests to be prepared ahead of time.
Pick the Right Dress
Generally, beach brides stray away from ball gowns as they are too bulky and look overly fussy. Seaside weddings require a wedding dress that is short and made of a lightweight fabric to avoid feeling weighed down and hot. If you are a bride looking to accommodate a beach environment while also maintaining a traditional wedding dress look, mermaid wedding dresses are a great option.
Also, think about the wind when choosing a hairstyle and accessories. A long veil and open hair could get blown into your face. An updo and a headband will help you keep your tresses tame.
Plan for Rain
It is crucial to have a backup plan for any outdoor wedding. The last thing you want is to scrap all the fun at the last minute, but Mother Nature doesn't always cooperate. Talk to your wedding coordinator or venue manager to come up with a plan.
Rent a tent in case of light rain or needed shade. As a backup in the event of a complete washout, make necessary arrangements in advance with a nearby hall or hotel. Lastly, don't feel compelled to go through the day with a drill sergeant's schedule. Even if rain delays the event for a couple of hours, the rest of the day can still go as planned.
Pick a Unique Theme
Sometimes, brides feel limited having a beach-themed wedding. Adding more regal colors and rustic elements to your beach wedding décor, like driftwood signs, will add an edge to your theme. You can even ditch the beach theme entirely and go with a more traditional style.
Nonetheless, there are beautiful beach-inspired details you can add to your wedding that make it look more thematic. Consider ideas that will work with the sun, sand, and ocean breeze. For instance, seashell cards and coral cake toppers are ideal for a seaside venue.
Provide Sandals
Some brides love the idea of a barefoot beach wedding, but sand between their toes is a problem for others. Brides who fall in the latter category can wear wedge heels, block heels, or sandals to get down the aisle safely. They offer more support when you stand on the sandy beach.
Similarly, provide sandals for your guests during the ceremony so they won't face difficulties walking around. Offer a basket near the entrance so your guests have options. You can also provide a towel on each chair so guests can wipe the sand away.
Enjoy Your Honeymoon
For many beach brides, the honeymoon is in the same location as the wedding. This means you get to start the honeymoon immediately after tying the knot. While guests have a blast at the beach, sipping on cocktails and indulging in water sports, you can have a romantic vacation and get pampered all in the same location.