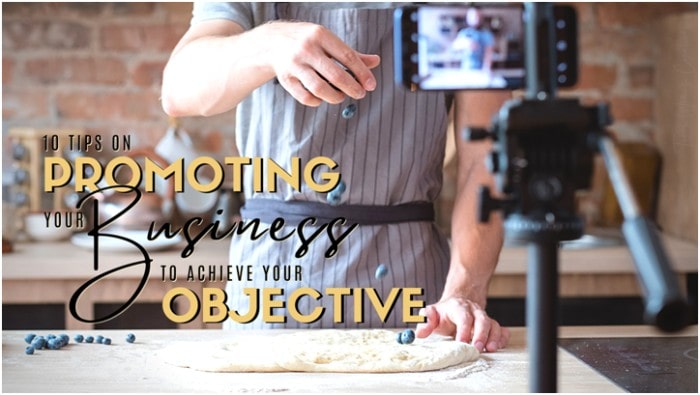 Having a strong online presence is extremely important for new businesses and existing businesses. 97% of people discover businesses online more than anywhere else. Therefore, setting up your business objective, especially in this new normal economy, is crucial to your business' success.
But beyond an online presence, Digitech innovations for business helps business owners optimize their online assets, strengthen brand awareness, and gain ROI. Without conversions, businesses, even those online, will die down and lose the investment.
Before the Internet, small businesses had to buy ads or do other physical promotions like flyers, tv or radio ads, and one-on-one marketing to achieve their marketing objectives. Not anymore. There are so many ways that businesses can succeed even without paid advertisements, whether online or not. You just need to be aware of where to look and what strategies to employ.
Strategies to Boost Your Business Online
1. Build a Website to Establish Online Presence
Getting a professional-looking website is an essential asset of any business. Your website is where you can show who you are, what you offer, your location, and how potential customers can reach you.
You can show your company's background and other interesting stories about your brand. People do not just follow brands or websites, but the stories behind the brand and the people connected to those stories.
A website is a channel that can generate organic traffic and be a place to send traffic from advertising and other marketing initiatives. It can be a 24/7 salesperson or representation of your brand and strengthen your business's strong online presence.
2. Use Local Business Listing
Google is making search more and more personal. It now presents results based on location. It is increasingly necessary for a business to list on Google Local.
Google has made it easy to add & manage your location on a map. You can also manage your Google Plus profile by claiming your listing on Google My Busines from the same places.
If you don't have a physical shop, you can add your office location and give details about your business.
Yahoo also has a directory of local businesses known as Yahoo! Local. It's free and takes a few minutes to set up. Bing from Microsoft has a similar service that's simple to sign up for.
3. List Your Products In Business Directories
Buyers search for vendors in popular business directories. It works well for B2B and B2C companies so customers and other companies can quickly locate them on search engines. It also supports your credibility as a legitimate business.
You can sign-up for different business directories based on the nature of your business or service. If you are a direct seller to customers, you can use Just Dial and Yellow Pages. The listings are also available on mobile apps and are getting massive traffic.
4. Invest in paid ads
It takes a while to create organic traffic. That's why you will need to invest in paid ads as well. When you know your target audience is searching the web for your product or service, Google Ads is a great platform to use. You can also use social media advertising if your target market heavily uses social media platforms.
However, take note that social media ads have fewer conversion results. People who view ads on social media do not have as high a purchasing intent as those searching on the web. Social media ads increase views and engagements, which boosts your brand for more conversions in the long run.
5. Utilize Social Media
Social media is a necessary investment for every business to gain exposure, market dominance, and eventually, conversions. You can include ads and offers on your Facebook page and tweet to your customers. Moreover, networking on LinkedIn can help you in the job search and also help your startup.
Social media is a powerful business tool that helps increase traffic, improve search engine rankings, and engage with potential customers.
To start with, you should create profiles for your business or brand on Facebook, Twitter, and Linkedin. It's best to learn social media marketing well so you can fully optimize every ad you run without hyping up ad costs.
Consistently post as well. If you regularly post, you'll gain attention and loyal subscribers who can later turn to your followers or subscribers. You can share your business updates and other relevant or valuable information.
It is also a good strategy to follow influencers in your niche and monitor their updates or activities so you stay updated with trends. Try posting on Facebook at least twice a week, once a day on Instagram, and at least 3-4 times a day on Twitter.
6. Start a Blog
blog connects your business to your target market efficiently and increases brand awareness. It keeps your followers updated with the latest information, product, or service from your business.
You can also provide value to your target market by adding posts on topics that interest them, providing useful information and backlinks to widen their search options even further.
Blogging generates organic traffic, particularly for those prospects who have not yet reached a purchasing decision. It provides credibility in your space, positioning you as a thought leader.
You can start a blog with WordPress, currently the leader in Content Management Systems (CMS), powering 2/3 of websites on the web.
Publishing once a week is ideal, so keep it consistent, so your readers know when to expect blog posts from you.  Once you start posting, you can ask visitors to subscribe to your blog and receive email updates. It is a way to collect potential customers' contact information to follow up later with a sales call.
7.  Answer Questions
Forums are websites that people go to get help with problems they are having. Quora and Yahoo Answers are popular sites where you can find customers. People also post questions on Linkedin Groups.
What's in it for you? Sign up for these sites and search for your product or service, getting as many questions about your product or service. Start with simple questions before moving on to more complicated ones. Publish answers to these queries in about 150-250 words.
Keep it short, accurate, and concise, so people will want to read your answer and not skim through it. Provide at least one link that can lead to a blog post where readers can get more responses.
The same also applies to LinkedIn and Yahoo Answers. All three networks are influential. The best part is, Google indexes these sites. Your answers will appear in Google searches.
8. Grow Your Leads with Email Marketing
Just because you have more traffic does not mean they are ready to buy. It's important to remain a top-of-mind brand and move your audience closer to a purchasing decision.
Email marketing is a crucial part of your marketing strategies because 73% of millennials opt for email communication from businesses.
This strategy is a simple, free and customizable way of communicating with new and existing customers.
Once you have an email marketing tool in place, experiment with emailing out newsletters and other promotions to your database. Consider using marketing automation to optimize the process and make it more efficient to generate conversions.
9. Conduct A Presentation or Webinar
This campaign can work as effectively offline and online as well. You can hold a webinar or workshop to attract the target audience and collect their contact information for future communication.
The idea is to set up meetings, like an hour lunch-and-learn session or after-work enrichment webinars. Start organizing and advertise sessions to the right people and give them valuable and usable information. Also, try talking to the local business associations to promote your social networking service.
10. Use Word-of-Mouth Marketing
Giving customers meaningful experiences impacts your business significantly, especially in repeat purchases and word of mouth. If you provide meaningful experiences, your customers will be more likely to leave feedback, give testimonials, and tell their friends about you.
That's why it's a good idea to monitor and measure customer satisfaction and encourage word-of-mouth marketing. A happy customer talking about your company on social media or a review site is a good indicator of future sales.
When a prospect sees a friend post a picture of a meal from your restaurant, they might be more likely to go. If customers love your product, encourage them to share their Google, Yelp, or social experiences. If you own a physical business, then place signs up to announce your product's account name if someone takes a picture of it.
Conclusion: Don't Be Afraid to Experiment
If there's a new social network or marketing trend, don't be afraid to experiment. It is how you remain competitive and relevant in your business promotion.
Test different strategies, measure results accurately through metrics, and develop the best possible combinations of marketing methods to boost your brand, get leads, and increase conversions.