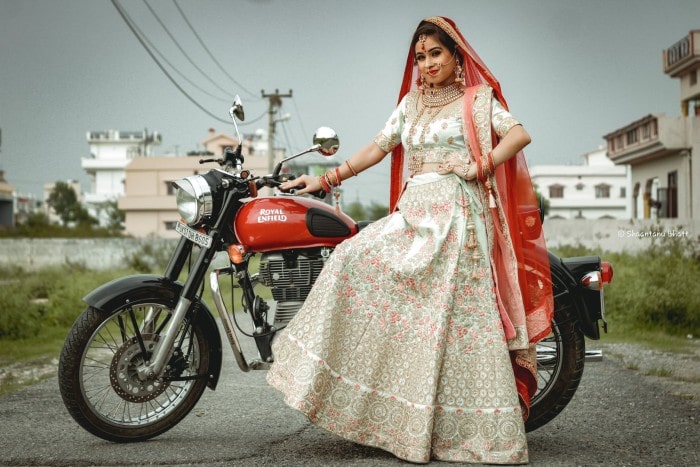 Being an ethnic lover, you must be feeling bad to say goodbye to your ethnic wear, as winters are on their way, right, girls? Yeah, we know your love for dazzling ethnic outfits and their endless styling ways.
But, don't you worry, beautiful, as fashion trends have changed, you can give yourself an Indo-western look. By mix-matching outfits from both Indian and western collections without much efforts. And this way you can carry your favorite outfits during winters as well.
Also, winter is mainly the time for weddings and other auspicious occasions, isn't it? Yes, so, let's see how you can style your ethnic wear for winter and flaunt your each and every occasion.
Check out these fusion styles that you can try this winter season:
1. Prefer Sweaters and short kurtis instead of blouses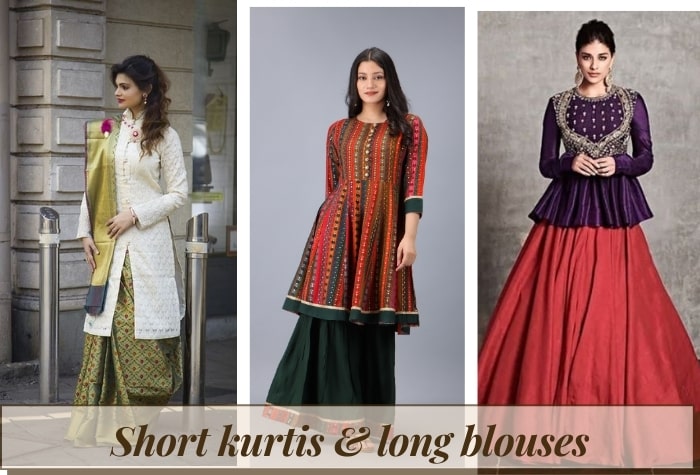 You must be thinking sweaters and kurtis with sarees and lehenga choli, very strange, right? It is a new fashion trend, ladies to keep you warm without compromising on your Indian ethnic wear.
Adding sweater crop tops, shirts, short flared kurtis, or long blouses, to your saree and lehenga choli will give an eye-catching look, for sure. Add a fancy belt with a stunning choker and earrings along with an embellished clutch. And shine like a fashion diva.
2. Adding layers to your traditional outfits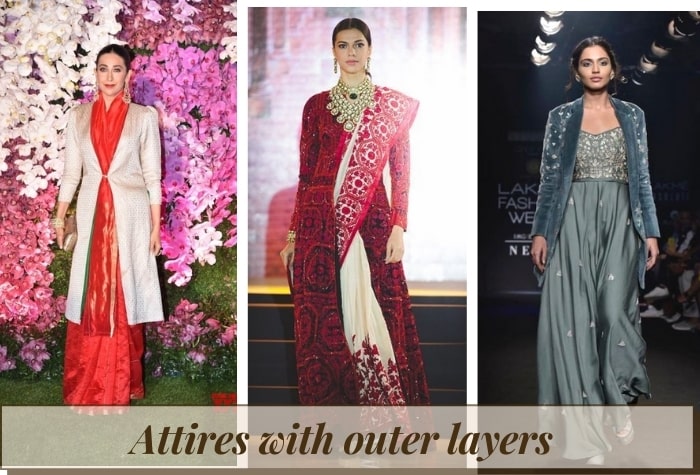 Definitely, you must have seen this style wearing our Bollywood divas and fashion influencers, right? Yeah, it has become a popular style, nowadays pairing kurtis, sarees, lehenga cholis with long shrugs, capes, and embellished jackets.
Besides, you can also find ready ethnic kurti shrug dress that comes with either straight kurti or anarkali dress. Furthermore, you can add a thin belt or corset belt to your outfit especially with sarees for a cinched waist. Plus, don't forget to add long dazzling chandeliers and maang tikka if not opting neck piece along with open hair.
3. Ditch your Dupattas and Go for Shawls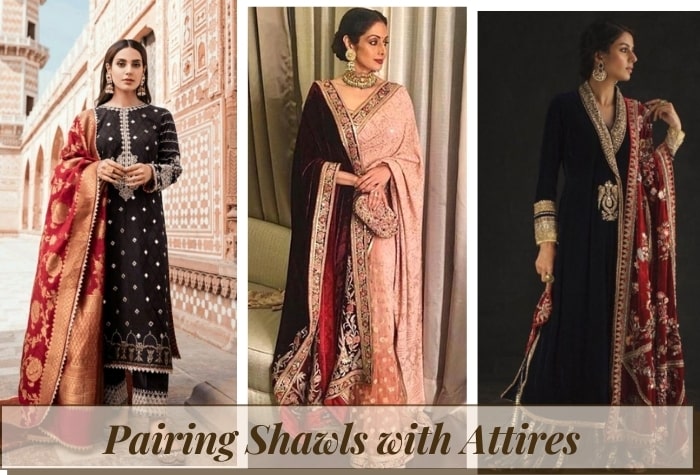 Want a royal touch at the wedding, then you should definitely try this style, ladies. Adding fine designer shawls or intricately patterned shawls like pashmina, velvet, or brocade will make you look elegant.
Use it as a double-side pallu with saree or as dupatta with salwar suit or lehenga choli. Also, you can pick sober attires as you can get these shawls with various hand embroideries and ethnic prints.
Perfect for winter weddings as they are mostly available in dark hues that will match with every ethnic piece.
4. Pair Sarees with Leggings and Jeans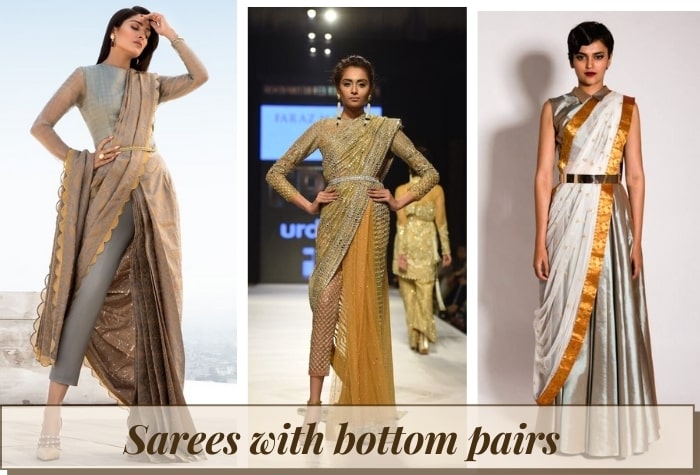 During winters, wearing only sarees can't keep you warm, so why not, add some bottoms to it. Yeah, girls, nowadays, you can find pant-style sarees that not only give you a fabulous look but also a warm feel.
If you are wearing ethnic suit sets you can go for cigarette pants or dhoti pants instead of a palazzo. Also, you can find warm fabrics instead of normal daily wear fabrics when you choose bottom pairs. With a saree and pants add a statement belt and a fancy clutch with it and you are good to go.
5. Ethnic Outfits with Western Outerwear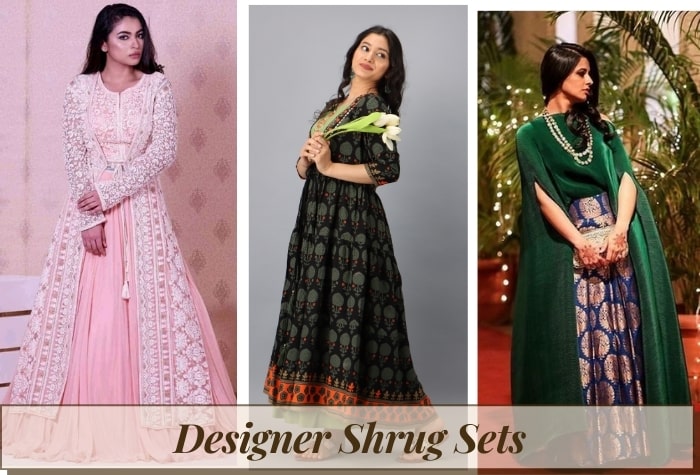 Don't think that, ladies, this pair will give you an outstanding look. Also, you must have seen actresses wearing this style, saree with a knee-length trench coat, yes?
You can also try this look giving your normal saree a fusion look. Do try blazers and coats with sarees and lehenga cholis as well.
Add some elegant jewellery pieces and a thin belt if you want and do some beautiful hair-do and rock like a Bollywood diva.
6. Fancy Oversized Sleeves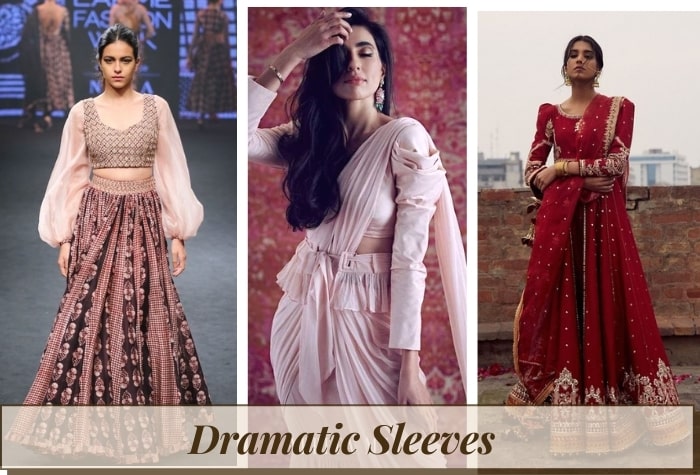 We know, wearing the full-sleeved garment is always a perfect choice for winter. But why not add some drama to your normal sleeves, what say?
Yeah, right, designers have tried to create fancy sleeves patterns that can glorify your ethnic look in a beautiful way.
Get extra-long sleeves, extra puffy leg-o-mutton sleeves, or oversized sleeves with lehengas, saree blouses, gowns, etc. While wearing these patterns, try to not overdo your makeup and accessories, keep it simple.
Epilogue
Hence, these were some unique ways to keep yourself warm in winters. Though, there are other ways as well, for example, going for warm fabrics like velvet, raw silk, corduroy, wool, blended cotton, etc.
With these fabrics, you can wear your normal style for winter. And when embellished with intricate hand embroideries, these outfits can enhance your look effortlessly and will make you look royal every time you wear them.
Choosing our pure handcrafted sarees can be your best option for any auspicious occasion. Like banarasi, kanjeevaram, chanderi, brocade, kasavu, pashmina, and many more.
So, rock your winter this season with these styling tips and flaunt your look where ever you wear them. Explore your own unique style and have fun while styling new outfits, girls!
Author Bio:
I am a fashion blogger with a passion for writing blogs and articles related to Traditional as well as Western Clothing trends. Currently, working with a well-known brand Nehamta as a content curator. I write blogs about traditional kurtis, fashion trends, styling tips, and other accessories styles.