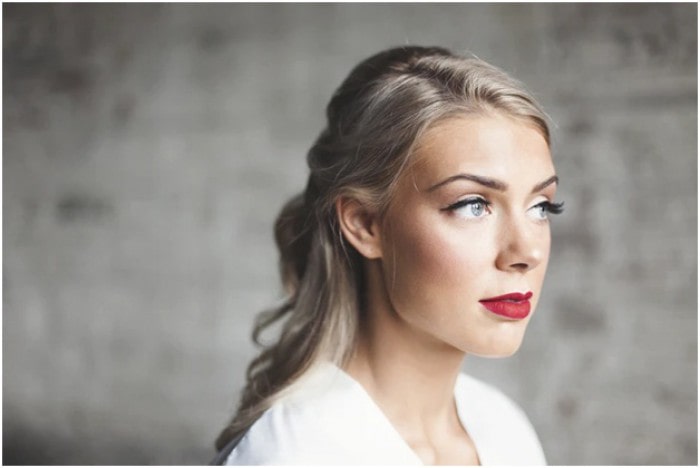 Your eye makeup tells a lot about your style. When it is made correctly, it can make you look good and boost your ego and self-confidence. Luckily, you don't need to be a makeup expert to get vivid and attractive eyes as we've listed five of the greatest eye makeup styles for you. Through that, there's no more need to ponder on which eye makeup style you're flaunting next Saturday night!
#1 Soft Smokey Eye MakeUp
Whether you're going for a casual dinner or a night with your friends, the soft smokey eye makeup will surely make you more stunning. It provides a smoking hot and sultry look perfect for evening parties or events. Nude lips are great for this style – match it up and slay the night!
How To Do It
Apply a primer. Then, coat your eyelid using a tan eyeshadow to ensure that your makeup can last longer.
Using a dark eyeliner pencil, carefully line your top and bottom waterline.
Use subtle brown shadow to mask your top eyelid and space just under your bottom lashline. A flat brush would become handy on this! See to it that you widen the outer edges.
Redo the process with a black eyeshadow, beginning on the outermost edge.
Blend well and complete the look by applying mascara.
Just a tip! When you're aiming for the smokey eye look, utilize a concealer to hide dark circles under your eye, and avoid having raccoon-eyes. Moreover, take it lightly on the lips to match the look and choose subtler shades.
#2 Dark Blue Eyeshadow Makeup
This style features a sumptuous color of blue and touches of white to get a lovely and fresh look. Though, you may use another color of eyeshadow depending on your preference.
How To Do It
Using a blue eyeliner, make a wing on the top lashline. Also, use it to provide the outer edges of the bottom lashline a defined look.
Through a flat brush, flatten the lines equally and mix the shade starting at the core going to the outer edges.
Then, on your top eyelid, apply nude eyeshadow from the core towards the inner edges.
Trace your top lashline while holding your eyeliner as closest to the eyelash line as you can.
Blend the makeup on your bottom lashline using an angled brush until it looks subtle and even.
Next, line your bottom waterline and lashline using a white eyeliner pencil.
Finish the look with a dense inlay of mascara right after you curl your eyelashes.
This look is perfect if you are blessed with light-colored eyes such as hazel or green! It enhances the blue color and will appear more vibrant compared to darker eyes. Nevertheless, this will still do wonders for all colors of eyes! You may also try experimenting using different natural colored contact lenses.
#3 Brown And Gold Soft Eye Makeup
This beautiful eyeshadow-centered look features brown and gold eyeshadows that are mixed perfectly. Correct blending is crucial. Once achieved, it provides a subtle yet merry look that is so charming.
How To Do It
Begin by putting your eye makeup primer.
Put the brown eyeshadow on the inside and outer edge of your eye using a thin brush.
Then, put gold eyeshadow on the core with a flat brush.
Intensity your bottom lash line using a thin brush with gold and brown eyeliner pencils.
Mix the two eyeshadows evenly by using an eyeshadow blending brush.
Get the complete look by swiping some mascara.
This style fits majority of the eye colors, though it can be more vibrant on light-colored eyes.
#4 Golden Festive Eyes
Looking for a youthful and bright look that would match your brown eyes? This superb gold eyeshadow style matched with classic winged liner would undoubtedly give you an impressively festive look!
How To Do It
Make a semi-circle on the ridge of your top eyelid by using a brown eyeliner pencil, depositing only the outer edge.
Smoothen and mix it with a flat brush till there are no longer any harsh lines visible.
Apply golden eyeshadow and blend appropriately at the center.
Create a winged line using black liquid eyeliner on your top lashline.
Employ a thick coat of mascara to get the final look!
See to it that you showcase the inner edge of your eye plus your eyebrow bone by using a lighter shade of eyeshadow. It would make your eyes appear more youthful and awake. If you are decided to wear this look, give the other parts of your face a minimal makeup to keep the focal point on your eyes.
#5  The Simple Everyday-Look
This style is in if you just want to have a casual and low-key appearance. Using only some light, pink mascara and eyeshadow, you can wear this at your workplace or when you are looking forward to a Saturday brunch with your family.
How To Do It
Begin by applying nude shadow on your top eyelid.
Define the ridges with soft pinkish shadow through a blending brush.
Using blush peach eyeshadow, brim your top eyelid.
Using a deep black or brown eyeshadow, give your top and bottom lashline a defined look. You can achieve this by using an angular brush at the lash line.
Through a blending brush, carefully blend the products out.
Finish the look using waterproof mascara, and you're all good!
This look is perfect for those who are always on-the-go — just the ample amount of color and definition for any casual day.
With proper use of makeup and techniques, added with an ample amount of patience, you can achieve your desired look for your eyes. Put these five eye makeup styles to your beauty toolbox and highlight your features.
To have your eyes get noticed even more, you can freely choose from different natural colored contact lenses. You can experiment with different colors of contacts and match it with different styles and shades for even more vibrant and stunning results. You will no longer have problems getting that look perfect for any event or occasion – get ready to slay anytime!
About the Author
Bogdan Nowak is a health enthusiast. He works at a local gym in the Opole District of Poland and writes as a freelancer for several health magazines both local and international. He has a pet terrier named Jakub.