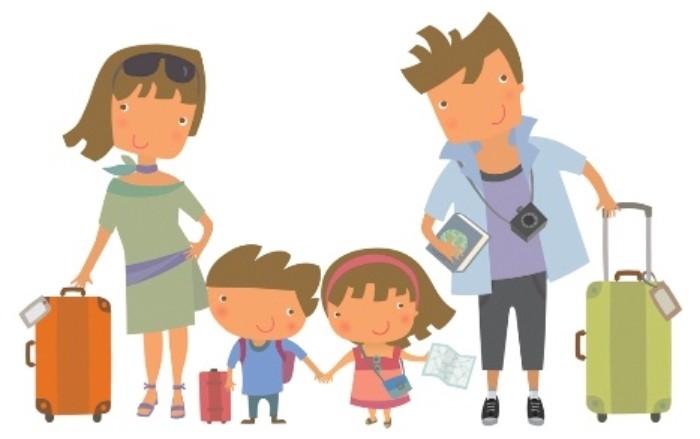 Planning a holiday abroad with friends is very easy. All such a trip would require is a nice ambiance and a good set of restaurants and bars to spend time in. Friends can easily adjust if something goes wrong and will get by easily. But when you are traveling with family, it's a whole lot more complicated. You have to deal with old people and even worse, young and hyper kids. Here you cannot afford to make a mistake cause if you do, things can go from bad to worse in no time! You can get amazing range of travel offers and deals from the leading travel portals like OYO Rooms, MakeMyTrip and more. So what are you supposed to consider when planning a trip abroad with family?
Where to take them?
Now you have to pick a place very carefully that can engage and entertain everybody. It should have something for you and your partner, your parents and your children. To make things easier for you, let's consider an example. Go to Dubai and your kids will have a blast in all the theme parks and seeing all the fast car, etc. Now if you choose something like Milan, your kids are going to go crazy out of boredom while you might enjoy the beautiful architecture that they wouldn't care about. Kids today don't really look for things like beauty and monumental structures on a holiday. So be wise when planning the place for it matters a lot.
What to stay in?
Well it depends on what you did for the previous point. If you chose a fun place to hang around and have fun, then any simple hotel should be fine. All you need to care about is the room for the night. After that all your time would be spent outside doing stuff. But god forbid, if you chose a place that wouldn't interest the children, then pay more emphasis on the stay. Once your kids don't appreciate the city, the only thing that can keep them excited is the hotel or resort. Preferably a resort will have more activities to do and is very suggestible for a whole family. Take your kids around in the hotel or resort and allow them to have some fun there too.
How to save cost?
If you are travelling with the whole family, ticket and staying costs can suddenly become really high which can tend to become a worrying factor. Take a moment and create an itinerary with a budget. Decide what to let your kids do and what not to. That will stop you from making them look forward for unnecessary things that you may not include in the itinerary. Try to book your tickets online by using TicketGoose coupons and discounts available at various online travel stores like Make My Trip, Redbus and more. You may also like to save on everything you shop online by opting Paytm wallet options. This will surely reduce your overall travel costs as they will provide deals and discounts. Use these tools for your hotel also to fit into your budget.
What to do with them?
Now if there are kids involved, allot time to take them to places that involve some excitement and solid fun. One definite thing that is sure to excite kids are the local zoos. Take them to theme parks and make them participate in some adventure sports. Another thing that can fascinate kids is food. Kids may not enjoy site seeing much, but what they will appreciate is food. Take them to restaurants and make them taste local delicacies which they will surely enjoy and remember. Boat rides are another common thing kids will surely enjoy. Take them to beaches too as kids will enjoy playing in the sand and water on a hot sunny day. If it snows where you are going, let them play in the snow which is a rare and fun experience. Sometimes, double-decker bus rides also interest kids, which will also allow you to do a little site seeing at the same time.
What to avoid?
Things you need to avoid start from the inception of your journey, obviously. If it's a long overnight flight, make sure your kids get some sleep. This is because if they don't, they will need to the following day. Drowsy and cranky kids is not something you want on your first day on the trip. The next thing is the food. Remember what suits and doesn't on your kids. Avoid the kind of foods that may cause them to fall sick and carry some common dry foods to feed them when they feel hungry. Another important planning tip is to avoid trying to visit too many places. This can often be difficult and tiresome with a large family and should be slightly avoided. The last and most important thing is to be flexible. Traveling with your whole family is an unpredictable ordeal. Make sure your plan isn't too rigid and create scope for reschedules to tackle difficult situations.
But I still want them to appreciate the architecture!
Ok, if you really want your children to get involved in the site seeing and appreciation, there are two simple yet effective tricks. One, use public transport to roam around instead of going alone in a cab. This will encourage them to look around and enjoy the city or monuments. Try using trains, double-decker buses or boats. The second and most effective trick is giving them the camera. With the camera in hand, kids start looking around for things to click and often take it as a very big responsibility. Of course, don't let them click the picks that count. Only give them the camera when you are on the move where a memorable picture is not required.
All these things are sure to help your family have a smooth and fun trip. Don't take the whole 'traveling with family thing' too seriously and remember, enjoyment and memories are what you are going there for. So keep these things in mind and have a solid vacation with your whole family.
Author Bio
Sravanthi is a foodie. She enjoys cooking as much as she enjoys food. She loves to guest blog on various topics that interests her.