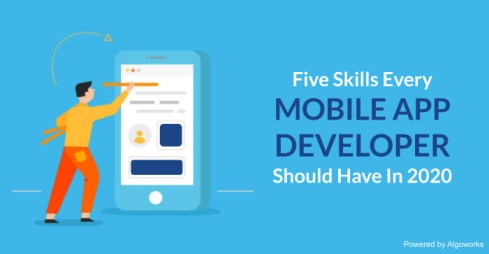 In the UK, the life of every mobile app developer thrives to learn and grow their skills from time to time. The line of work they are in needs the developers to stay in trend. As years have passed so as the face of technology. Now, we live in a world where people always require updated information at the tip of their finger. And mobile technology has made this possible.
As human life has become hectic, so as their demands. So, as a mobile app developer, it is your duty to always remain updated as per the current trend in the UK and also around the world.
But, the question is, which one to choose in the masses? So, many courses are there that anyone can get confused. So, here in this article, we will bring the experts suggestions and help you to choose the right skills to become the best mobile app developer in the UK.
Skills to acquire by a mobile app developer
Learning multiple programming languages
It is the era of multi-skilled people in demand. Learning multiple languages is seen as an efficient skill in the UK. You can learn multiple languages of mobile app development like Kotlin, Java, objective-C, Swift, React Native, etc. These are one of the trending skills companies are looking for in an android app development company in the UK.
There is no doubt that even if you acquire fluency in any of the two languages discussed above, your demand will be much higher than others.
Multi-platform knowledge
Nowadays, learning about the languages for the different platform is not enough to get recognized. You have to get familiarized with the platforms itself. You can go for the leading mobile Operating System platforms in the UK, i.e. iOS and Android. These two platforms will help you to catch around 99% market interest towards you.
According to Statista, "October 2020, iOS had the largest market share, with approximately 52.94%. iOS and Android together make up over 99% of the total market share for mobile operating systems in the UK."
So, as a developer, you will get better recognition because of your ability to diversify between various platforms and provide expert solutions. Most of the companies are looking for this skill in a mobile app developer in the UK as it helps them to save both time and money, wasted while looking for two different developers.
That's why the demand of developers who can fill the gap between iOS and Android are higher in the UK.
Learning about the business itself
The reason business is an important aspect and skill set mobile app developers need to learn is to sell their products. If people not know about your app then how it will sell. So, you have to get some idea about the market itself. Gone are those days when only development is enough for a developer. Now iOS and android app development companies in the UK looking for developers with market knowledge. You can cut various expenses by learning this skill as you will be able to perform many post-development works yourself like launching the app on the appropriate platform, promoting it, and dealing with the client's feedback directly for better understanding.
Creativeness and analysis ability
There is without a doubt, creativeness is the key to generate out of the box results and so as the analysis. That's why many mobile app developers in the UK are now taking digital marketing into consideration. And this is because digital marketing gives scope to learn both creativity and analytic skills. By learning these skills, a developer will be able to analyze various factors, learn from them, and put them in their work creatively.
Creativity is the mother of all inventions. If you combine these two together then you can easily imagine what difference you can make. This will definitely help you to get recognized in the masses.
Communication skills
One of the skills where many professional developers even lack behind is their communication skill. In the race of learning new technologies, developers often lack behind in nourishing their communication skills. This makes them lose confidence while talking with their clients which often led to not understanding the client's demand properly. Often this is reflected in the final result which leads to unsatisfied clients.
Wrap up
Now that you know what skills to focus on immediately to survive in a COVID stroke world, let sum up everything. But, before that, one must know that learning these skills will not go in vain in the near future. This is because all of these skills are the flourishing ones whose demands are not going to be down immediately. Learning new skills is always helpful irrespective of your professional field. And technology is the future of our world. So, learning new features of technology means growing with the world in every aspect.
Author Bio:
Mr Miltan Chaudhury is a professional who provides expert mobile app developers in the UK for both iOS and Android platforms. More than 15 years of professional experience has enabled him to learn and provide quick solutions to his client's technical problems.