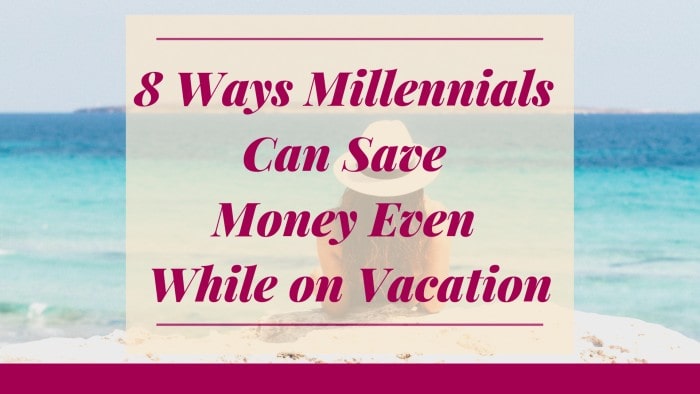 Millennials have an insatiable appetite for travel and vacation. With a quest to either experience diverse cultures, create an aesthetically pleasing Instagram feed, or both, millennials are always looking for opportunities to travel and explore.
However, the millennial generation doesn't have it easy. Because plenty of millennials are still on the cusp of financial security, money can easily become an issue for most millennials.
Thankfully, the choices in competitively-priced airfare prices, as well as lodging options, have constantly been growing. This brings plenty of opportunities to save money even when on vacation.
Here are 8 ways to save money on a vacation that will definitely be useful for millennials:
1. Book your flight in advance
The biggest chunk of travel expenses usually goes to airplane tickets and lodging. Which is why it's important to find every possible way to save-up on these two factors.
Because airlines use a demand-based pricing scheme, booking your flight way ahead – which is when demand is still low – allows you to purchase airline seats at a very affordable price, as compared to buying tickets just a few months before your target travel date.
If you already have a destination in mind, stay on the lookout for airfare deals by constantly checking the website of available airlines. Alternatively, you can sign-up with third-party travel fare aggregator websites and set price alerts. This will notify you about price changes, allowing you to keep an eye out for cheaper airfare more easily.
2. Pack light to avoid checking bags
In an effort to attract more travelers, airlines do offer cheaper airfare prices every now and then. To compensate, some carriers are putting a premium to other aspects of traveling that doesn't involve your actual seat in the airplane.
Passengers are now being charged for in-flight meals, baggage allowances, travel insurance, and other amenities. Thankfully, you can choose not to buy them to get to your destination.
Some low-cost airlines provide a minimal carry-on baggage allowance of about 5kg-7kg per passenger, provided that you do not check it in. Make good use of this free baggage allowance by packing light and making sure your luggage is within the allotted allowance. Exceeding the baggage allowance may incur you unexpected charges of about $20-$50.
3. Take advantage of tax refunds
It's sometimes very tempting to shop when visiting a different country. What's amazing when shopping overseas is that you are not required to pay taxes – or at least, you can expect the retail taxes you paid to be subject for return at the airport before your departure.
There are some countries that let you reimburse a portion or all of the retail taxes you paid with your purchases.
To do this, give yourself extra time at the airport before you depart for your return flight. You may be asked to fill out some forms as well as present a proof of purchase, so make sure you come prepared.
4. Get a room with a kitchen
Though some people don't like cooking while on vacation, this will definitely save you a lot of money, especially if your vacation will last for more than a week.
Staying in a place that has a  kitchen will allow you to prepare food on your own, saving you money that you can otherwise spend on other things.
5. Avoid eating from your hotel
If you are staying at a hotel, you should make it a point NOT to order food from your hotel.
Even the snacks and drinks that were placed inside your room before you arrived will be charged to your bill should you consume them.
Because hotels are notorious for charging exorbitant prices that are way above normal prices, make sure to shop outside for cheaper food options before returning back to your place.
6. Take advantage of freebies
As the saying goes: The best things in life are free!
Make the most out of your vacation by taking advantage of free offers that may come with your lodging and tour packages. Most of these will usually offer free airport transfers as well as free breakfasts. Don't shy away from these awesome freebies!
When booking your lodging, make sure to inquire about possible freebies that may get included, especially when you are making a reservation for a big party. Just make sure to bring out your negotiating skills to get the most out of your vacation.
7. Use public transportation
Aside from airfare and lodging, taxis and other personal means of transportation tend to be pricey as well. Ditch these for public transportation.
Commuting through public transportation won't just save you money, this will also allow you to immerse in the place you're exploring and see a city's residents up-close.
8. Check free tourist attractions
Most tourist destinations will have free tourist attractions that you can see for yourself.
If ever you run out of things to do, knowing some free tourist attractions will keep you occupied and will provide you with more opportunities to see the place for yourself.
In addition, most cities also offer free or very affordable walking tours for tourists, so make sure you try these out.
Traveling on a budget
Most travelers, especially millennials, are usually under the impression that the best vacations cost a lot of money. However, with proper research and careful planning, having a great vacation on a tight budget can definitely be achieved.