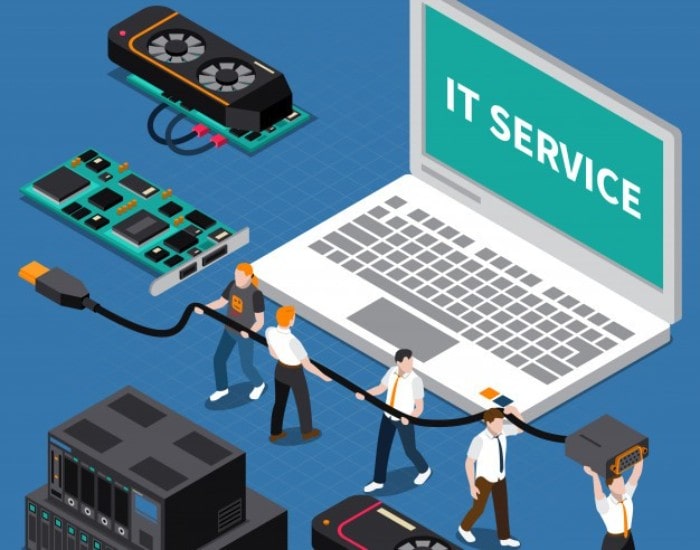 The global IT (Information Technology) market in 2021 is estimated to be $5 trillion. That growth has resulted from medium and small businesses embracing edge-cutting technology.
Essentially, the global IT market is projected to skyrocket in the coming years.
What do Managed IT services mean?
Thanks to managed IT services, businesses can hire IT experts to help them with their IT operations at a lower price than one spent setting up and running individual IT departments. IT experts boast years of experience and in-depth knowledge and their services help take businesses a higher notch.
It is essential for your business to delegate its IT operation to create ample time to focus on other important business activities instead of spending too much time handling IT tasks.
What should you expect from Providers of Managed IT Services?
Hiring Managed Service Providers (MSPs) is worth every effort as they'll manage the IT system of your business. They do such things as full-time monitoring, resolving issues, and reporting. Other services include the following;
Security and compliance
With the increase in digital activities, cyber-crime is on the rise. Hackers can gain access to confidential business information and interfere with your online business operations. However, a skilled IT service provider implements stringent mechanisms to prevent hacking, data theft, and ransomware.
Networking and infrastructure
An ardent MSP provider offers excellent networking and infrastructure ideas. That helps increase uptime, enabling your employees to continue with their work without interruptions.
Disaster recovery
Disasters come when least expected. Unfortunately, some cause excess damage, and therefore it's important to be on the lookout. For example, you need to engage MSPs providers since they ensure everything works out normally following a disaster outbreak. Besides, regular backups prevent unfortunate cases of vital business data loss.
Cloud services
IT experts offer cloud services which help reduce business hardware cost and improve security.
What else do Managed IT Services Include?
Managed IT experts use modern technology, resources, and equipment to enable businesses to attain their KPIs. These services include;
Managed Helpdesk
Gaining access to helpdesk resources gives businesses the much-needed support whenever anything goes amiss or when there are questions to be answered. Timely professionals help improve employee's productivity.
Infrastructure management
A skilled managed services provider handles all business IT operations and applications. Also, they use the current technology and resources available to achieve business goals. To attain that, the provider follows an extensive approach. That way, your business can benefit from the current technology.
Infrastructure management services include;
Virtual CTO-services
Server and network management
Cloud application management
Cloud infrastructure management
Managed security
Managed services experts enhance security and compliance in all business operations. That involves network security, cloud security, policy management, and endpoint security.
These services include;
Infrastructure security and cloud application
Managed cybersecurity
Identity and access management
Managed IT services are crucial for the following reasons;
Capitalize on crucial competencies
Provides essential services at an affordable cost
Proactive support
Strategic IT planning
Managed IT services relieve business all essential IT activities at a reasonable cost. Therefore, your business won't have to set up its own IT department.