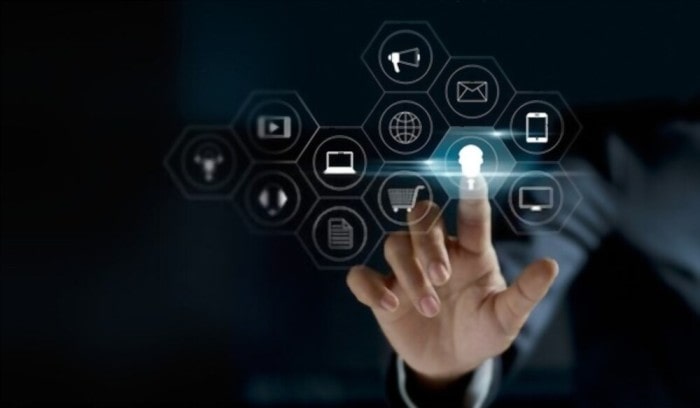 Have you heard of omnichannel banking? Do you know what this term means and how it works in practice? Well know that for your company to grow and win more customers, it is important that you know and invest in it!
Trade or the exchange of consumer goods is the basis of capitalism, and has been present in society for a long time. In the beginning, it worked through exchanges, until the concept of currency emerged, which attributes value to elements that can be exchanged for food, goods and even services.
Times have changed, technology has advanced and has been providing more and more ease and practicality. Currencies have evolved, as have means of payment.
We currently use paper bills, coins, checks, cards and more recently we make payments online using branchless banking system and even by bringing devices such as bracelets and smartphones closer to a machine.
And how does this all relate to the concept of omnichannel? This is exactly what we will see in this article, where we will talk about what it is and how the logic of omnichannel payments works.
What is omnichannel payment?
In a strategy that focuses on the customer experience by aiming to integrate the online and offline world, as is the case with omnichannel, the practice of omnichannel banking solutions is essential!
Focusing on the customer experience means more than offering quality products at affordable prices. The company must offer options, whether in customer service channels, purchase options or omnichannel payment methods, allowing the customer to choose the one that is most convenient for them.
In addition, making several payment methods available is a great way to retain customers, offering them security and convenience when making purchases, whether in a physical store or e-commerce.
How do omnichannel payments work?
Providing convenience and security to customers when making payments is a very important point, both for physical stores and for e-commerce. For that, another tool that has everything to do with the omnichannel model are the APIs, programming interfaces that allow to integrate different platforms.
The use of these tools makes it possible to automate payment collection and confirmation routines, making it easier for managers to control this flow.
In addition, they also make it possible to offer customers different payment options, using the most well-known and reliable software available on the market.
Some of the main payment APIs today are:
Cielo
PagSeguro
Iugu
Paypal
Pay me
Market
Wirecard
6 advantages of using APIs for omnichannel payments
Technology is a strong ally in the development and growth of any company. In this sense, the use of APIs is a great example, which can generate several benefits, such as:
1 – contributes to fraud prevention;
2 – offers greater security and convenience for customers when making payments;
3 – optimizes the customer loyalty process;
4 – enables the recurring payment method;
5 – allows sending confirmation emails and reminders;
6 – makes it possible to offer different payment methods, such as credit card, debit card, bank transfer, boleto, etc.
Is it clear what omnichannel payments are like?
Having technology as an ally to optimize customer service is undoubtedly a big advantage for any company, especially when it comes to money, do you agree?
That's why you need to be aware of the newest and most secure on the market, and the concept of omnichannel payments is certainly a great example of this.
We are the largest logistics technology company in India. We develop solutions that allow you to use the intelligence of geolocation to improve integration between online and offline channels, through the integration of your system with the Google Maps API. But how does it work in practice?
Allows visibility of the entire cargo transport process
Enables route optimization and fleet control
Enables cost reduction and process automation
Enables the creation of visit routes for internal teams that go to the field
And many other possibilities
Do like big companies that have quality logistics operations, and that are a world reference such as: BRF, Nestlé, Piracanjuba, Velocity, Habib's, JBS, Máxima Sistemas. Schedule a conversation with one of our specialists right now.
What are the main challenges for implementing this concept?
Operating with an omnichannel retailer brings several benefits to both commercial establishments and consumers, the sector still faces some challenges for the definitive implementation of the concept.
Another challenging point concerns the time for this adaptation. The new coronavirus pandemic, for example, made the retail digitization process even more urgent.
Along the way, many traders were not ready for adjustments. However, even so, it is essential to point out that non-adequacy can lead to loss of sales, considering that the current consumer seeks more agility in their processes every day.
Why use omnichannel APIs and payment platforms?
The adaptation time is one of the challenges of implementing the omnichannel strategy, how to resolve this issue?
One of the best ways to achieve this is by choosing an omnichannel payment platform that, through APIs, allows the integration of different solutions.
For you to understand better, payment API is a tool that allows two different applications to "talk" to each other.
In other words, it is a set of programming instructions that make the connection between different platforms.
One of the advantages of APIs is being able to choose the solution that best suits your business. For example, if the omnichannel payment you want to offer is the QR Code, you can purchase only the API geared towards it.
In addition, the use of payment APIs also contribute to:
offer different forms of payment to customers, generating more value for your business;
reduce expenses, since they are acquired ready-made, not leading to development costs;
optimize financial management, for example, allowing faster, more efficient and error-free bank reconciliation.
Author Bio:
Nikunj Gundaniya, Product manager Digipay.guru, one of the leading Digital wallet app development company.  He is a visionary leader whose flamboyant management style has given profitable results for the company. He believes in the mantra of giving 100% to his work.