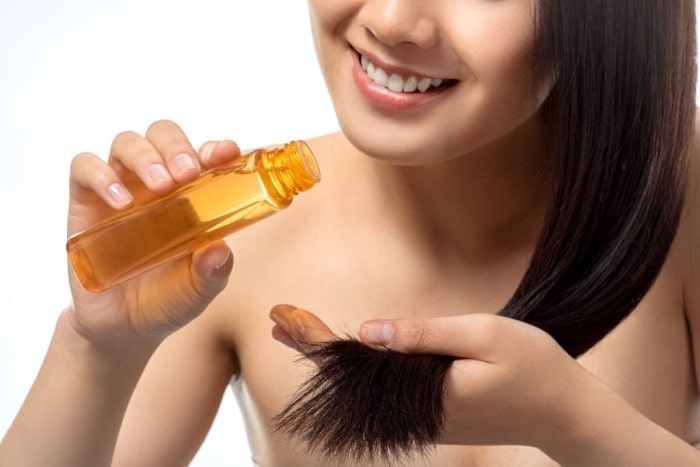 Have you been constantly dreaming about long, luscious-looking hair which blows along with the wind and enhances your beauty? But are you confused about how to get such hair? Well, you do not need to worry anymore, as we have come up with this list of the best oils and serums to give you your dream hair.
Both men and women damage their hair on an everyday basis, be it directly or indirectly. Hair fall, hair loss, hair thinning, premature greying, dandruff, bald patches are some of the most common hair problems that are found in both men and women. Our eating habits, hectic lifestyles, chemical-based products, genetics, and illness, these all contribute to several hair problems in one way or the other. Facing hair problems is absolutely normal, but not taking efforts to treat these problems is where people go wrong. Oils and serums are great ways of repairing your damaged strands and improve the health of your hair. They bring a lot of benefits and work brilliantly to improve the health and appearance of hair. Let us take a look at some of the best serums and oils for getting healthy hair:
1) Revitalize Natural Growth Oil by Earthyskin
One cannot talk about the best hair products without mentioning the highly effective Revitalize hair oil. Managed to grab a huge amount of success within a short span of time, it's a completely natural hair growth and hair loss prevention treatment. It's a complete package for your hair care that takes the health and appearance of your hair to the next level. Formulated with the very healthy amla, nettle, rosemary, bhringraj, and peppermint, it is known to be one of the most benefit-loaded hair products to be existing in the market. Regular application of this oil will help you in the prevention of hair thinning, stimulate better growth of hair, provide nourishment to the scalp and dry hair. All of this will result in you getting thicker, longer, and healthier hair naturally. The Revitalize hair oil was especially liked by the people that had the problem of regular hair loss and hair thinning.
2) GRO Hair Serum by Vegamour
As mentioned above, we put our hair through a lot of damage on a daily basis. This hair serum is known to be quite an effective treatment for damaged hair. Being a plant-based and multi-tasking serum, it uses a mixture of clinically-tested vegan Phyto-actives that supports a healthy follicular ecosystem while nourishing the scalp and roots. Being completely free of any sort of toxic chemicals, harsh substances, and carcinogens, it causes no harm when applied to the hair. It works to increase the appearance of hair density, minimize the causes of shedding, and gives you fuller-looking and thicker hair. It's quite light in nature and can be used even daily. Just take a few drops of this serum and apply it directly to your scalp. Use your fingertips to massage the serum into your scalp and gently disperse it evenly. The GRO hair serum works best on dry and towel-dried hair. Being a leave-in product, you can style your hair normally after using this serum.
3) Castor Hair Oil by Allpa Botanicals
Pure, cold-pressed, and organic – this castor oil is renowned for being one of the purest castor oil for hair available in the market. Consisting of omega-6, ricinoleic acid and essential fatty acids, it stimulates healthy hair growth by increasing blood circulation to the scalp. It's also quite rich in minerals, protein, and vitamin E, and these components enable it to nourish your scalp and restore the natural texture and shine of the hair. The humectant properties of castor oil help the hair in retaining sufficient moisture and prevent the hair from losing pigment any further. Castor oil is known to fill the damaged gaps of keratin present in the shaft of the hair and enhances strength. All these properties lead the castor oil to make the hair less prone to breaking and shedding. Therefore, it's a great medium for improving your hair growth, provides nourishment to the hair roots, minimizes the chances of premature greying of hair, treats split ends, and minimizes fizziness in the hair.
4) Restore Hair Thickening Serum by Earthyskin
A great medium that not only gets you healthy hair but a healthy scalp as well, the Restore Hair Serum took over the market by storm. Formulated specifically to give you voluminous, thick, and stronger hair, this serum is a complete health package for your hair. Enriched with aloe vera, lavender, caffeine and rosemary, this hair serum gives you the hair of your dreams in a completely natural way. Moreover, it uses a unique combination of scientifically proven natural herbs, amino acids, and vitamin B5 to give the hair a 360° treatment. The Restore serum ensures voluminous hair, optimal nourishment to the scalp, stronger hair follicles, reduction of hair fall, and premature greying of hair. Take 3-4 pumps of this serum and apply them onto the hair roots, while working your way towards the end of the hair. Apply it daily for a consistent period of time for maximum results that will last longer.
5) Hair Strengthening Oil by Crisan beauty
A weightless, reparative and styling oil, the hair strengthening oil benefits your hair in numerous different ways. From deep conditioning the hair to providing moisture to the hair roots – it works well on all types of hair. Being an extreme hair growth stimulator, it boosts the growth of your hair to a great extent. Using this oil will help you in repairing the damaged and broken hair, and prevents them from further damage. The best quality about this oil is that it works to restore the natural balance of sebum production – this is very crucial to get healthy and problem-free hair. Being anti-bacterial in nature, it treats several scalp problems such as dandruff and scalp inflammation. Additionally, this oil benefits the hair in numerous other ways such as adds smoothness to your hair, strengthens the hair follicles, regrowth of hair, protects the hair from heat and colour damage and tames the frizzy hair. To use this oil as a pre-shampoo treatment. apply it to your dry hair and leave it on for 30 minutes before washing it off with cold water. To use it as a leave-in treatment, take a few drops of the oil and apply from midshaft to ends after you are done shampooing your hair.
6) Sleek and Shine Serum by Garnier
Based on the blend of argan and apricot oil, the sleek and shine serum is widely popular for its anti-frizz formula. However, its qualities are not just limited to that. This serum penetrates into the scalp to provide nutrients and nourishment to the base of the roots. Adding smoothness and shine to the hair, it works like a miracle on untamed and unmanageable hair. After using this product for a consistent period of time, you will see improvements like never before. It's a complete treatment for your frizzy and dry ends. Dry hair can act as a welcome sign to several other hair problems. Our hair is the most prone to breakage when they are dry. Dry hair can be the initial stage of dandruff, bald spots, itchy scalp, and other such problems. Hence, this serum solves the problem of dry hair very easily and protects your hair from further damage. It's a brilliant medium to enhance the health of your hair and add natural smoothness to them.
7) Jojoba hair serum by Pattern
Having a pleasing smell to it, this jojoba hair serum is super lightweight and is a residue-free blend of several extremely beneficial oils like olive, safflower, rosehip, lavender, and jojoba oil. It is great for all times when your hair and scalp are in dire need of moisture. Its ingredients make it perfect to help the low porosity hair in remaining moisturized, thereby reducing the chance of breakage. When used on the scalp, it reduces itchiness, dandruff, inflammation, resulting in giving you a moisturized and problem-free scalp. Alternatively, it can be directly applied to the entire length of the hair. The best bit about it is that it can be used on both dry and wet hair as well. Massage your scalp and hair with this serum for maximum benefits. Improved hair growth, reduction in hair fall, healthy scalp, moisturized and frizz-free hair will be the noticeable improvements one will experience after using the jojoba hair serum for a consistent period of time.
8) Rosemary Oil for hair by Earthyskin
The vast benefits of rosemary oil are not something that needs an introduction. For several ages, rosemary oil has been a part of numerous hair care rituals and traditions. Being a natural herb, it benefits the hair and scalp in uncountable ways. This oil is known to be one of the best hair oils that can be found on the market. This potent rosemary oil is specially made up with rosemary leaf infused in the sunflower seed oil, rosemary leaf extract, and rosemary essential oil – this makes it as original and potent as a hair oil can get. Backed by Ayurveda, rosemary oil should be a part of your hair care regimen if you are planning to improve the condition of your hair. Beneficial for increasing your hair growth, the rosemary oil ensures to increase blood circulation, moisturize the hair, prevent hair fall, and give you a healthy scalp. Being suitable for all types of hair, the rosemary oil adds a natural shine and smoothness to your hair.
Haircare can be tough only if you don't have any direction to go upon. This article will help you in getting the best hair oils and hair serums to improve your hair. Follow the directions and use any of these products for a considerable amount of time to experience results. Make sure to have a balanced diet, adequate sleeping pattern, use only natural hair care products, and protect your hair from heat damage. All of these tips are more than enough for you to embark on your journey towards a healthier and more beautiful version of your hair.