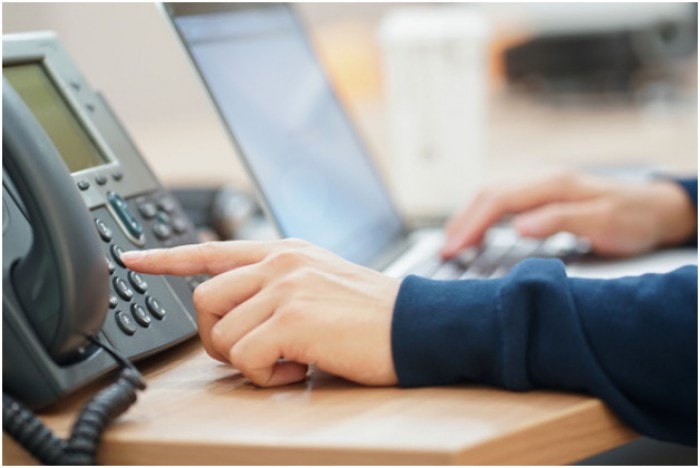 When you're living in the age of the internet, you know there's always a new technological trend around the corner. Tasks that took days and even weeks to complete can now be performed at the touch of a button. We're now more flexible, mobile and most of all, we're working faster!
As businesses continue to evolve and discover more efficient ways of operation, many past trends continue to become obsolete. Take, for example, the traditional landline system.
Business telecommunications has significantly transformed over the past decade. Many organizations have now transitioned to Voice over Internet Protocol (VoIP) systems for all their internal and external communications needs.
VoIP systems are a game changer in the communications industry. They are a type of IP telephony that operates with the help of the internet. When you speak into a VoIP phone, the system converts your analog voice signals into tiny digital data packets that are transmitted over the internet connection.
Since the internet is the only medium needed for your VoIP phones to work, it's important to know the kinds of networks and connections that can make or break your communications experience.
How does VoIP benefit your business?
If you want to take your business to a whole new level, then you've got to invest in the right kind of technologies. When it comes to communications, you need a device that lets you build contacts, improve client and customer servicing and make work more efficient.
VoIP phone systems give businesses the competitive edge they seek. Apart from providing basic phone services, these systems offer some unique features. For example, you can forward calls to the correct extension or connect it to a mobile device, activate a virtual receptionist tend to clients and transcribe a voicemail to email format.
If you've got a seamless internet connection, you can start a video conference with your team members and hold a live slideshow presentation at your convenience!
There are really no limitations with your new VoIP device. Now you can operate from anywhere in the world, share important files and documents while you're on the go. Many VoIP service providers have also harnessed the power of the internet to introduce online faxing!
Different VoIP service providers offer these features in different pricing plans and packages. For example, Vonage offers the virtual receptionist feature in its base plan for standard pricing while others like Ooma and Dialpad offer the same at an upgrade plan. If you're looking to compare VoIP service providers to find the best one for your business, you can log onto the Top5 Business VoIP website for more information.
In addition to these amazing features, VoIP phones offer both small and big businesses great cost savings. Surveys show that companies that have already transitioned from conventional landline systems to VoIP phones are now able to save around 50 to 75 percent of their monthly phone expenses!
Plus, if your business involves making frequent outbound calls, you might want to consider reviewing some VoIP service providers that offer unlimited calls in your desired country.
Internet Connections: Hardware vs. Wi-Fi based VoIP
VoIP phones are pretty flexible so you can use them on any medium you like. In most cases, you have two options:
1. Hardware-based solutions
If you want to invest in VoIP phone hardware, then you can get a special adapter that'll go behind your desk; this will then connect to your internet router.
2. Wi-Fi based solutions
Cloud VoIP Phone System is a lot easier to use and offers many more features. For starters, you don't need to worry about hardware or any installation costs. This type of VoIP is compatible with all your mobile devices, which lets you work remotely and contact individuals via a variety of methods. For example, you can hold a video conference at the touch of a button without having to pay for anything extra.
Wi-Fi based VoIP only involves a monthly fee that you're supposed to pay to your VoIP service provider. That means any versatile features are all free of hidden charges!
Does your internet connection make a difference?
Data transmission in VoIP phones is wirelessly done. The main factor that affects your connection is the speed of your internet. Broadband bandwidth plays a huge role here. If you've got a solid internet connection, then you're guaranteed to experience seamless VoIP activity.
Apart from connectivity, VoIP phones offer great voice quality with a good internet connection. If your connection is slow you might experience some disturbance during phone calls. Remember, the more devices that are using the same internet connection, the less reliable will be your connection. So, when you're getting your new VoIP phone set up, make sure you've got the right internet bandwidth to support all your devices.
Using VoIP phones for your business come with great advantages but you must remain wary of any mishaps. Whether you're running a small enterprise or a large corporation, no organization can afford long hours of server downtime. For this reason, it's necessary that you conduct regular performance and speed tests on all your online tools.
It'll also help if you do your research and choose a VoIP service provider that facilitates both, your internet connection and your business communications requirements.