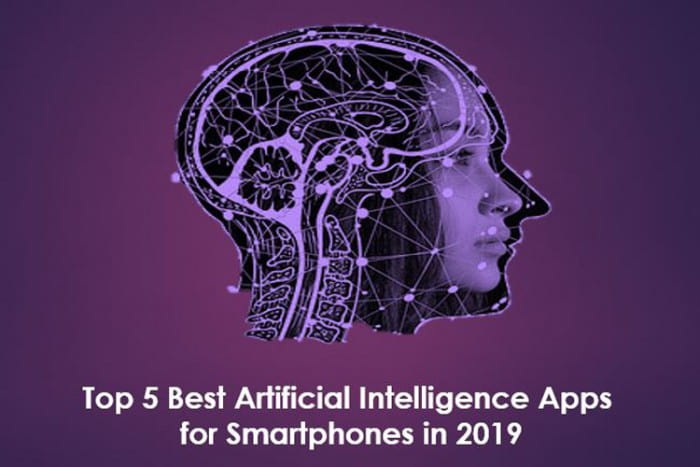 Gone are the days when we used to rely just on our helpless beings for everything we do. It is 2019 and we have already adopted artificially intelligent apps in our day to day errands; both offline and online.
With the rise of new sun in 2020, Artificial Intelligence (AI) is just a next big thing with "so much hype". It is a game-changing technology that is affecting the lives of regular people. From self-driving cars to Apple's Siri, Alexa and even Google's algorithms and FaceBook facial recognition feature, and now with tons of AI apps – AI is definitely here to stay for longer.
Before we dig deep into best AI -driven apps that you need to have on your smartphones, let's take a quick look on what is "Artificial Intelligence"?
Artificial Intelligence – A Brief Introduction
Artificial Intelligence is an approach of integrating human-specific intelligence into the computer-generated systems that would be able to think, reason and make decisions based on previous behaviors or options.
When we talk about Artificial Intelligence, we envision it to be some out-of-the-world sci-fi future where robots have taken over the world. Unlike this,  AI is a way to help and empower individuals in their daily activities.
How Smart AI Apps Help You?
AI apps have left us flabbergasted by putting a human face on them. Smart AI apps can comprehend our language, decide in the manner we do and assist us daily instances.
We interact with AI apps exactly on time when we pick up our cell phones. For example, from the ones that are obvious (Alexa, Siri) to our social media feeds and notifications – everything is being controlled by AI. The auto-generated replies in emails to the recommended videos on YouTube has turned out to be so great at knowing our preferences since AI is doing a major job in settling on choices for us.
 Best AI Apps for Your Smartphone
Without further ado, here's a list of 5 must-have AI apps for your Android and iPhones.
●    Google Assistant – Your Ultimate Virtual Assistant
To start off, here is a popular virtual assistant by tech giant 'Google'. It is an advanced AI personal assistant that enables you to enter queries in voice and text formats. Google Assistant is a competition to Apple's Siri and supports Android smartphones, iPhone and smart home devices. Unlike Google Now, Google Assistant can take part in two-way conversations. It can quickly identifies every question you ask. Its voice to text converter feature conveniently send messages, make calls and draft emails for you. This is surely a go-to mate for all android / iPhone users.
●    Replika – Your 24 / 7 Partner
This is an incredible application and will be your AI partner for mental wellbeing. This app will work as your buddy, in the event that you are feeling down or restless or simply need somebody to talk to. With Relika, you can safely chat with an AI companion and it is much the same as your imitation. In this way, you would not be afraid of being judged by someone. This application will help you in improving your psychological prosperity and enables you to investigate your character. You can easily make your simulated partner and be friends with him / her for a lifetime.
●    Fyle – Your AI Expense Manager
Your collection of apps would be insignificant without an AI powered expense tracker app. Presenting you one such app – Fyle. This app is only available for iOS customers. Fyle allows you to track, filter and transfer all your financial and budgetary expenses. It brings out a bigger picture of your organization based on accurate speculations and analysis. Additionally, the app also incorporates AI features to automatically extract expenses from Gmail and Outlook. Powered by Google Places, you just need to enter your destination and Fyle gets around with mileage in real-time. Fyle can robotize complex processes and let you introduce a paperless, ground-breaking structure.
●    Elsa Speak – AI as Your English Coach
If you're not a native English speaker, but strongly want to be proficient in this "Much-hyped Language", that too without paying a hefty fee – then Elsa (English Language Speaking Assistance) is for you. It is a powerful artificial intelligence app that trains you to speak English and picks up pronunciation mistakes for your practice. Artificial intelligence helps app users to practice with 2000 words and provides them with immediate feedback. There is a 7 – day trial and then you have to purchase ELSA Pro version. ELSA Speak is accessible on Android and iOS devices.
●    Microsoft Seeing AI – AI Eyes for the Blind
Technology can be used to bring positive change in the lives of physically-impaired individuals. There is an AI-based app powered by Microsoft that is intended to provide accessibility to the blinds or people with low vision.
To help physically impaired persons with mobility, it incorporates AI to investigate whatever the camera is seeing. Be it any person or any object, this app will attempt to perceive the face or portray important information. Any content you point the camera voluntarily be read aloud so anyone might hear right away.
Standardized tags on items can also be checked for data on what you need to purchase. The AI can likewise dissect and depict generally speaking scenes, so on the off chance that you need to comprehend what kind of circumstance is directly before you, it can do that too.
While the innovation isn't flawless yet, it's practically marvelous and even be made great with further research. Unfortunately it is available to download for iOS users at present, yet ideally will see a more extensive release across other platforms.
Glimpses into the Future
The proliferation of Artificial Intelligence based lifestyle has made us dependent on computer-generated intelligence, so much so that we cannot negate it in future as well. There's a considerable amount of misconception and disinformation around AI. Some of us think that it will ruin the valuable human interpretation and input with increasing dependency. Obviously, there are a lot of genuine concerns and a portion of our best masterminds have featured them.
With regards to the AI applications we have featured here, it's difficult to envision anything awful happening as a result of them. Instead, these all apps are extremely smart and beneficial for day-to-day chores.
After going through the article, AI-controlled applications speak to something that truly makes our life simpler and opens inventiveness. Above apps are, therefore, worth trying for!
Conclusion
AI applications empower us and make us work more efficient in many ways. Here, we have rounded up 5 best smartphone apps for 2019 that will ultimately easy daily errands simple for you. You can be confident with the quality of work with these AI powerful apps. These are smart, convenient and handy. Future belongs to them!
Author Bio: 
Bianca is a content creator & a passionate blogger. She is a professional tech blogger by profession & an avid reader by soul. She loves to explore topics related to news / technology, particularly content transfer. In her free time, she enjoys penning down her thoughts with a cup of coffee.