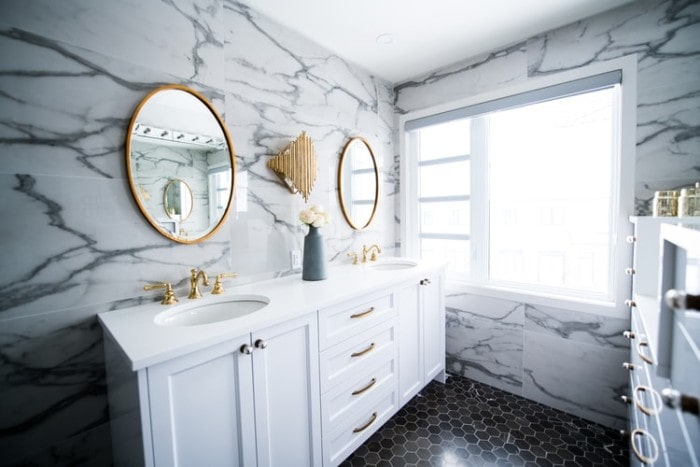 Research shows that on average, people spend 182 hours in the bathroom each year. With this in mind, there's no reason you shouldn't be in love with your bathroom. It's the place in your home you likely find yourself in multiple times a day, and it should embody a calming and peaceful vibe to get your mornings started right and wind you down properly at night. Your bathroom is likely the setting of many of your morning and nighttime rituals, so here are five big ideas to transform your ordinary washroom into a spacious oasis.
Choosing the Right Color: A bathroom can be transformed by something as simple as a fresh paint job. While you are encouraged to select the shade that most speaks to you, the paint you choose will be heavily based on the amount of natural lighting your bathroom receives. Light can increase the sense of spaciousness. The more natural light, the more options you have for your wall colors, allowing you the ability to go either darker or lighter in tone depending upon your personal preference.
For bathrooms lacking in sufficient natural light, a soft grey tone, warm white, or any lighter paint color is recommended. Additionally, for these bathrooms that have poor natural lighting making the room appear smaller, consider upgrading your light fixtures.
For many, lighting in the bathroom is crucial as it is the place where most carry out matters of pampering and self care. Make sure your bathroom has light fixtures bright enough to make your 'getting ready' routine effective and productive.
As far as paint colors are concerned, bathrooms tend to be most refreshing when cooler color palettes are in play, such as lighter shades of blue and green or even a cool, light grey. These colors ought to evoke feelings of tranquility and serenity, exactly what one is after in the quest for a perfect bathroom. The correct shade of paint should make your bathroom appear larger, giving the illusion of more space to luxuriously carry out your daily routine.
2. Add Natural Elements: Another excellent way to create a gorgeous bathroom and maximize space is by incorporating elements of nature. Fresh flowers and houseplants can easily transform a dreary bathroom into an appealing one in an instant.
If you are concerned about your green thumb (or lack thereof!), look for low maintenance houseplants that require minimal effort. The Parlor Palm or the TradescantiaZebrina are both wonderful options for easy-to-care for houseplants.
For more intensive measures of adding natural elements to your bathroom, think about earth elements that speak personally to you. Perhaps you are intrigued by the indoor incorporation of stones? You may want to consider lining your shower with natural stones that feel soothing to touch or opting for other naturally-sourced materials that will elevate your space and make it feel like a spa.
Another idea to consider is an accent wall created from reclaimed wood. These more extensive options for revamping your bathroom might require you to hire a professional. Depending on your budget, hiring a professional that specializes in kitchens and baths is a fabulous and most efficacious route to attaining a dream bathroom.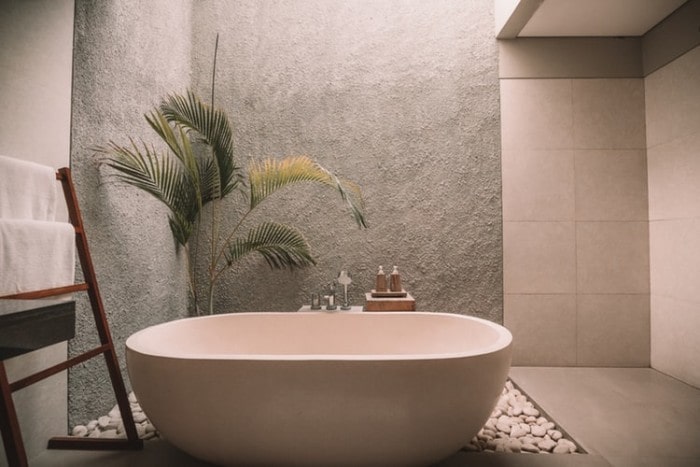 3. Organization Is Key: The quickest way to lose the spa-like feeling in a bathroom is for it to be overwhelmed by clutter. By prioritizing good organizational practices, your bathroom will look and feel inviting and more spacious. Bathrooms are without a doubt one of those areas where useless junk has a way of piling up over time. Don't be afraid to throw out old products you don't use anymore! Schedule a clean-up session to remove expired medicines, empty product containers, or old makeup.
Make your storage count by only keeping the essentials. Another way to improve your bathroom's organization layout is to make use of vertical space by adding shelves and possibly inserting the necessary storage containers you feel your space requires. Stick with it! Organizing only works with consistency.
4. Textiles Matter: When it comes to revolutionizing your bathroom, oftentimes it's worth it to splurge on textiles. Treat yourself to the plush towels and a bathrobe for a truly spa-like experience in your very own home. Find an area rug that demands to be walked all over to place by your bathtub or in front of your sink, though be sure to choose materials that are quick-drying and easy to clean.
To enhance the privacy of your bathroom, another way to transform your space by the use of textiles is to invest in a gorgeous set of window treatments that invite texture and warmth into your bathroom.
5. Update Your Hardware: For an immediate bathroom facelift, consider updating any outdated hardware plaguing your space and drawing negative attention. Changing out your hardware, knobs, and handles is a subtle yet effective way to enhance your bathroom. If your bathroom has tired and dull handles and fixtures, see how instantaneously the incorporation of new hardware can make a positive difference with minimal effort.
Of course, the most important part in any remodeling project is to pay attention to styles and designs that speak specifically to you, since after all, you're the one who will be enjoying the space.
Author Bio:
Tess DiNapoli is a writer, artist, and experienced web content professional specializing in home remodeling trends, renovations, and interior design, drawing from past experience as a project expeditor for a renovation firm.  Based in Los Angeles, she writes extensively for local design-build firms such as A-List Builders and other home renovation and interior design clients, where she covers the latest in home innovations and remodeling best practices. Tess also writes about art, wellness, and psychology, and has a keen focus on how improving one's interior spaces directly affects productivity and well-being.