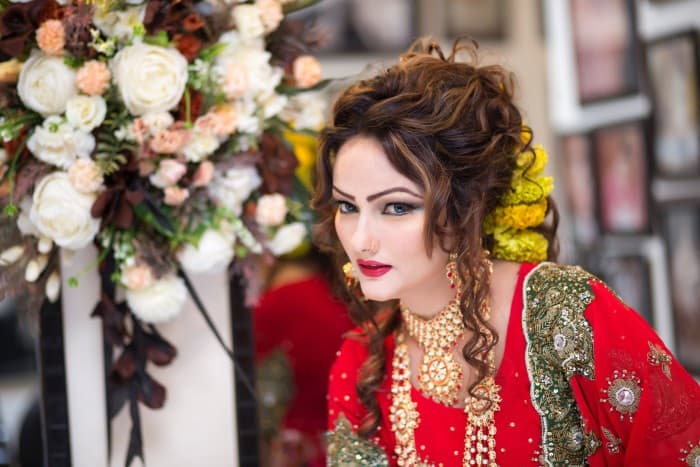 The thing about which the brides care the most – is their makeup on their wedding day! In the confusion of which style to choose and to ignore others, the brides face a very challenging situation; this stress isn't good for the face. So, to put a full stop to the worries of the brides, here are some of the best bridal makeup trends of 2023 weddings, listed for you. These suggestions have been prepare with the help of professional beauty parlor ideas and guide.
Let's see what they say about latest trends –
Glitters – Glitters are used to highlight your eyes excessively and this season, this trend is going to be used everywhere. You can use iridescent particles to make your eyes pop, nicely; if perfectly done, this will give your eyes, a bright look. This even increases the glamour quotient on a bride's face which is very important. So, big face or a small face, glitter makes a huge difference, if used wisely!
Metallic liners – 2023 weddings are seemed to be using metallic liners. You can simply hire best makeup artist, as their eye makeup for brides is very famous in India. Metallic liners are flexible as they add the perfect amount of brightness and sparkle to your eyes. This will compliment with your heavily embroidered Indian bridal dresses. Plus, you can get the right glamour level without going for a gaudy makeup.
No-kajal – Today, the brides not only want to look their best but also unique in their own way. This is why, a no-kajal bridal look is getting famous is most of the areas. Earlier, brides use to only wear red and orange outfits for wedding but now they love experimenting with colors. Similarly, a colored metallic look without the use of kajal on eyes is getting trendy these days.
You can simply search for a good beauty parlor near me, to try this look before your wedding day, so that you can be sure about it.
Wear less makeup – It's not the starting of 2000's, where lot of makeup meant glamour; its 2023 now, people like to keep things simple and beautiful. The biggest trend in current times is to wear makeup in required quantity. The brides prefer to follow the 7 day beauty tips carefully to get their inner glow on their wedding day instead of using heavy and gaudy makeup; this give a classy bridal look!
Avoid over-glossing – Too much shimmer doesn't give a sophisticated look to the brides. So, this season you might many brides with limited gloss. The dramatic over glossy look doesn't suit every face. Plus, it is something that we have seen in so many weddings.
Clean and simple – There are many faces which actually look good with limited makeup. So, you can choose any top budget beauty parlors in Jaipur that are run by makeup experts to get clean and basic makeup look for your wedding. You can go back to the traditional look of the Indian brides but in a classy way.
Un-Dramatic Look – Yes, avoid everything that is not needed such as those noticeable drawn eyes and too much of redness of cheeks. The additional stuff always looks imperfect and does not blend well with your face. So, simple cut them out.
Lip colors – Lip color plays a great role in changing the impact of your face. There are a lot of things to consider while choosing a lip color for your biggest day such as your face cut, your hairstyle, your bridal makeup, your outfit color and even the season in which you are getting married. The shades of spring are different than the shade of winters. The top colors on lips that will trend this wedding season are – military red, warm beige, nude pink.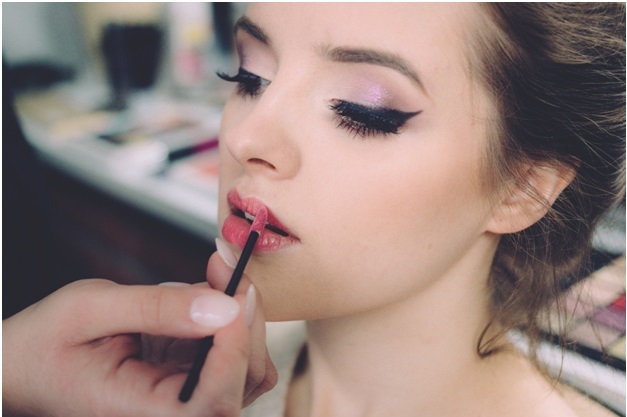 Eye makeup – Earlier, brides more particular about their hairstyles and lip colors, but now the focus is more and more shifting towards the eye makeup. Yes! Glitters, smokey eyes and thick liner lines on eyes are something that will make the brides the spotlight of the wedding party. Experiments and new approaches on Eye makeup will be seen in the weddings of 2023!
Bindi – Yes, it gives a traditional bridal look. But, the year 2023 might see many Indian brides with decorative bridal bindis. This is gives a modern classy look to your face along with a touch of traditions.
Nose pin – The brides of 2023 might be seen with a simple and tiny diamond nose pin instead of big size bridal nose rings. This gives a complete bridal look with all bridal jewelry plus, it helps in showing the complete of the brides. Tiny nose pins are easily to manage and deliver a very elegant look to the brides, as well.
So, if you are getting married this year in 2023, then there must a lot of hustle and bustle, going inside your mind such as where to get married, what to wear on which function and whom you should invite, etc. but, in all these big questions, don't ignore the biggest thing that matters the most that how will you look on your wedding day?
This is something that only a bride can decide for herself with the help of an expert makeup artist. So, it is advisable that as soon as your wedding date is fixed you must find a makeup artist for yourself to decide your bridal look for the wedding. Hope, the above-given suggestions might help you in deciding the most different and perfect look for your big day!