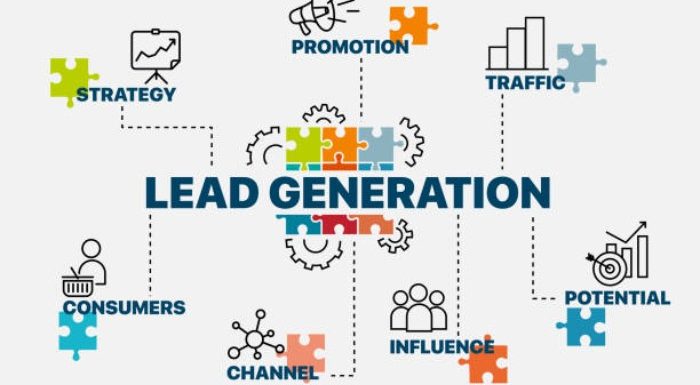 Lead generation isn't simply about getting people to visit your site. There's a lot more to it. Like collecting their details, communicating with them, and converting them into loyal customers. It's quite a tedious job, requiring the right tools.
However, numerous options exist when it comes to lead generation tools. That's why we've picked ten of the best tools to help in your lead generation efforts so that you'd make more sales.
What is lead generation software?
Lead Generation Software is software that has many features and functions like email finding, lead tracking, account-based marketing, intent analysis, exit-intent analysis, A/B testing, and more to help find, attract and nurture leads.
10 Best Lead Generation Software in 2022
1.     NotifyVisitors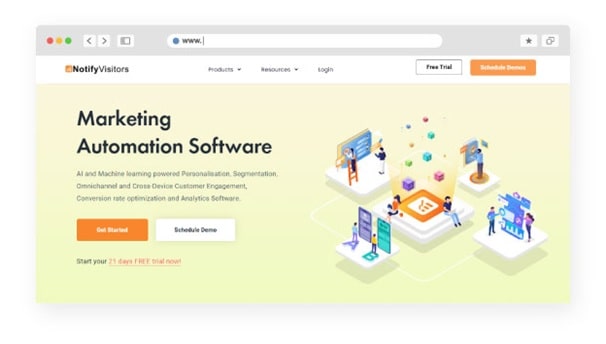 NotifyVisitors is the top lead generation tool on our list. It's a powerful tool with a suite of useful features. You can set up triggered personalized journeys based on the visitor's onsite behavior and engagement (like purchase, sign up, click-through, etc.). Thus, you get to track down your leads on the right path.
NotifyVisitors employs Artificial Intelligence to automatically display timely and relevant content. You can deliver such personalized customer journeys seamlessly across delivers and channels. It covers channels including email, SMS, push notifications, in-app and web banners, in-app and web surveys. You can also analyze each step and receive reports covering channels, timing, CTRs, conversions, etc. to optimize for future campaigns.
2. MailChimp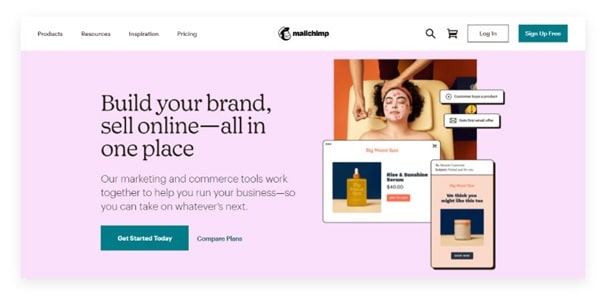 MailChimp is an intuitive lead management software for small businesses.  It has a
drag-and-drop builder that enables customizing the design of the sign-up forms, popups, etc. as per your preferences. It lets you strategically time their popping-up on your web page so as to increase conversions.
MailChimp also has lead list growth tracking features. It also allows you to segment those so that you can nurture your leads with better targeted and personalized campaigns. There are different plans. The basic plan starts at $10/month. It also offers a free version that lets you store up to 2000 email contacts and send 12K emails/month.
3. Picreel
Picreel is super easy-to-use B2B lead generation tool for eCommerce businesses. It has ready-made templates that you can use to customize popups.  It employs smart technology to deliver popups to visitors by sensing their exit intent. So, when prospective buyers tend to abandon their carts, you can display popups with captivating offers to motivate them to buy.
Picreel allows multiple overlays including nano-bars, popups, slide-ins, survey forms, and more to deliver a great user experience in a stress-free manner. It also has A/B testing and analytics features to help users generate the best results. Its starter plan is available at $14 per month. The other plans are costlier for small businesses.
4. Leadfeeder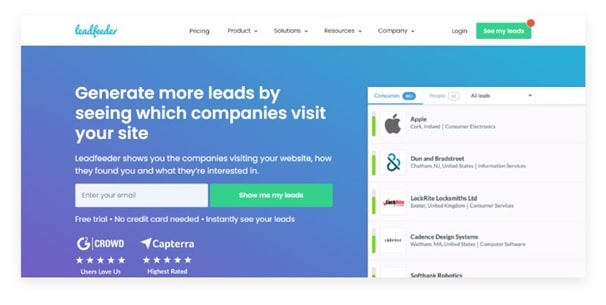 Leadfeeder is a good tool for lead tracking and intent analysis. It employs four steps viz., Identify, Qualify, Connect and Send leads for generating quality leads. That is, it identifies the anonymous firms visiting your site, scores them and filters those with the best scores, reaches out to them, and syncs them with the CRM.
Leadfeeder helps in sales prospecting by sorting out the high-intent leads and directing them to the right sales rep. By letting you contact your leads quickly, it enhances the chances of you closing the deal. This gives you a competitive advantage. The software comes with different plans at different pricing. It also has a free basic plan.
5. Qualaroo
Qualaroo is an advanced lead management software. It provides a variety of resources and templates with binary questions, dropdowns, checkboxes, etc. to ask questions and enhance conversations. Its AI facilitates connecting with the right visitor at the right time. It also has the ability to analyze customer sentiments through their feedbacks so that you can respond accordingly.
The tool also has exit intent analyzing capabilities which allow it to improve user sessions. It also has features for A/B testing. The tool comes with a 15-day free trial, which you can try before you decide whether or not to subscribe to it.
6. LeadFuse
 LeadFuze is a B2B lead generation and sales automation platform that focuses on improving conversations. Many marketing companies employ it for their generating leads and turning them into buyers. It has features for lead scoring and lead segmentation to allow users to provide personalized experiences to their visitors.
LeadFuze also has features for lead capturing, targeting, creating similar audiences, retargeting, lead nurturing, and more. Its top features include Contact Discovery, Social Profiling, Lead Background insights, Contact Export/ Import, campaign management, Ad targeting, and more.
7. Lead Forensics
Lead Forensics is another awesome lead generation software. It has features for collecting the contact info of anonymous website visitors. It scores your leads so that your marketing teams can focus on nurturing those that are most likely to convert. It can also gather key contacts that resemble your target profile so that you can keep growing your leads list.
Another attractive feature is that this tool seamlessly integrates with many of the major CRMs used. Lead Forensics offers a variety of plans to choose from. But before that, you decide whether it suits your requirements by enrolling for their free trial.
8. Hello Bar
Hello Bar is another super user-friendly lead generation and management software. It has the potential to drive traffic to a landing page. It's also capable of increasing the time spent by visitors on your site and motivating them to take favorable action. Further, you can use it to increase your social media likes and followers.
Hello Bar lets you design and customize beautiful and effective popups using sliders, modals, and bars for your site. It allows advanced targeting of leads. You can target them based on the page they're on, their location, the device used, number of visits to your site, etc. This can maximize the impact.
9. SalesForce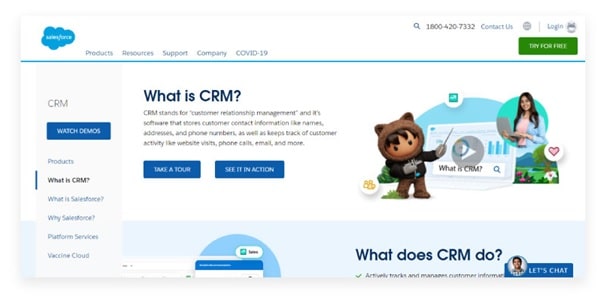 SalesForce is a lead management tool trusted by numerous businesses across the world. It has widgets to help you manage customers, sales leads, sales teams, and more. In addition, it integrates with many marketing and sales platforms to simplify things for your teams and deliver better customer service.
Its salient feature is that your business can find tools specifically designed for your industry. This gives you an upper hand over your competitors. It also has support functions such as chatbots, help center, and field service tracking. It also offers multi-device support so that you can deliver experiences across devices that your customers and leads use.
10. Albacross
Albacross is software that generates leads by analyzing the intent data of website visitors. It then contacts those with high real-time purchasing intent and adds them into the sales funnel. It also increases lead conversions via web personalization and different kinds of account-based marketing. That is, it targets the account, delivers ads that the prospect is likely to prefer, and analyses the performance.
Albacross provides users with detailed info on what engages prospective buyers and thus facilitates revenue increase. Since you make data-driven decisions, without relying on guesswork, you get to avoid mistakes that cost. This tool seamlessly integrates with a lot of other platforms like Slack, Google Analytics, Adobe Analytics, and many more.
Wrapping up
Lead generation is a major task every business should focus on to retain itself in the long run. The tool you choose for lead generation should help you identify leads and convert them to buyers, and then loyal customers. We've listed the top ten lead generation software available in the market. Go through them to make your pick as per the features your business needs for its lead generation.
Author Bio

Sara is a content writer at PeppyBiz, a platform that provides lead generation software through which companies can stimulate and capture customer's interest in their product or service.