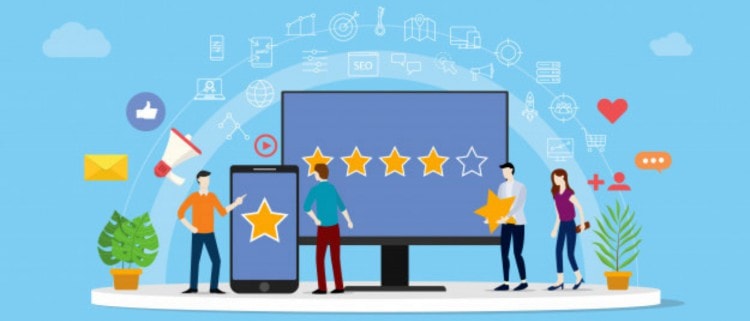 A successful brand building process helps in increasing the sales and advocating your product or service to the potential customer.The process involves defining the target audience, working on the brand mission, conducting market research, creating a value proposition, working on the brand guidelines, etc. But what if all of these are implemented and you lose your reputation from one single negative review?
As it is widely acknowledged that a FIRST impression is the LAST impression, therefore you should build up a strategic plan for your brand to get more positive reviews. According to a report published in Forbes, companies almost risk 22% of their business when the prospect find even one negative review on the first page of search results.
"A good reputation is more valuable than money" the statement by one of the famous writers, PubliliusSyrus, thus fits the context here. The reputation management tools have been a craze among marketers in recent years and can also be said as the damage prevention or damage mitigation tools. They actively fix the damage done by the content and destructive campaigns so that it does not harm the online reputation of businesses. These online reputation management tools are even available to align with the requirements of different industries such as retail, medical, restaurants, automotive sales, and services, etc.
With the availability of many online tools you can easily build the reputation of your brand:
SentiOne: SentiOne is a social listening tool which helps you in tracking the reviews and feedback of your brand on the social media. It gives access to both real-time and historical data. SentiOne's online media monitoring possibilities are endless; it manages in avoiding online crisis and demonstrating the involvement of audience relationships. Time periods can be tracked whenever there is an online discussion about your brand.
Brandwatch: Much has been said about AI and predictive analytics, now this social listening tool has the AI, Iris to help you out whenever there is a threat to your reputation.
It has a data visualization platform where Brand watch uses Viziato visualize the data combined with insights from Hootsuite, Google analytics, Buzzsumo. Brand watch offers demographic analysis of the potential customers, occupation, gender, interests, and location. It even has an enterprise like features, API access, and image recognition. The tool has an intelligent alert system which informs you via email whenever it finds a harmful review. Email is the best communication mode whenever you want to connect to high-end customers. InfoClutch, one of the leading email marketing service providers have been able to provide satisfactory marketing solutions to its customers and generating amazing revenue and ROI.
Social Mention: Blogs and social media posts have become an integral part of the online marketing process. Social Mention tool is mainly focused on understanding the sentiments generated from these posts. The design of this tool is simple and helps in measuring, monitoring and improving the brand reputation. The information captured from the tool are passion, sentiments, strength, top keywords, and reach.
Talkwalker: This social listening tool targets enterprise level brands and helps in identifying the sentiment towards the brand for the last 7 days. The most important feature which it has are it can analyze the posts, articles, and tweets driving your brand discussion. Talkwalker can analyze a huge amount of data and tendencies towards the brand.
Reputology: Online reviews have become very common on different media platforms, due to which many of the businesses are worried about the negative feedback. Customers who are highly dissatisfied with the service vent out their anger in these posts. These posts can create a negative image of the brand on the potential customer's mind. Reputology, an online reputation management tool integrated with social listening tools, monitoring tools, customer engagement functionalities helps in determining the reason of positive as well as negative feedback.
It builds your reputation by monitoring, responding and analyzing these online reviews. Reputology monitors the review sites, and social media for different industries such as real estate, hospitality, healthcare, dining, fitness, etc. The tool collects the reviews at a time and provides analytics for generating reports.
GatherUp: GatherUp offers review monitoring for more than 30+ review sites. It has a special feature of monitoring Google questions and answers. The tool aims to get new reviews than finding existing ones. GatherUp aims to motivate customers for writing new reviews and engaging them through different channels such as text messages, and email.
Review Push: This reputation management tool monitors your brand reputation on popular sites such as Foursquare, Yellow pages, Yelp, and social media. The tool combines all the online reviews on one page and lists it in the chronological order. Each of the reviews includes rating, date, source and the reply link.
Google alerts: Google alerts, one of the reputed monitoring solutions provides free tools for SEO professionals and marketers. Not only it monitors, but also creates content for your brand.
Chatmeter: Chatmeter mainly helps the retail brands in analyzing and improving its reputation. Chat meter helps in improving reviews, listings, and rankings of different storefronts and has been doing it for over 1,500,000 storefronts. It focusses on various sources such as social media, articles, blogs, and review sites.
Chatmeter has a special feature in which it identifies five local competitors and shows up the performance of your brand against those brands.
Awario: Awario, a social listening tool monitors social media platforms, blogs, crawling websites, and forums. It collects information from Youtube, Facebook, Twitter, and Reddit and process sentiment analysis thus saving you from a reputational crisis. Awario recognizes if the mention in the post is positive or negative and then deal with the negative ones on a timely basis.
Reputation Ranger: This tool is designed for four of the niche industries which are hotels and travel, plumbers and home contractors, automotive sales and services, restaurants and bars. It monitors Facebook and other industry sites for creating alerts and reports. You will be getting real-time alerts and monitoring of review sites.
Reputation health: If you are in need of online marketing services for the practices related to the medical field, then it is highly likely you will also need reputation health. The tool offers online review monitoring and reputation management for the professionals involved in the medical field such as the physicians.
Conclusion: Now it won't take years to build up your reputation, as you have the readily-available online reputation management tools. So, pull new clients, nourish the existing ones by optimizing your online presence with the best mentioned online reputation management tools.