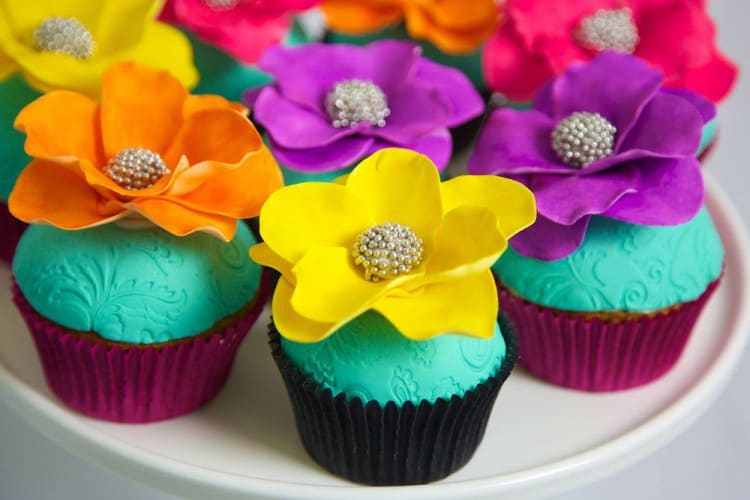 They're delicious like cakes, but smaller and everyone loves them.  Cupcakes are totally in nowadays and are becoming increasingly popular that many people even prefer them to regular cakes and other types of desserts. They're not just a yummy snack but they're also used as a nice addition to the table in many different occasions. Not only that, but they also make a terrific little present. You can even order cupcakes online in Dubai easily and from the comfort of your own home and it will be delivered right to your doorstep.
Here are the top reasons why we think cupcakes are awesome:
Easy to Customize
They can be customized to suit all occasions whether it's a wedding, a birthday, a party or any other kind of event, you can decorate delicious cupcakes with all kinds of things to make them fit from changing their design and color to writing on them. Got a wedding? Make little cupcakes in bride and groom shapes or have the couple's names written on them! Got a birthday? Write "happy birthday (person's name)". See? they're simple, easy and fun!
The Variety
You going to love the variety of flavors when it comes to cupcakes. You could bring several different flavors and recipes to a get together or an event to ensure that every taste is satisfied. Unlike with other desserts such as traditional cakes, where one or two flavors at the most are the only options for everyone present.  Flavors include everything from chocolate to vanilla to strawberry shortcake to lemon meringue to less conventional options like ice-cream filled cupcakes, pumpkin spice cupcakes, cappuccino!
Less Messy!
Cupcakes are not as messy as other types of desserts. They're easy to eat and easy to clean up without too much hassle!And we assure you that there will be no left-overs for you to worry about cleaning 😉
They're Small
They're small so you don't have to feel guilty when you eat one! You can indulge in these heavenly treats every now and then without worrying too much about it ruining your diet or making you gain weight.
Cute gift
Gift it to someone for their special day or to congratulate them on the big achievement or for small work parties or simply send it to someone who's having a bad day and just needs a little pick me up. It's a small gift but it's guaranteed to draw a smile on their faces and make them feel better. They will appreciate it and know that you think about them.  Make sure it's their favorite flavor too! Remembering details shows how much you care.
Cupcakes in Dubai
Cupcakes are quite familiar in Dubai especially for birthday functions, we can get lot of flavors, colors, and adorable designs with tasty ingredients.Many online shops are there to quickly deliver the cupcakes to our doorsteps when we order online. What are you waiting for? Order cupcakes online Dubai for yourself and your loved ones now and make the day special on any occasions.