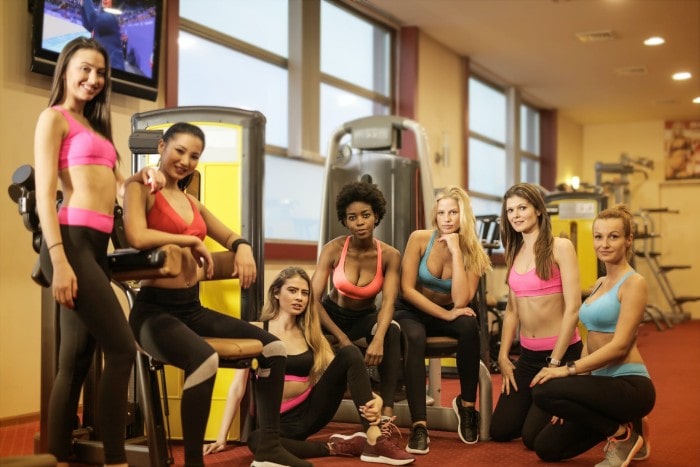 When it comes to gym attire, teenage girls should keep it simple. Sadly, not all girls like to follow this simple rule. Some of the girls that I witness in the gym wear supremely unacceptable attire. While I agree that a gym isn't a place for a beauty contest, but you need to wear the right clothes at this place. After all, it is no harm in investing in some cute looking gym clothes.
In this guide, I will be offering guidance on gym clothing. Especially if you are a teenage girl, you need to read this. We will be discussing a variety of brands that offer gym wear that is comfortable and stylish, and feminine.
All in all, this guide will help you build a wardrobe of clothes to wear at the gym so that you stay motivated and look fabulous, always.
Wearing the right size bra
Firstly, and even before you start buying a top for your gym workout, you need to head to a lingerie store. Wearing a right size bra, made of moisture-wicking fabric, is imperative to feel the comfort and support while working out at the gym.
A wrong fitting bra will make you feel uncomfortable and self-conscious. While shopping for bras, ensure that you keep your size in mind. For instance, large-chested girls should opt for bras with a wider strap and a wider band for better support.
Remember to replace your bra every seven to nine months.
I know many girls who come to the gym wearing oversized T-shirts! This only means that they are not happy to be here and are uncaring of their appearance. If you are serious about your workouts, then opt for tank-tops and slim-fitting clothes that are made from performance materials known to wick away sweat.
Choosing the right bottom
Irrespective of your choice of workout, comfortable workout bottoms are essential. You will come across a wide variety of gym bottoms. It is advisable to look for bottoms made from good quality. They should not stretch out after a few wearing and should have an adjustable waistline.
Tight ass clothing is a big NO!
If you choose to continue wearing your worn-out footwear, then you are doing your feet a disservice. Take help of a certified professional in deciding as to what shoes will suit you well for your workouts. Not all shoes are meant for the same activities. For instance, your running shoes are not suitable for aerobics.
Keep in mind your gym activities before buying a pair of shoes. And don't forget to avail a free gait analysis, which will help you select the correct shoe for your chosen activity.
You may want to look presentable and attractive, but the gym is not the place to wear makeup. If you choose to wear your makeup in your workout sessions, you will be doing so at your own peril because while sweating if the makeup is on the skin, it will clog pores.
Say no to wearable hardware
Follow the rule: Anything that is going to get in the way of your workouts should be avoided or kept in the locker room. This means, hangs and swings have no place in the gym.
I know of girls who come to the gym wearing the most expensive clothes with zero knowledge of their attire. You don't have to be like them. There are plenty of amazing brands such as Nike, ASCIS, Puma, Reebok, Adidas, New Balance, Liveclothing, and so forth who sell functional yet aesthetically appealing gym attire. For instance, Reebok's Delta Allover Print Tight is a 4-way stretch fabric of nylon and lycra for greater mobility. Then there is Liveclothing UK Activewear and Nike Activewear worth trying.
The options are plenty, but do your primary research before buying.
How to Keep Your Gym Clothing Clean?
Do you really want to be that girl who wears the same sweat-dripped clothes the next day at the gym? Not really.
Follow these easy and simple techniques to keep your gym clothes clean and fresh:
Buy anti-stink clothes
While shopping for your gym clothes, make sure you buy clothing that includes polygiene technology, which relies on natural silver salt to prevent bacteria from multiplying.
Keep your shoes and gym clothes separate
This one is really simple. Keep your gym clothes and shoes in different bags within your gym tote in order to minimize the spread of odour-causing bacteria. Buy bags that have separate compartments that allow you to store your shoes, separately from your gym clothes.
Hang the wet gear
Lastly, but most importantly, don't just toss up your sweat-drenched gym gear into the hamper. Hang the wet clothes!