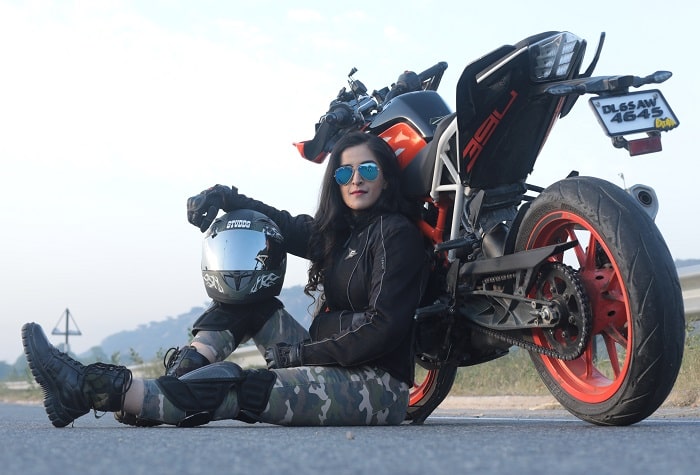 Planning a long road trip on your two-wheeler? riding a motorcycle to the fabulous destinations in the mountains of Northern India all the vast endless deserts of Western India are great ways to explore your wanderlust! If you have never been on a road trip on a motorcycle before there are a few simple things knowing which makes your life on two wheels a lot more comfortable and enjoyable. What we have here are five important things that you must remember while going on your first long ride on a motorcycle, and you would be happy to know that these tips have been collected from experienced adventure riders which means you are getting solid advice for your upcoming road trip. So, let's get started.
Always Wear Helmets & Safety Gears
First and foremost, the most fundamental thing that you need to remember while riding a motorcycle, or any two-wheeler for that matter, is to always wear your bike helmet no matter how short or long your trip is. Motorcycle helmets are not just important because the police will penalize you if you don't wear one, but because if you happen to be in an accident God forbid, without a helmet it will become very complicated for you to come out without any injury from the accident. Helmets also reduce the dragging effect of wind on the face which keeps your neck and spine pain-free during rides. And finally, a high-quality bike helmet comes with a clear visor which will protect your face and eyes against dust, debris and bugs! When you are at your nearest helmet shop make sure to check for all the styles and shapes that modern helmets come in. Most notable and popular styles are full-face helmets, open face helmets, and modular helmets. Besides these, you can also choose a dual sports helmet if it fits your riding style and lifestyle.
Similarly, invest in good quality motorcycle riding gloves and boots along with goggles because the entire body is vulnerable to injuries when you are the open riding environment of a scooter or a bike. Well-ventilated motorcycle riding jackets are also an important consideration that you need to make particularly if you are an avid rider and make long trips (either for pleasure or for work) frequently, a definite must-have if a road trip is on the cards!
Pack lightly, but smartly
First-time long-distance riders often make the common assumption of erring on the side of plenty. You do not need a lot of things and their backups! Just make sure to carry the essentials, minimize your needs and if you happen to need something special during the trip, get it from a local store on the road. For food and supplies you can depend on local malls and shops, and if those are not easy to come by (in case you ride into last mile establishments in the mountains), you can always depend on the kindness of the local people.
Remember to carry medicines for stomach problems, and a well-planned first-aid safety kit. You will need a few simple tools for maintenance and most importantly carry a Dual SIM mobile phone because you cannot rely on just one network provider when you are riding away from cities and towns.
Remember to Take Breaks
Breaks are important for both the man and the machine. When you continue to ride for long distances, the brain becomes overburdened with sensory stimuli and that creates a sense of fatigue and weariness. With the brain working at less than its optimum capacity you can make mistakes. Thankfully, the solution is very simple. Just take a break of 10-15 minutes every 100 or 150 kms. Pick a nice shady spot in the read and drink a little water, grab a small healthy snack and let the motorcycle engine cool down a bit. If the engine temperature is higher than its rated capacity, the performance can drop significantly and in the long run this may lead to other problems. This is more important when the weather is hot. In colder weather conditions you can easily ride more than 200 kms without giving any break to your bike, but the body may need tiny intervals to feel re-energized.
A few important things you need to know about taking breaks on a motorcycle trip:
Stop at a place with good visibility so that you are clearly visible to traffic
Be visible to other people when you are at an unknown place, especially if you are a female rider or you have a female pillion rider
Make sure that there is enough space for other vehicles to pass you without hitting you
Do not go far away from your bike especially if you have motorcycle luggage bags with your goods in it. Always have an eye on your bike
Make sure to turn off the motorcycle, lock it and carry the ignition keys with you if you are stopping at an eatery or restaurant
Manage Your Expenses
If this is your first ride on a two-wheeler, and you are going away on a multi-day trip, you will have to be very careful about your expenses. There are unavoidable expenses such as fuel, food, road permits, passes and medicines. Then there are other unnecessary expenses that you can avoid. Try not to spend too much money on getting gifts, eating at expensive places or staying at an expensive hotel. Lifestyle expenses such as alcohol or nicotine consumption can be managed to a minimum. Also avoid other expense-traps such as photographers at tourist places and tour guides. Book your hotels online, and carry a camera with you to capture memories.
Take Care of Your Bike
You need your bike to take you places and if it breaks down, you will be in major trouble! Before getting started on your tour send your bike for a complete maintenance and check-up. If needed change the oil and tires. When you are on the road do not keep the RPMS high. It is advisable to keep the RPMs in the mid 3000 to 5000 RPMs for best mileage and reduced stress on the bike engine. Every 100 to 200 kms take a break of 10-15 minutes to give the bike enough time to cool down. Never race or ride aggressively, you will not save a lot of time but you can surely get into trouble!
Author Bio:
Aryan Khanna is a content writer and editor having 8+ years of experience in writing the content for driving safety tips that can help increase road safety and reduce the risk.In this Article we covered more about what are the important things and motorcycle riding accessories you should remember while long road trip.