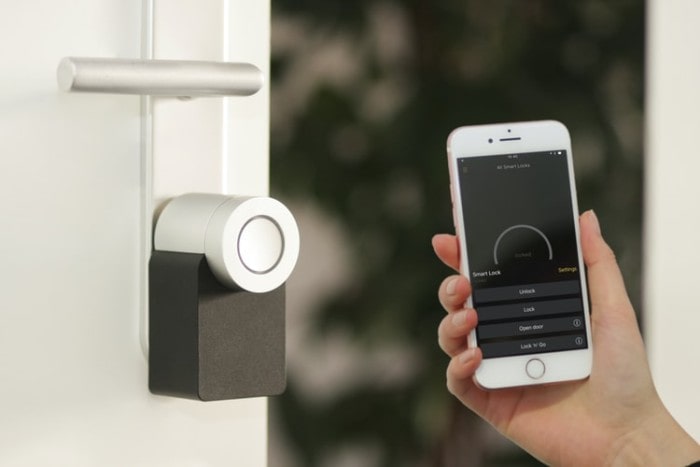 Home automation refers to remotely and independently controlled systems, appliances, and devices linked to a network. For example, you can turn your lights on or off, adjust your thermostat, or control your security system at home from wherever you are via phone apps. You get to enjoy an array of benefits from smart home technology.
Convenience proves to be the main selling point of home automation. Consider this: you're already in bed, ready to doze off. You realize you've forgotten to turn off the lights downstairs. Now you can do so with a few clicks on your phone—no need to leave the bed.
Buffed-up home security is another noteworthy advantage. You can install an elaborate network of motion detectors, automated door locks, and CCTV cameras that'll give you peace of mind even when you're away.
Lastly, you get to ensure your residence's energy efficiency. For example, you can program your thermostat to follow specific settings based on the time of the day. If it's early in the morning and the weather's cool enough, your thermostat will adjust the temperature accordingly; hence, you're not wasting electricity.
Now all these might sound costly. But it does not have to be. That is, if you choose a smart home hub that's compatible with a wide range of tech brands and products. Let's get into the nitty-gritty with a list of must-have smart home updates.
1. Lighting
You can buy smart bulbs for less than $20. The usual suspects include the Philips Wiz Connected LED, the EcoSmart LED Smart Bulb, and the Wyze Bulb. There's also a variety of lighting fixtures beyond light bulbs that are smart home-ready, such as ambient indoor lighting, task lighting, and accent lighting.
Smart lighting allows you to customize how your house's light sources operate. Want them to turn on or off whenever you walk into or out of a room? Consider it done.
2. Security
Purchase security cameras for under $50. Look into products such as the Wyze Cam Pan, ZOSI C190, and the SV3C Outdoor Wi-Fi Camera. Despite their competitive pricing, these offers provide everything you need from a reliable security camera, such as two-way audio and decent video quality complemented with mobile alerts.
Install these cameras both indoors and outdoors. Those inside the house will allow you to monitor your children and pets, while the ones outside will let you keep an eye on burglars or vandals.
3. Heating and cooling
You might need to spend a little more on a smart thermostat compared to other smart technologies. However, you'll surely recoup whatever you spent through savings on your electricity bill!
Air-conditioning systems, both heating and cooling, get your electric meter running like it's on steroids. With a smart thermostat, you'll have more control of indoor temperature. Also, your thermostat will automatically know when to, well, chill.
4. Entertainment
Get all of your entertainment devices connected to one smart network, from televisions to speakers. Walk into a room, whisper your voice command, and your TV turns at a preset speaker volume. If you haven't yet, it's high time you transition to a smart TV. Consider these affordable offers: TCL 40″ Roku TV was $299 but now $219 at Amazon; Insignia 50″ 4K Fire TV was $349 but now $299 at Amazon; and Hisense 55″ 4K Android TV.
Maybe it's time to retire your cable subscription. After all, with a smart TV, you can Netflix and chill, and it's way cheaper.
5. Smart plug
This is a wonder of a product. And it's sold cheaply too at $20! Imagine being able to make coffee, wash dishes, or make dinner with an air fryer via voice command. You don't need to push buttons. Speak audibly, and your appliances will start doing the job they are supposed to do.
6. Smart hub
Consider the smart hub as the heart of the connected devices and appliances in your home. It's the central control system of your automated residence. For the most affordable options, you have the Amazon Echo Dot or Amazon Echo Show. If you want to splurge a little since this is key to your whole smart home system's efficiency, consider Hubitat Elevation.
It's important to stress out that your chosen smart hub gadget should be flexible. Be clever enough to have your smart hub adjust to your choices and not the other way around.
Get Smart
A smart home makes life less complicated. And contrary to common misconceptions, it does not have to cost you an arm and a leg!
You may follow clever shopping hacks to spend less on your purchases. For instance, wait for Cyber Monday sales for discounted tech products. Lastly, prioritize compatibility. Your smart home hub should not discriminate. That way, you can favor affordable tech options that are excellent even without popular branding.
About the Author:
Serene Yu is the vice president of New Manila San Juan, the premiere real estate marketplace for luxury properties in the Philippines. She loves to keep up with the latest trends in real estate, interior design, and technology.