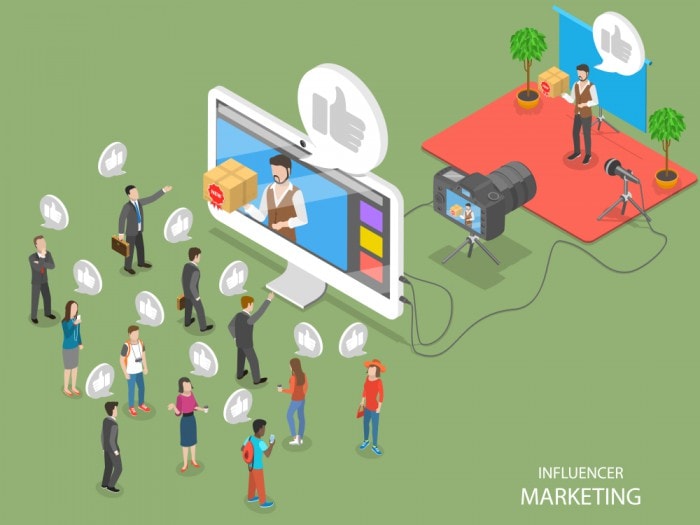 The influencer marketing industry is expected to surpass $6.5 billion in 2019. One of the primary reasons for this is the high ROI that you can get from it. Nearly 89% of marketers feel that the ROI of influencer marketing is better, or at least similar to that of other marketing channels.
As more brands start adopting this method of marketing, it begs the question: How much should you invest in influencer marketing?
Well, the answer to that is very subjective. One of the major reasons for this is that the prices of influencer marketing aren't regulated at all. And that is just one of the variables involved.
Let's look at the factors that can help you figure out how much you should, ideally, invest in influencer marketing.
1. Social Media Platform
The social media platform that you choose to do influencer marketing on affects your campaign's costs drastically.
Instagram is by far the most preferred channel for influencer marketing according to 89% of marketers. The reason for this is the high engagement rate that you can get there. In fact, the average engagement rate on Instagram is 1.73%.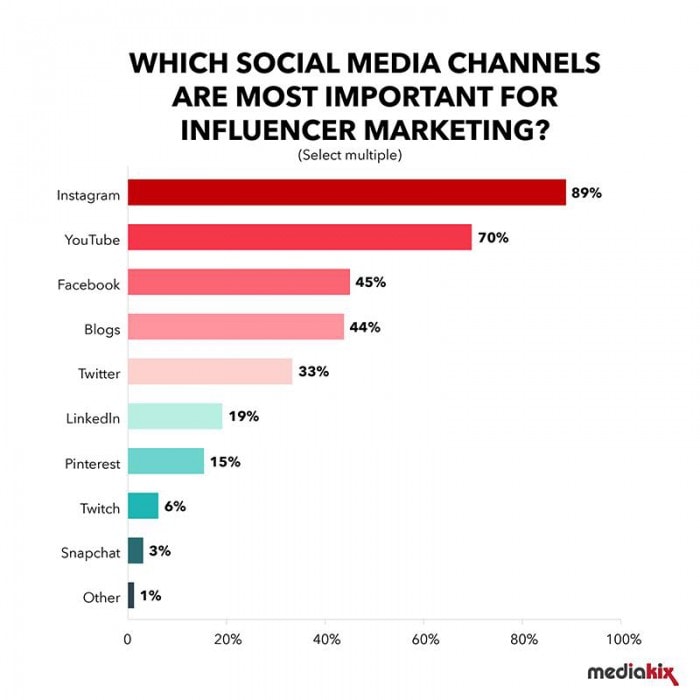 Compared to Instagram, Facebook has a lower engagement rate of only 0.16% while Twitter's average engagement rate is just 0.046%. It's due to these reasons that the costs of partnering with influencers on each of these platforms vary.
Your decision also depends upon the sort of content that you want to the influencer to create and post.
If it's a photo or video post, you may prefer Instagram. Or, if it's a predominantly text-based post, you might choose a blog post or Twitter. Brands are also experimenting with influencer marketing on other platforms such as Twitch and musical.ly. Coca-Cola recently launched a campaign on musical.ly as well.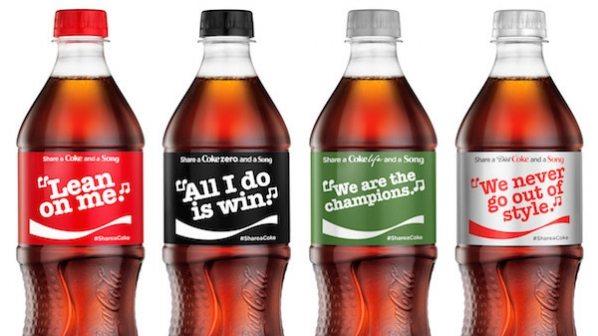 2. Goals of the Campaign
Before starting your influencer marketing campaign, you need to set your goals. Based on those goals, your campaign costs may vary as well. The more you need the influencers to do for you, the more the campaign will cost you.
For instance, asking an influencer to write a post about your brand on social media will cost less than asking them to create a video. Similarly, if you want to repurpose their content, whitelist their content, or ask them to respond to all of the comments, it will likely cost you more.
3. Follower Base
The follower count of the influencers that you collaborate with affects the price of the campaign as well. Influencers with higher follower counts typically demand higher compensation than those with less followers. While some nano and micro-influencers may be satisfied with just freebies, macro-influencers will likely want monetary compensation.
Celebrities may charge even more for their sponsored posts. For instance, Kim Kardashian charges nearly $250k for every sponsored post she does on Instagram. 
While engagement is a great metric to judge the effectiveness of influencers, the number of followers still dictates the price of "influence."
But this makes it tough for brands to find reliable influencers as many fake influencers end up purchasing followers. These fake followers will not help you achieve your goals. That's why you must look at other parameters, such as engagement rate, demographics, etc.
4. Engagement
Engagement is one of the most important metrics for determining the effectiveness of influencers. Influencers may be able to purchase fake followers and likes; however, it's tougher to get more engagement in the form of comments.
Higher engagement improves the effectiveness of the campaign as more people will notice the brand. This increases the cost of partnering with the influencers.
To determine the engagement of influencers, you can check their likes, comments, and shares. If it's a blogger, you can check their traffic, bounce rate, time on page, etc.
To stay clear of fake influencers, you can use platforms such as Influence.co. It allows you to search for reliable influencers from their database based on industry, number of followers, location, etc.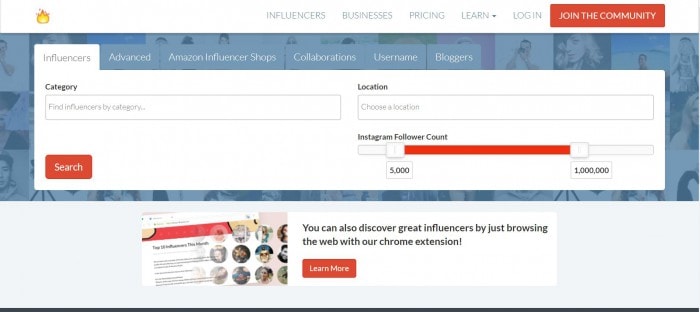 5. Website Traffic
As mentioned before, if you're planning to partner with a blogger, you'll need to look at their website metrics. This includes their website traffic as well. The higher their website traffic, the greater are your chances of reaching a wider audience.
For this reason, you need to check their organic traffic and other metrics. Decent traffic can help you get a better ROI from your influencer marketing campaign. To find out their website traffic, you can use tools such as Ahrefs and BuzzSumo.
6. Industry
The industry that you operate in affects the cost of your influencer marketing campaign too. Luxury-based sectors such as travel and entertainment will typically cost more, while business influencers charge much less.For instance, the average sponsored post in the travel industry costs about $220 on Instagram. On the other hand, if it's a post from the business industry, it costs only $134. In this way, your industry can significantly affect your cost of influencer marketing.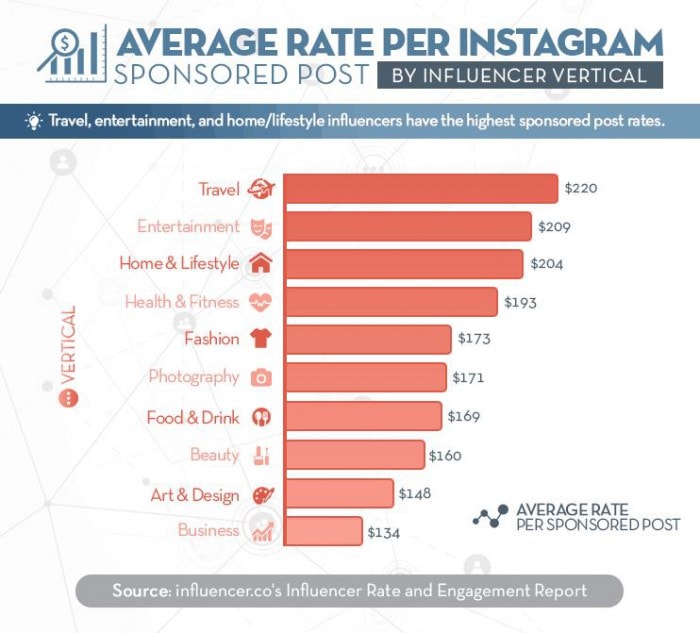 Final Thoughts
Deciding on the final amount that you need to invest in influencer marketing is totally based on your requirements.
You need to ascertain what you need the influencers to do. Additionally, you must decide on the type of influencers you want to collaborate with and check their engagement rates. Your budget will also vary based on your industry and the social media platform that you choose.
How much do you intend to spend on influencer marketing this year? Let us know in the comments.