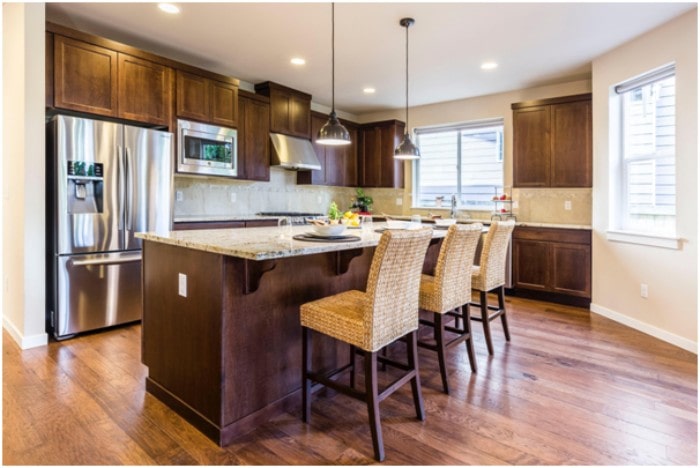 When we lead busy lives, it can be difficult to find the time to prepare and cook tasty and nutritious meals. If you're hoping to spend more time in the kitchen this year however, smart technology is a great way to help you not only enjoy the process, but create many more adventurous and exciting dishes too. Whether you're a complete novice or a whizz in the kitchen, digital appliances and apps are sure to take every meal you make up a notch, for your whole family to enjoy.
1. Get your speakers set up
The very first things you can do to make yourself feel more at home in your kitchen is to make it a place you want to spend more time in. One of the best ways you can do this is by letting your favourite songs, podcasts or audio books play while you cook. Connecting smart speakers to your kitchen through a digital assistant like Google Home or Alexa means you can enjoy your favourite sounds hands-free, so no matter how messy you get while chopping and slicing, you can still be entertained.
2. Invest in a smart tap
Especially when you're cooking for a group, or you're trying a new more complicated recipe, appliances that help you save precious time can make all the difference. Smart taps like iTaps can be set to the perfect temperature for your needs, so you can quickly rinse vegetables, or get the washing up done much more quickly and efficiently. Using a smart tap is a great way to help you keep to a high hygiene standard too. Sensitive digital touchscreen pads, rather than traditional tap handles, stop germs from being transferred to your hands, and so makes sure your whole family can stay safe and bacteria-free while they're in the kitchen.
3. Make the most of helping hands
Rather than cooking every one of your ingredients manually, you could also look into the many digital kitchen appliances available to help you prepare your meals. Smart appliances like Wifi-connected Instant Pots and digital ovens mean you can pre-heat your kitchen while you're on the way home, or set a tasty meal to cook slowly while you're out for the day. You could even invest in a digital knife block to keep your knives squeaky clean while they're not in use – ultimately, smart technology makes life in the kitchen that extra step more simple, seamless and efficient for the ultimate enjoyment.
4. Keep your cooking local
For the more green-fingered among us, homegrown herbs are a great way to add unique flavour and love to every one of your dishes. Herbs can be notoriously difficult to look after, though, requiring just the right amount of attention and care. However, with a smart planter that diligently waters your herbs for you, you'll have the peace of mind that you can always enjoy the taste of fresh herbs plucked straight from your kitchen windowsill, whenever inspiration strikes. This can also help you reduce your carbon footprint. Rather than heading to the shops every time you're in need of that extra something for your meals, a well-kept herb garden means you can stay as local as possible.
5. Easily update your shopping lists
A chef can't cook without all the ingredients they need close to hand – and there's nothing worse than getting to the supermarket and realising you've forgotten your shopping list. Digital assistants are one of the best ways to help you enjoy a more seamless shopping experience, giving you a handy reminder of everything you've run out of during the week.
If you run a busy household, you might also want to think about going one step further by investing in a smart fridge. Using cameras to let you see into your fridge when you're out and about, smart fridges mean you'll never run the risk of forgetting when your milk needs topping up, or you're running out of vegetables.