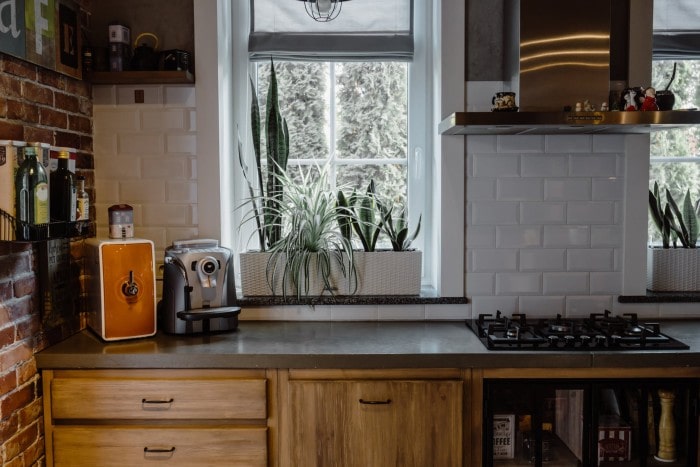 A kitchen is more than just a place to cook your meals. Just like the living room, it's a place where you connect with your family and get to be your best creative self. A well organized kitchen is the first step in improving your quality of life.
In the digital age, the kitchen has gained momentum as an indispensable source of inspiration and nourishment for those who work from home or have to confine themselves in their homes due to family obligations.
Having a tidy kitchen not only makes you more productive but also lets you have more freedom to work on your assignments, which is not possible in cubicles. Being able to cook for yourself whenever you need is a freedom in itself and one can't deny the role of an intelligently organized kitchen in improving your life.
If your kitchen no longer seems interesting to you, here's a guide to help you renovate this sacred space in a cost effective manner.
Go for A White Background
Splashing your kitchen with brighter tones is a good way to bring everything in order. Having your walls, cabinets, shelves and flooring in hues of white helps open up the space and creates a positive ambience inside the kitchen.
It also helps you locate the things you need easily. With a white background, it takes very little effort to customize it as you get the freedom to buy your appliances in your favorite colours.
Choosing summery hues like orange, yellow and green while buying cookware or cutlery brings positive vibes to the kitchen interiors.
Rethink Flooring
Even if you're not planning to get a major makeover for your kitchen, just changing the flooring along with a few tweaks here and there would be enough to upgrade its look.
If it is not possible to do the complete floor makeover — in case of tile floor or wood floor with multiple layers — instead of replacing existing flooring,  paint the floor.
Opt for water resistant flooring in wood or stone finishes for they blend beautifully with white walls.
The most popular flooring types for kitchens are vinyl, ceramic and natural stones that are easy to maintain, can endure hot temperatures and are not prone to damage caused by falling of heavy objects.
Lighting
Lighting your kitchen is an important aspect of kitchen renovation that largely remains ignored due to many reasons.
Correct lighting can help you in many ways by creating an illusion of a larger space that's needed to comfortably work in the kitchen.
Install a couple of hanging lights above your countertop to bring more light to the cooking area. Installing tiny lights inside the cabinets is a good idea to help you find and arrange the items easily.
Pendant lights are great for illuminating corners and countertops. Dome-shaped lights are best installed in the center of the kitchen and above the counter-tops.
Before upgrading your lights, look for government rebates on energy saving home LED lights to bring down the installation and maintenance costs.
A low budget kitchen remodeling hack that I found easy and doable is convert recessed lights into pendant lights by using recessed lighting to pendant kit.
With a recessed lighting kit and a measuring tape, one can convert a recessed light bulb into a pendant light in less than five minutes.
Install Foldable Racks
For better management of things in the kitchen, install tiny racks on the walls or near the windows to keep the counters organized and free from clutter.
If your kitchen is small, invest in racks with curved edges to prevent mishaps that might happen while locating things during cooking. For daily use items, keep a separate rack to keep these things in place. For a more comfortable placement of your cooking ingredients, aim to buy cabinets and racks with adjustability features to help you organize the space you have in your kitchen with greater efficiency.
For effective management of things, keep a separate area for your appliances and let nothing disturb the space on your counter where the actual cooking happens.
Modify Cabinet Doors
If you feel your cabinets have become too old or damaged, the best thing you can do is replace the doors.
It can also help change the look of your kitchen without having to change the entire cupboard. Paint them in wood or any other natural tone for best effect. You can also opt for a door-free look to get rid of old cabinets.
Just repair and repaint the insides and use them without the doors to keep the cookware and cutlery in place.
Author Bio:
I'm a content writer and digital marketer for Ecofin Solutions LED lighting. When I'm not writing, I can be found hiking in the Himalayas.