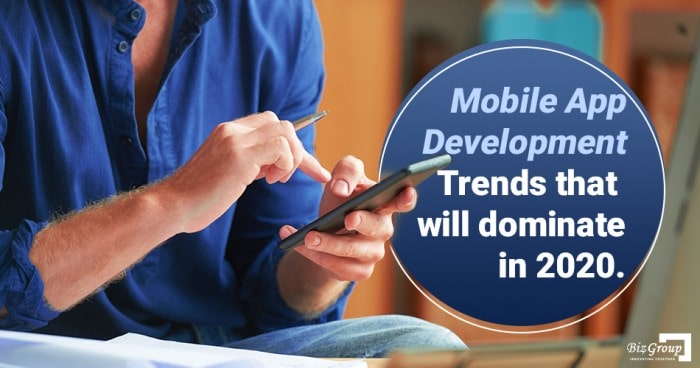 The mobile app industry has changed the world we live in. In this internet-driven world, apps have become an important part of the growing mobile industry. Apps have become an important vertical in scaling-up businesses.
To enhance user experience and provide better services, apps can be used in any sphere. But as technology gets advanced, trends related to this facet of technology also change, so it becomes of utmost importance to keep you up-to-date with the latest mobile app development trends.
As per research by Statista, apps are estimated to generate revenue of USD 581.9 Billion this 2020 because the mobile app technology caters every time new trends and promotes new experience to its stakeholders. The same firm estimates that by 2021, mobile app market revenue is expected to touch USD 693 Billion.
Let's deep dive into the top app development trends that will dominate in 2020, which is not just our personal opinion but rather fact-based research that we have come up with?
The convergence of IoT and Mobile App
The integration of IoT with the app will result in better connectivity and at the user's end and will provide ease to him in fulfilling his needs. As technology is rapidly transforming the world in which we live, the integration of IoT and mobile app will provide digital transformation.
An estimate by Statista projects that the revenue generated from IoT will scale-up to 1.6 trillion by 2025.
Apps that Meet the Needs of Foldable Devices
2019 was the breakthrough year that marked the comeback of foldable devices in the market and thus making it more conversational then it had ever been.
Gartner's forecast tells that, foldable phones will occupy 5 percent of the high-end smartphone market by 2023. It will hit 30 million units in 2023.
While the cost might be a major concern for these devices, but considering the agility in the device, it will take like a storm to the Quarty and touch screen ones.
The emergence of 5G Technology
The era of technology is changing for decades, from the 1G which was based on the Analog technology to 4G's LTE and now stepping towards 5G.
There are diverse spheres in mobile app development ranging from performance to speed, which depends on the type of technology used. With the advent of 5G, features such as UI and cloud-based integration will be at a fast pace.
The 5G rollout will pose a major impact on the app trends of 2020. It's a boon for developers, resellers, and creators, as this technology for sure is going to mold the way apps are created and used.
The New Era of App Development for Wearable Devices
With much of the technologies already in play, the wearables segment has managed to acquire a position in the app development market. In the current scenario, we are having devices such as Apple Watch, Android Wear, Google Glass, and Smartwatch have already taken the market by storm and their user and popularity are growing day by day.
Mobile Commerce
Mobile commerce or M-commerce can be defined as the purchasing of goods or services through handheld devices such as mobile and tablets. These mainly include transactions such as mobile banking or in-app purchasing.
In this trending mobile app development scenario, Statista estimates that by the end of 2020, mobile devices will capture more than 70% of total e-commerce sales.
The working of most e-commerce platforms involves a mobile device connected to a wireless network that a user can use to make online product purchases.
Artificial Intelligence (AI)
Apart from various sectors of application, AI has found its application in mobile development as well. The integration of the mobile app with Artificial Intelligence has given demystifying outcomes.
Whether it is text recognition, image labeling, image recognition, pattern matching or data analyzing, AI has advanced the user experience and has put it at an ease at the user's end. We can use AI to further enhance the user experience such as developing virtual assistants and can improve the app's performance issues by improving performance and user experience at every stage.
Augmented Reality (AR)
AR is a very effective tool for organizations to tackle down the competition with their competitors, mobile AR offers diverse opportunities to take down on user's problems and provide them with real-life experiences such as the game Pokemon Go, that being a mobile app integrated gaming with the real world by detecting the location of the user and enabling the user to add Pokemon characters to catch them.
With many online retailers offering AR-based solution that would enable to choose objects without coming down physically at the retail store. Many of the maps feature also enable users to select a location by navigating into the map, thus enabling the AR feature that lets them do so.
Mobile App's featuring Chabot's
These are the customary messaging channels that enable users to interact with the service providers and ask for support. Since AI is the technology that plays a major role in the backend, these are also integrated with the AI-enabled mobile apps. These chatbot enabled mobile apps are transforming the conversation experience straight from the end of mobile apps from the user's end.
Businesses have found ample application in the chatbot arena as it has reduced costs at their end to provide service and support. The security of data has always been remaining in the questions and a matter of concern, so to tackle this; enterprises have built private conversational channels for the user's ease.
Integration of Mobile App with Cloud Storage
Cloud Storage is the most secure channel to store data while considering the case of mobile app development, seamless data transfer and storage is needed to fulfill the user's requirement. With the cloud, users can use various services on platforms such as Google's Android and Apple's iOS.
Data, when stored in the cloud can be accessed from any place making location as no barrier and can be accessed by any device.
Conclusion
We believe in staying up-to-date with the latest trends and advances in the technical sphere. With a plethora of mobile apps present in the Google Play or iOS store, to stand out from the crowd, you surely would need a better strategy and a development partner who can satisfy your business needs.
Author Bio
This article was written by Sanjeev Verma, the founder and CEO of Biz4Group, based out of Orlando. He has conceptualized the idea of Biz4 Brand and founded Biz4Group. He has 20+ years of experience in boosting IT-based start-ups to success. In the past, he has worked on leadership positions with Marriott Vacations, Disney, MasterCard, Statefarm, and Oracle.