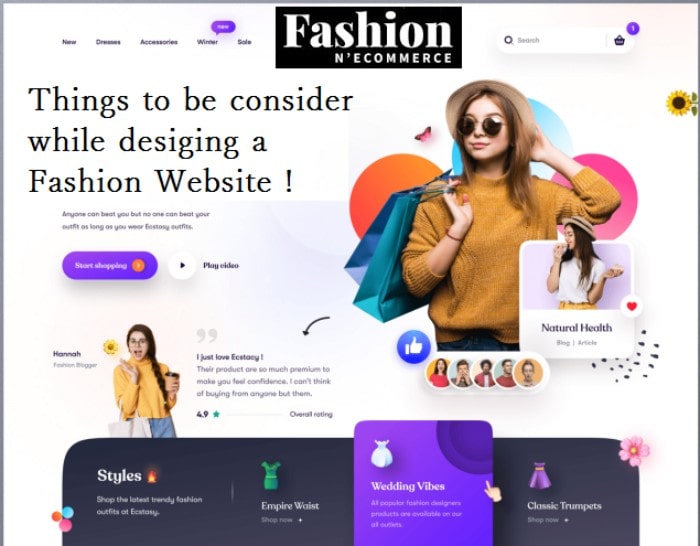 The competition is very high, especially in the fashion industry. The overall gross value of the fashion industry worldwide is almost 3 trillion dollars. There are reputed fashion houses and businesses with a significant market share.
This is the reason why the design of your fashion website is highly crucial. It is one of the most critical success factors for your business.
If your website fails to make an impression, you can no longer earn loyalty from your visitors.
What are the things you need to take care of while going for fashion website design?
This post answers all your queries and concerns.
Good, high-quality images are a must.
When you are designing a website, ensure that all the images you use in your website are high-definition and precise. You should not compromise with the quality of the images, as images help create that magnificent first impression.
Check out other fashion designs websites, and you will come to know how they have emphasized images. If you don't have an in-house product photographer, hire one with adequate experience and expertise.
Stunning photos help customers visualize the product in their minds, influencing their buying decisions. Remember the golden rule: "things that show, sell."
Put Lead Generation First
Most of the time, first-time visitors don't buy products during their first visit. They will look around, check your website and leave. They might return if your website is second-visit-worthy.
Hence, getting information from first-time visitors is a must. Having their email addresses might help you to encourage them to visit again.
Ask the website designer to have call-to-action buttons on every single page of your website, including the home page. With these call-to-action buttons, you can ask the visitors to provide their email IDs or other information that might help you to contact them in the future.
Come up with a loyalty program.
Encouraging your buyers is vital, especially when selling online, whether your first-time buyer or your old customers have purchased something from the store.
It is a gospel truth that selling to your old customers is easier and cheaper than selling to new customers. We all know that.
Hence, it is highly crucial that you develop loyalty programs and offers for your old customers who might be interested in shopping with you again.
If you look around, you will see many fashion brands develop fan clubs and loyalty programs for customers. These loyalty programs help to keep interested in your brand.
When you are doing fashion web design, ask the designer to dedicate a page for the loyalty program you want to run. Old customers can directly go to the page and find out what is there for them.
Create a clean and attractive layout
There is no need to make your website cluttered and complex. If you have an apparel store, check out other clothing website designs to determine what impresses you the most as a visitor.
Most of the time, simple, decluttered, and clean fashion website designs lure visitors' minds and hearts.
A clear web design not just helps visitors to navigate quickly, it leaves an impressive mark on the visitors' minds. Also, it reduces the bounce rate and increases conversions.
Make a website that is simple, concise, and yet impressive and outstanding, and half the battle is won.
A personal, emotional touch works
You don't need to go for product-only photography that most other fashion designs websites do.
Adding a human element to your website might help you to earn some brownie points from visitors.
It makes your products more emotionally appealing. Come up with unique, creative ideas to make your products more personalized to maximize the appeal.
Highlight your brand
When you go for fashion website design, you must speak as a brand. Having a solid and famous brand is the need of the hour to get superior visibility.
Ask the designer to feature your brand prominently on your website to create the magic of brand recognition.
‍Ensure that the branding does not look forced and emphasized. It should look natural. Don't clutter your website with unnecessary branding and appreciation.
Come up with discount offers.
Being in a highly competitive industry, you need to develop attractive offers and incentives for your offerings.
If you check out other fashion designs websites, you will come to know about discount offers and coupons for customers.
You also need to offer some discounts and other incentive schemes to your customers to lure them into buying your products.
The main aim here is to retain visitors who are about to click on your competitor's website.
Create geo-specific content
Whether you are a local brand or a national brand, you need to target audiences in different geographic locations with personalized products and content.
When you go for a local appeal, you will be able to relate to your audience in a much effective way.
Different locations have different buying occasions and fashion trends, and creatively targeting them will improve your sales and revenues.
Ask the visitor to select the location when he/she visits your website the first time. It will help you to make appealing offers as per their culture and festivals.
Optimize your sales pages
After all your efforts and hard work, everything comes down to the sales pages.
Now, it is very critical that your sales pages are highly optimized for conversion.
Ask the web designer who is doing fashion website design to optimize sales pages to increase your conversion rates.
Also, ensure that your sales pages are SEO-optimized and have clear content to direct your visitors to check out effortlessly.
Conclusion
When you go for fashion website design, these are essential things that you need to consider to attract visitors and motivate them to make purchase decisions.
Hire a reputed web design agency that has years of experience in designing fashion websites.
Check out fashion designs websites and get inspired from them to design a highly navigational, superior, attractive, and decluttered fashion website.
 Author's Bio:
Harshal Shah is the CEO of fashionnecommerce.com. He has an overall experience of more than three decades in the IT industry. His area of interest lies in writing interesting pieces of content mostly on topics relevant to different types of CMS platforms. He wants to ensure that readers get acquainted with multiple web development tools & techniques so that we can build a technology-driven world for the future.