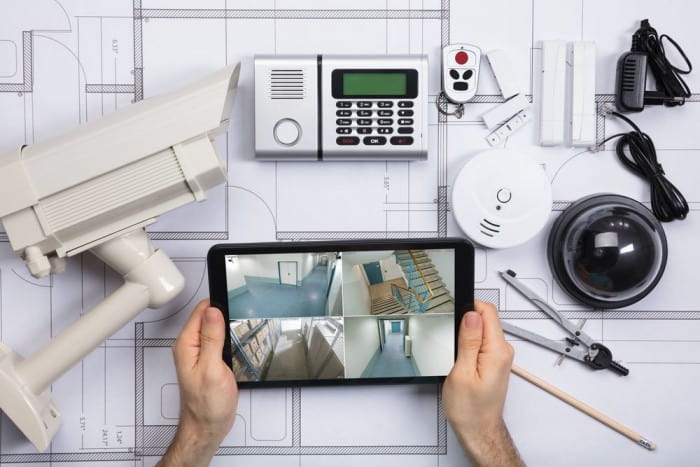 Holidays should be a time for relaxing and getting away from it all. Making sure you have that peace of mind knowing your property is safe from intruders, means ensuring you have taken all the proper precautions before leaving home. Here are 8 tips to secure your house while you are away.
Invest in a home security system
There are a number of home security systems on the market to suit all properties and household needs. Not just to prevent and detect unwanted visitors, but there are smoke and fire detectors as well. CCTV systems can record anyone entering the property and if smart systems are used, these can allow you to keep an eye on the home remotely.
Invest in good locks
Not just for the front door but also take a walk around the property and check for the vulnerable entry points. Areas like ground floor windows, or an upper window that can be accessed by a flat roof, and don't forget outside sheds and garages as well. These can house some expensive equipment, so investing in proper door and window locks from a reputable home security systems company will pay dividends.
Cancel newspapers or regular deliveries
There is nothing worse than having your mailbox on full view overflowing with a week or twos worth of newspapers as a dead giveaway that the property is currently unoccupied. Unless you have got a trusted friend or neighbour to come in and feed the cat and pick up the mail, make arrangements to cancel frequent deliveries.
Move portable valuables and lock them away
Invest in a small safe because anyone gaining entry to the home wants to get in and out as soon as possible with items of maximum value. Lock away your valuables in a secure place, if you haven't got a fixed safe, then consider putting them away in the loft area in an inconspicuous container. This will also include any laptops and keys to the property which should be stored out of site in an area that a would-be thief would not associate with them, such as a bathroom closet, for example.
Leave keys with a trusted person
If you have installed a smoke detector or alarm as part of the home security system, it could go off when you are away so you will need to arrange access. Organise leaving a key with a trusted neighbour, friend or relative (don't forget to return the favour!) and ask them to keep an eye on the place. If they can bring in the garbage bins or open and close curtains and pick up the mail, then the property is getting a check on a regular basis.
Don't broadcast your holiday on social media
Check through your Facebook or other social media posts to ensure your home address is not visible to anyone trying to find out where you live. Delete any posts that include your telephone number as well and make sure that you don't broadcast the fact that your home will be empty for 2 weeks on a certain date.
Install outdoor lights and cameras
Motion sensor lights and CCTV cameras as well as indoor lights on timers will give the impression that someone is at home and deter the would-be burglar. Speak to a home security systems expert to learn more about the options on offer.
Advertise your security system
Letting burglars know you have put a number of security measures in place will help to deter them and move them on to the next property. Get hold of stickers that advertise your CCTV/home security measures and put them on the most obvious areas such as the front door and gate, the back entrance and doors leading from the garage.
Then sit back, relax and enjoy your well-deserved break!