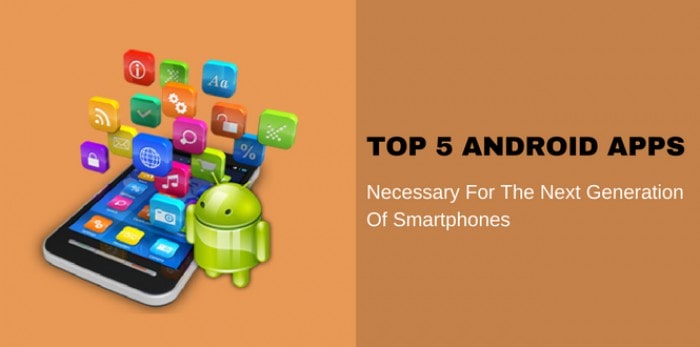 There are over 2 million apps available in Google Play Store. Selecting the best app for your smartphone is a pretty daunting task. According to recent survey, there are around 3.5 million apps, as per December 2017 record. So, instead of trying all the apps available, it is vital to log online, check on some lists, and head for the top apps for your next generation smartphones. There are, notably, top 5 Android apps for next generation smartphones available, which you should try this year!
Defined as one of the best Android launchers of modern times, you can procure Nova Launcher from Google Play Store. This launcher is light in weight and smooth. Furthermore, it comprises of multiple customizations. If that's not all, it has numerous icon packs, used for changing its look. This app supports customization of the app drawer. Furthermore, it comprises of notification badges, scrollable dock, icon and folder customization and packs of dozen gestures, quite easy to use. The application is free to download. However, it has a prime version too, which can unlock multiple features including locked gestures.
It has sub-grid positioning, which offers greater control than any of the other standard launchers. It allows snapping widgets or icons half way through grid cells in desktop.
It has customized app drawer, which comes with custom effects, custom tabs and horizontal or vertical scrolling. It has improved widget drawer as well, as grouped by apps for making it faster to run.
Thanks to import layout, you don't have to rebuild desktop from the start. It can import from various pivotal launchers, including the one your phone has.
Known primarily as keyboard app, Swiftkey is trusted worldwide by around 250 million users. This app uses artificial intelligence for enabling it to learn and predict what users are about to type. It comprises of gesture typing and auto correct for faster input. On the other hand, this application comprises of inbuilt GIF search, magnificent keyword for the bilingual folks and even wide ranges of themes. It will not store any information, like password or credit card information. This app enhances your typing experience and needs to be added in your latest Android smartphone.
It supports 200+ languages and works great to kill your typos.
You can just simply swipe for typing with the help of Swiftkey flow.
It can always learn your nicknames, slangs and phrases mostly used, thanks to AI interface.
It further has Emoji keyboard, which can easily learn and even predict favorite emoticons.
Your one stop note taking application, Evernote happens to be a cross-platform utility for taking notes in multiple formats like photos, text, video, audio, sketches and there are so much more. It is mostly stated as one tool for keeping yourself properly organized in current hectic schedule. It synchronizes across multiple devices for facilitating workflow. It further has home screen widgets for properly accessing to notes.
Through this application, you can write, collect and even capture ideas as memos, notebooks, searchable notes, to-do lists and checklists.
You can use the camera of your smartphone for capturing scans and comment on paper pieces like handwriting, printed documents, sketches and business cards.
Organize your bills, receipts and invoices through this app. You can further attach PDFs, MS Office and photos through this app to the notes you are making.
ES File Explorer:
A reliable file managing app, ES File Explorer is one of the most popular Android apps with necessary features. It comprises of Space Analyzer, which frees space in your device. Moreover, sharing media to other ES File Explorer users with Wi-Fi becomes easy. It comes with an Application Manager, where you get to backup or uninstall apps. You even get the chance to uninstall system apps with the root privileges.
It comprises of a feature namely "Root Explorer", which helps in unlocking various functions for the rooted items.
Moreover, this app comprises of various intrusive ads to power users. Those users, who aren't rooted and not in need of advanced features, can procure help from best file manager apps available.
It helps in killing tasks with a single click. Furthermore, it increases memory and also speed up devices.
It has a simple widget, which stays right on the home screen and let you know more about your present RAM situation. For that, you need the Task manager module of this app.
Known as a promising video player for the Android phones, MX Player helps in supporting all kinds of primary audio and video file formats. It helps in packing multiple features like fast forwarding, subtitle time frames, volume controlling gestures, on-screen kid lock, gestures for zooming out and in of a video, and more. It is free of cost and comes with ads. Furthermore, it has added plugins for extra functions.
It is one of the first Android video apps to support multiple core decoding. Tests have proven that the dual core performance is around 70% better than single core ones.
There are subtitle gestures available too. You can scroll backward or forward for moving to next or previous texts. You can move it up or down for moving text up or down simultaneously. For changing the text size, you can zoom in and out.
You are requested to head towards the best android app development company, to learn more about the promising apps available nowadays. Choose anyone or all the 5 must-have apps for Android next generation smartphones.