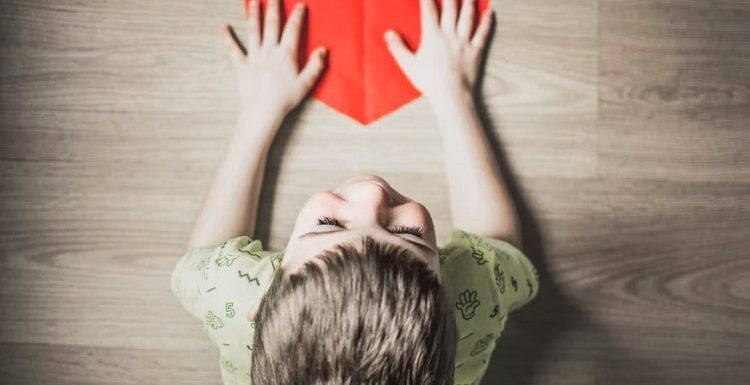 Gifts made by hand from kids are always the ones that are most cherished. It's something that comes from the heart that parents and family love. These simple gifts are fun for kids to make and might even get them started on a new hobby! They're perfect for birthdays, holidays, and other special occasions.
Clay Handprint & Footprint Decor
This gift is excellent for parents to do with very young children. Those little ones are only going to keep growing bigger! Immortalizing their tiny handprint or footprint in clay is a wonderful keepsake to look back on. We recommend using air dry clay that doesn't need to be fired in a kiln. Air dry clay can be purchased at almost any craft store. It's easy to mold and roll out into thin slabs. All you will need to do is form a slab and press your kids hand or foot into it. Then, cut the slab into a circle or square, and remove the excess. You may want to add a hole to hang it by or even the date you created it before it dries. Once dry, you and your child can add paint, glitter, and other finishing touches.
Simple Embroidery
Embroidery may sound like a daunting project even for adults, but it can actually be a very simple project for kids. All you really need is a few basic embroidery tools like a hoop that holds the fabric taught, a needle, and embroidery thread for which there are plenty of colors. A few markers with disappearing ink will make the job easier, too. With the fabric you want to embroider secured in the hoop, kids can use the markers to draw their own embroidery design. Or, you can download some simple embroidery designs for kids on the internet. After that, they just need to follow the lines with their stitches!
Mason Jar Candle Holders
With a little parental help, kids will love painting tinted mason jars. The finished product looks lovely as a candle holder. You probably already have everything you need on hand. Gather up some mason jars, food coloring, school glue, and brushes. First, thin your glue with a bit of water and add the food coloring you want. Then, let your child paint the mason jars with it. They can paint the inside or the outside, it doesn't matter. When they are done, turn the jars upside down and let them drip for a while. Then, simply pop them in the oven on a sheet pan at the lowest heat setting. You will want to line your pan with parchment paper or foil to protect your pan. Bake them for about 30 minutes to set the paint and you're done! Just add a candle for presentation.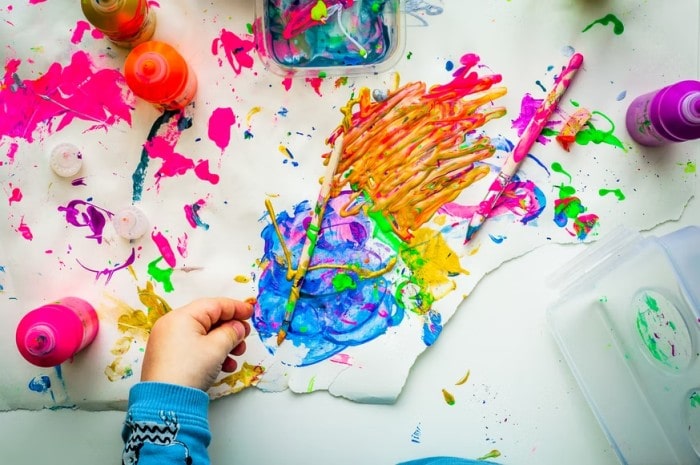 Mosaic Picture Frame
A picture within a decorated frame is a classic gift we couldn't leave off our list. This is a project that is perfect for kids about age 5 and up. To start off, grab any plain frame you have lying around the house. Using cardboard, cut a thick rectangle that you will glue on top of the frame. Paint it a neutral color like white or gray. Next, give your kids a big piece of thin cardboard and let them go crazy with finger paints. When their painting is dry, cut it up into tiny squares that will fit onto your cardboard frame. Have your kid help glue down the squares. Leave some space in between each one to give it the mosaic effect. Then, just add an adorable picture of your child!
Wall Art
When your child reaches the age where they can color inside the lines, wall art is a great gift for any family member or school friend. Using giant coloring book pages or coloring posters, they can really get creative! All you need to do is supply the coloring page and plenty of markers. This project is also great to keep kids busy on rainy days. When they are all done, you can frame it and hang it on any wall in your home. Kids can do this project solo, or with a sibling.
Upcycled Wind Chime
Wind chimes are simple crafts that kids can make with a few instructions. First, gather up some old keys you don't use anymore. Or, you can use nuts and washers from your junk drawer. Anything small and metal that will clang together will work. Next, have your kid paint them in different colors. For the top of the wind chime, use a stick from your yard. Then, simply hang the painted keys or washers from the stick using string. Hang them so that they will clank together when the wind blows. You could even use painted sticks for the chimes for a more natural approach.
Beaded Keychains
You'll only need a few inexpensive items for this gift. Get some string, key chain rings, colorful beads, and beads with letters on them. All you and your child need to do is tie at least one string to the keychain ring and add some beads. They could also add multiple strings for more beading. Let them pick and choose their color scheme. Using the lettered beads, help them write out sentimental messages. Phrases like 'best dad' and 'I love you' are perfect for Father's Day and Mother's Day gifts. Don't forget to tie the string around the last bead! This will act better than just a knot to hold it all together.
Grandparents, spouses, and other family members will love gifts that were made by kids! And since you took the time to help, they'll appreciate your efforts, too. These gifts may not cost much, but they'll become wonderful keepsakes. For the next special occasion on your calendar, be sure your kids get the chance to show how much they care!