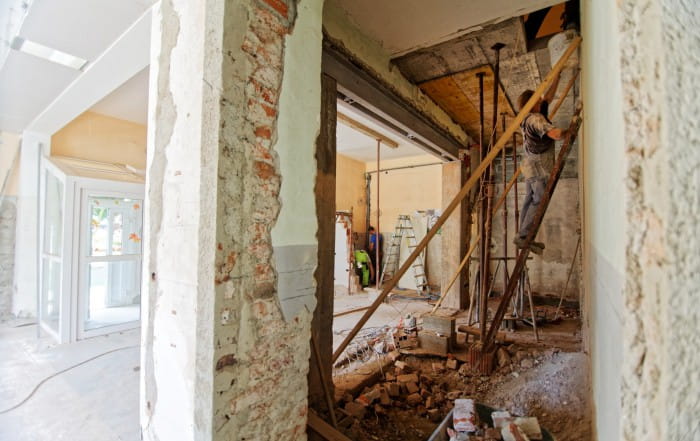 To renovate, or to start over? Not an easy question. Namely, your home, or the house you recently bought or inherited, is not in the best of shape. Its pretty rundown, in fact, and you are thinking whether you need to start over, or whether you can just go forward and renovate. 
Namely, the cost in both time and money is rather substantial, no matter which one of these two options you choose. For that reason, we have written up this little article. Below you can find some information on just which one of these two you want to check out, and which one of these two you want to focus on. 
Cost of renovation and point of construction
First, let's start with the core expenses of a renovation and a rebuild. The main issue here is just how much your renovations costs which, of course, depend on the state and extent of the renovations. Significant structural changes can at times cost more than simply building a house from scratch. There are just too many factors to take in for this situation, factors such as the type of land the building should be built, and how much work is needed to fix things up, how much access the new building will have for various amenities. 
Furthermore, the timeframe in which you want a house to be built also matters, as does its size, and functionality. An old home that is falling apart simply might not be worth it if it's half empty. Your kids have moved out, it's just you and your spouse now, and you don't really need that huge home you had before. A simple and modest home with a nice backyard might be more useful to you than a large and decrepit five-bedroom house that needs to be remodeled completely.
Will your home remodel include new rooms? Or do you just need new flooring and a fresh coat of paint? Think long and hard about this. Maybe all you need is a cheap renovation idea, or maybe you want to go all out.
Going green and regular expenses
Next, you need to consider ongoing and regular expenses. Namely, one of the things that building a new home can help you with is getting better prices on your expenses. Newer homes are more focused on saving you a buck or two, they can allow you to save money in the long-term, and the short-term. More energy-efficient pipes, electronics, appliances, but also electrical installations and materials, these all can help you save some money on your bills. For example, a house built with better insulation in mind can save you a fortune on both heating and AC bills.
Next, are you environmentally friendly? Old homes rarely had the environment in plan when they were being built. You might need to start from scratch if you care about keeping your home green. Namely, renovating and setting up an old home so much that it becomes eco-friendly is a logistical and financial nightmare. You're better of starting from scratch.
And sure, you can get both a greener home and better expenses if you renovate. However, there is a set amount of work you can do if you are going with this route. There is a limit to how much you can change. Sure, companies with high-quality home building solutions that can build and renovate houses also keep these things in mind. You can basically get an all-in-one package here. The problem is you can only do so much.
Heritage homes
Everyone's favorite pastime is filing out papers at the local administrative county office. However, this gorgeous activity needs to be done if you want your renovations and your building to go properly.  You should also do this because some old homes are basically heritage sites that are very difficult to renovate or remove. In fact, knocking it down without paying serious and severe expenses is most likely out of the question. Renovating heritage houses is a nightmare as well. However, this is of course much easier than simply knocking them down.
Logistics
Finally, we have the logistics of whether to knock down your home or to rebuild it. Namely, a new home can be rather difficult to set up. You need paperwork, deeds, attorneys, builders… These all can cost you a pretty penny. Then aging, renovating isn't easy as well. You will need to check out and live in a hotel for some time, maybe even stay at your friends' house. This will also cost you. You might also miss out on work due to your regular communication with the builders and construction workers.
Conclusion
And there you have it, folks – should you renovate or rebuild? The answer is of course not that clear. Every single one has a host of factors, factors that vary from place to place, and from person to person. It's up to you to decide whether your situation calls for renovating your home, or rebuilding it entirely.