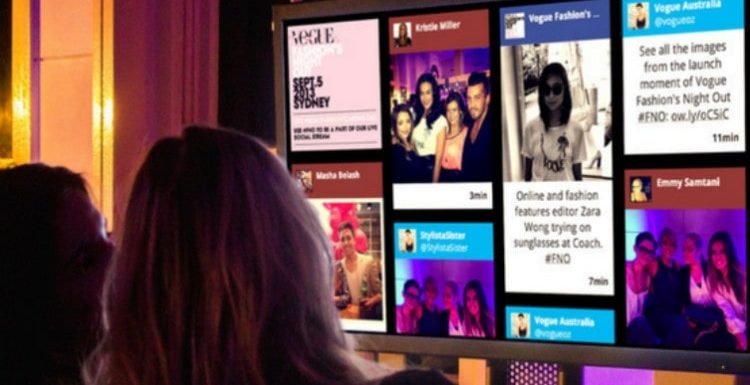 "Good fortune is what happens when opportunity meets the planning."
The marketing style has changed over the years, but one thing remains common, the necessity for user engagement. As a result, businesses and brands have been trying their hands at ways to grab the attention of maximum customers. A Social Media Wall is the hottest prospect as it has shown incredible results for brands in recent times.
We have brought you a complete guide around social media walls to ensure that you accurately create your social media wall for your upcoming event. So, without any further adieu, let us get straight into the topic!
What is a social media wall?
A social wall is a digital screen of aggregated real-time social media posts like photos, images, and other UGC. It brings together all the social networks and your followers in one spot. Current or past aggregated posts can be collected using hashtags or handle if you have the necessary software tools.
Social media walls have gathered large fan-following across businesses with the benefits that it brings in the form of user engagement. Social media walls display the experiences of people in real-time. This encourages others to share their posts, which are subsequently displayed on a digital social wall screen, either immediately or over time, depending on the program.
Other applications for social walls include brand recognition and promotion at events, conferences, and other public locations.
Benefits of Social media wall
Social media walls are one-of-a-kind marketing tool that allows businesses to repurpose information that people have posted on social media. Social media walls allow event organizers to capture their audience's attention at the right moment, in the right location, and with the right content. The following are some of the benefits of social walls:
Increases audience participation and engagement during live events
Acts as a content source that can be used in marketing campaigns to create higher-performing content.
Escalates brand growth which in turn enhances brand revenue.
Facilitates networking opportunities after an event, allowing you to expand your social reach.
Helps you establish social proof that would escalate trust in a brand.
Benefits of a Social Media Wall
The inclusion of social media walls has provided tremendous results for brands, and these stats around social media will prove the point.
71% of social media users are more likely to buy from a brand they have associated with on social media. A social wall will draw people into your connections and provide the social proof you need to achieve trust and confidence.
Tweets with hashtags have a double engagement rate. So when you ask your customers and followers to post on your wall with specific hashtags and handles, you're raising your brand's engagement rates.
Social media doubles the number of leads as direct mail, PPC, or other direct advertising strategies. You can also add special discounts and incentives to your wall as customers visit it. Furthermore, you may utilize deals and giveaways to incentivize your clients and followers to share your content on social media.
How to create a social media wall for your upcoming events
The best social media wall can make a mark in parties, musical concerts, exhibitions, seminars, webinars, trade shows, etc., as they engage attendees. If you are going to organize a social event in the coming days, you need to follow these steps to create an impactful social media wall.
●    Start by choosing a unique hashtag for the event
A hashtag initiates the social media aggregation for the digital display at your event. Therefore, a unique hashtag that is effortless to connect with a large audience needs to be selected.
Research into your target audience's social media activities and interest zones would serve you greatly before finalizing your hashtag.
Hashtags are a great marketing strategy to boost your event before its initiation as they create a buzz that gets attendees excited.
During the event, brands can utilize hashtags to show audience participation. The event's social wall then shows these curated hashtag stories and posts to attract more attendees.
●    Curate social media content using hashtags
After designing a hashtag and creating a buzz around it for your event, you can shift your focus towards the curation of user-generation content and how to display it on the social media wall.
You can select a social platform that syncs with your brand's objectives. Following this, you can aggregate live feeds using hashtags or handles. The tagged content comes in the form of User-generated content in which people upload images using the hashtag of the brand, enhancing the credibility and reputation of the brand.
The moderation and customization features of social media aggregator tools such as the Taggbox display make the social wall appear dynamic.
●    Display on the Digital Screen
Customization and moderation of User-generated content follow the aggregation of UGC, with the display on the digital screen being the concluding step.
Marketers can set this social wall in various locations across the venue. They showcase social walls in strategic locations, especially in areas where a large number of people are expected to assemble. The entry gate, hotel reception, pedestrian path, washrooms, and food court are just a few examples.
It is a great way to keep the people hooked to the event and boost audience engagement if they are not physically present in front of the screen.
Wrapping Up
Boost your audience engagement by setting up a social media wall at your upcoming event. If you didn't know about setting it up earlier, now you are fully equipped with all the necessary information to create an impactful one. So, no more waiting on building a reputation and credibility for your brand.